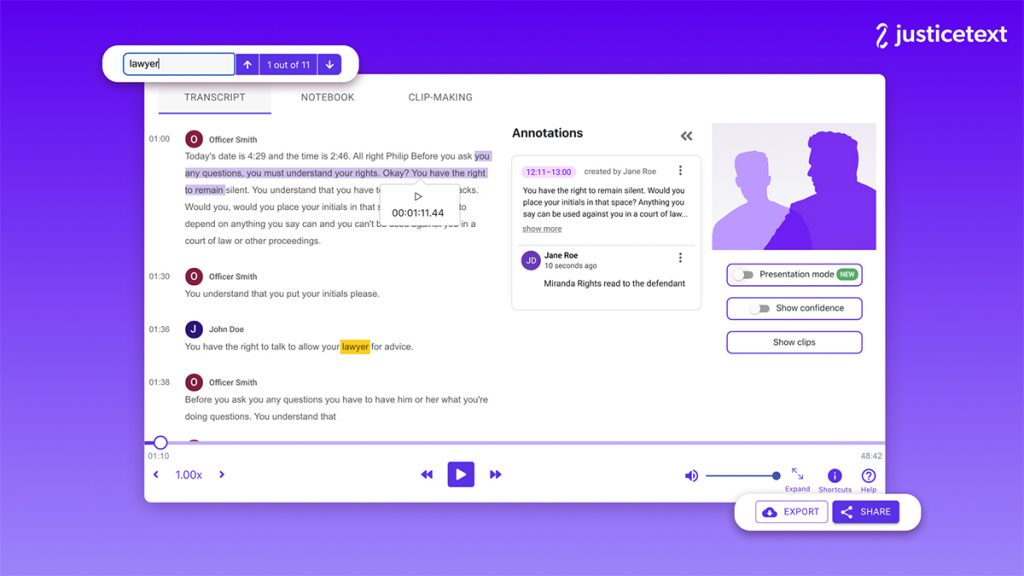 When sitting down to prepare a client's case, Bargersville criminal defense attorney Stacy Uliana usually picks up a scrap of paper with handwritten notes and gets to work.
Sifting through endless hours of jail recordings, interviews and body camera footage is overwhelming, Uliana said. Her secretary will mark time stamps and scribble reference notes for Uliana before the attorney gets to the recordings so she can pull up what she needs more quickly.
Time-savers are crucial, which is why Uliana's ears perked up when she heard about a new evidence management tool geared specifically toward defense attorneys.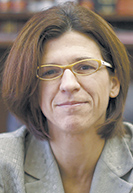 JusticeText, a cloud-based platform, is an artificial intelligence tool that pinpoints specific words or phrases from data revealed in body camera footage and recorded jail calls, eliminating the need for attorneys to sit for hours plucking through evidence.
Footage and audio can be uploaded and stored on the JusticeText platform, where the media files will be automatically transcribed. A keyword search will take users to every reference in the file with accompanying time stamps. Annotations can be made alongside the transcripts, and a clip-making tool allows for precise video-clipping that can come in handy during jury trials or depositions.
The platform also supports transcriptions in 10 languages and offers an accuracy heat map for easier identification of sections with poor audio quality.
Created as a school project by two University of Chicago computer science students, JusticeText came from a commitment to criminal justice reform.
"There were a lot of talks around, what does ethical technology in the criminal justice system look like, particularly in Chicago, where there are so many pilots of facial recognition software and predictive releasing tools that have gone wrong," said JusticeText CEO Devshi Mehrotra.
Mehrotra and co-founder Leslie Jones-Dove wanted to create a product that could benefit the most heavily impacted communities. Their subsequent conversations with local and national public defenders revealed a major shift in the criminal legal system regarding the amount of data currently being collected.
"We also kept hearing that it's incredibly difficult for individual attorneys to actually sift through all of this data themselves," Mehrotra said. "So all of this data is being underutilized or not in a timely manner at all."
Less scouring
JusticeText launched in spring 2021 and has since garnered nearly two dozen customers in the United States. The concept of tearing down unnecessary logistical barriers that public defenders face in preparing for a case is attractive, which is why Indiana's Lake County public defender decided to jump on board this month.
"We are always looking for new technology or tools for our public defenders to keep them competitive and ahead of the curve, if you will, when it comes to representing our clients," said Lake County IT specialist and trial attorney Joseph Curosh.
Curosh, also a partner at Curosh & Curosh in Whiting, participated in a trial run of JusticeText and said he liked what he saw. He suggested investing in the software for the entire public defender's office, which Chief Public Defender Marce Gonzalez Jr. agreed could prove useful for their attorneys.
Happy to have an additional tool in their belt, Curosh said he believes JusticeText will have the most impact in saving his public defenders time. As of now, only a handful of public defenders have been selected to test the platform.
"Sometimes you can get 100 jail phone calls or a lot more, and each can be a few minutes up to 15 minutes long. It's very time consuming," he said. "The fact that you can put it into the software and then run searches for a specific phrase or word, you can really cut down on time."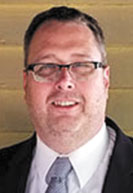 Michael Moore, assistant executive director of the Indiana Public Defender Council, laughed when asked how long it can take to listen to evidence recordings.
"It can take days sometimes. The jail calls are the worst because they oftentimes give you months of jail calls and point to the ones you can use but not to the specific content, date or time," Moore said.
Curosh said JusticeText could have a major impact in helping public defenders more effectively display media evidence to a jury with clipped video and accompanying transcriptions.
"JusticeText looks very smooth and much better than others do. (The jury) can also see the words along with the video, which is way more powerful," he said.
Indianapolis criminal defense attorney Jesse Sanchez said he thinks JusticeText could not only aid his own preparation of a case but help his clients better understand what to expect. Rather than tell them, Sanchez said it's more impactful to show them what the jury might see.
"A deposition in a program like this where I can easily pinpoint that, and say, 'Look, you need to understand this person is going to sit there in a room and they will look like that and say words just like that. If a jury believes them, you will get convicted,'" Sanchez said. "Those sorts of intangibles matter. I think that's where the real value of program like that would come into play."
Better-informed clients will resolve their cases more easily, Sanchez opined. He said he thinks evidence tools like JusticeText could help cases conclude more efficiently and quickly.
"And provide probably more just results," he added. "I predict that stuff like this will only increase our ability to be a better service to our clients and have a deeper understanding."
Cost of defense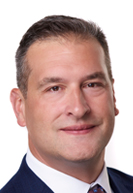 As a criminal defense attorney who conducts many forensic interviews, Christopher Eskew of Eskew Law said tools like JusticeText would be very helpful for public defender agencies, particularly in the criminal setting.
"Anything to save time and streamline cases is a benefit," he said. "I think it would also help move the courts' calendars and the public defenders' caseloads with the best representation possible."
However, one setback could be the affordability of the product for solo practitioners or smaller groups, Eskew added. JusticeText costs $1,200 per attorney for an annual contract.
That figure could be cost prohibitive for many public defenders, said Moore. Their contracts often pay just enough to do the work and don't cover overhead costs.
"It would be out of most people's range to buy and justify, unless the court would reimburse them," he said.
For Eskew, the prospects of JusticeText have already prompted him to sign up for a trial run. Uliana said she is also interested in the tool.
"I told my secretary about this and she was very excited," Uliana said with a laugh. "She was like, 'Get that!'"
Mehrotra said she hopes JusticeText will offer a leg up for public defenders in an arena where they often don't have enough resources or funding.
"I think public defenders have a level of direct connection and empathy for community members that often gets sidelined," she said. "Through the lens of tech and innovation I think it would be amazing for our organization to elevate the incredible work that public defenders are doing and simultaneously advocate for a greater investment in their offices."•
Please enable JavaScript to view this content.