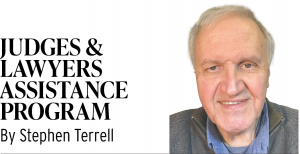 "There are no second acts in American lives."
That quote is often attributed to F. Scott Fitzgerald, but like so many popular quotes in the internet age, it's not accurate. In his 1932 essay "My Lost City," Fitzgerald wrote: "I once thought that there were no second acts in American lives, but there was certainly to be a second act to New York's boom days."
You see, old F. Scott actually believed in second acts.
For lawyers, a second act may be difficult. Being a lawyer is more than just a job. When we say, "I'm a lawyer," we are disclosing our identity and our image of self.
Perhaps that is why so many lawyers practice well beyond normal retirement, and unfortunately often beyond when a lawyer should really be practicing. We don't want to give up that identity that has been with us most of our adult lives.
But retiring isn't necessarily an end. For many lawyers, it is a springboard to a new fulfilling aspect of life — a second act, if you will.
Kevin McGoff was truly immersed in the legal profession. For much of his nearly 40 years in practice, his clients were lawyers and law firms, advising and representing them in ethics, malpractice, firm management and dissolution.
Since law school, Kevin and his wife Patty shared their lifelong love of travel, particularly their love of France. As Kevin neared retirement, he blended his love of travel into his retirement plan — his second act. He researched what it took to become a travel writer, attending travel shows and a three-day travel writing conference. He made contacts, studied the marketplace and honed his writing. By 2016, Kevin was getting his travel articles published, including one award-winning article.
Kevin's articles are collected on his website, "Next Stop Sur la Route: Writing and Traveling Through Provence, France and Beyond with Kevin McGoff."
Kevin's experience led him to a new project. He recently completed a book, "Find Your Landing Zone."
"This book is for restless lawyers and other professionals," Kevin said. "It is for someone who is moving toward retirement, wants to grab control of their future, create a personal plan and make it happen."
One lawyer who has made his personal retirement plan happen is Steven Strawbridge. Approaching 67, Steven retired in 2015 after a 40-year litigation career. He still enjoyed the practice, but health concerns caused him to evaluate what he wanted from life in his 60s and beyond.
Steven's plans were not well formulated, but he knew he wanted to paint, write and travel. His love of painting dated back to his school days at St. Pius X in Indianapolis, where he received scholarships to attend weekend classes at John Herron School of Art. College, law school and 41 years of practicing law intervened, but he never lost sight of his desire to paint.
After retiring, Steven and his family took a vacation to Florida. It was there that his wife Jan gave him a present: an art study kit with graphite pencils and a sketch book.
Soon, Steven started sketching his adult children and grandchildren. Friends would see them, and he began to receive requests to sketch their grandchildren. Soon he was also doing pastels of animals and oils on canvas landscapes.
Seven years later, Steven has golf course landscapes hanging at The Bridgewater Club in Carmel. His artwork has been offered at numerous charitable auctions, and for three months an exhibit of 15 of Steven's works hung in the halls of his former law firm, Frost Brown Todd LLC.
It doesn't take an art critic to see that Steven has incredible talent. As a man of faith, he passes credit elsewhere: "I don't do the painting. God does. I just hold the brush."
Steven works two or three hours a day, painting "plein air" (outdoors) in local parks or in his home studio.
"I don't do this for money. It's not part of my estate plan," Steven said with a smile. "I do it because it makes me happy, and what better reason could you have?"
Those wanting to see examples of Steven's art can find it on his website, StrawbridgeStudio.com.
Brian Wittler took a different route to law and to his second act. Brian spent his career working in the corporate world with General Motors, then Rolls-Royce. As director of contracts and commercial business, he traveled the world negotiating and drafting contracts with suppliers and purchasers of both commercial and military aviation products.
COVID and the isolation it brought changed everything. Working from a home office and conducting meetings by Zoom did not fit Brian's personality. After talking it over with his wife, Michelle, Brian took the big step of retiring at age 55.
Brian's choice of a second act was particularly unusual for a lawyer. He is currently attending barber school — and he could not be happier with his decision.
Being a barber provides all the things Brian is looking for in a second act. It is social, local and part of the community. And it can't be outsourced.
"I like the idea of cutting hair," Brian said. "It's kind of artsy. I play guitar and cook, and this is another artsy outlet for me."
There is far more to becoming a barber than hanging up a barber pole. Barber school is a full year, 1,500 hours of classwork. Three months in, Brian has learned how to do cuts (men or women), fades, shave heads or chins with a straight razor, color hair and do perms. Before he takes the state-mandated exam, (a BAR-ber exam, if you will), he will have done more than 250 haircuts on mannequins, fellow students, friends and paying customers.
Perhaps his greatest challenge was his first haircut. His victim — I mean, client — was his wife Michelle, obviously a very trusting woman. Brian demonstrated his skills, and she loved the haircut.
Brian doesn't plan to work in someone else's barbershop. Before starting, he researched the business. He plans to open a high-end industrial modern shop with state-of-the-art infectious disease precautions. If things go well, franchising may be possible.
"I'm ecstatic about the change," Brian said, the broad smile on his face showing his excitement. "It's lots of fun, and I enjoy being around people who are much different than those I came across in the business world."
Retiring from a legal career need not be an end. Kevin, Steven and Brian have shown it may be a beginning. As author Les Brown observed, "You are never too old to set another goal or to dream a new dream."•
__________
Stephen Terrell is a retired lawyer, writer and avid motorcyclist. Opinions expressed are those of the author.
Please enable JavaScript to view this content.