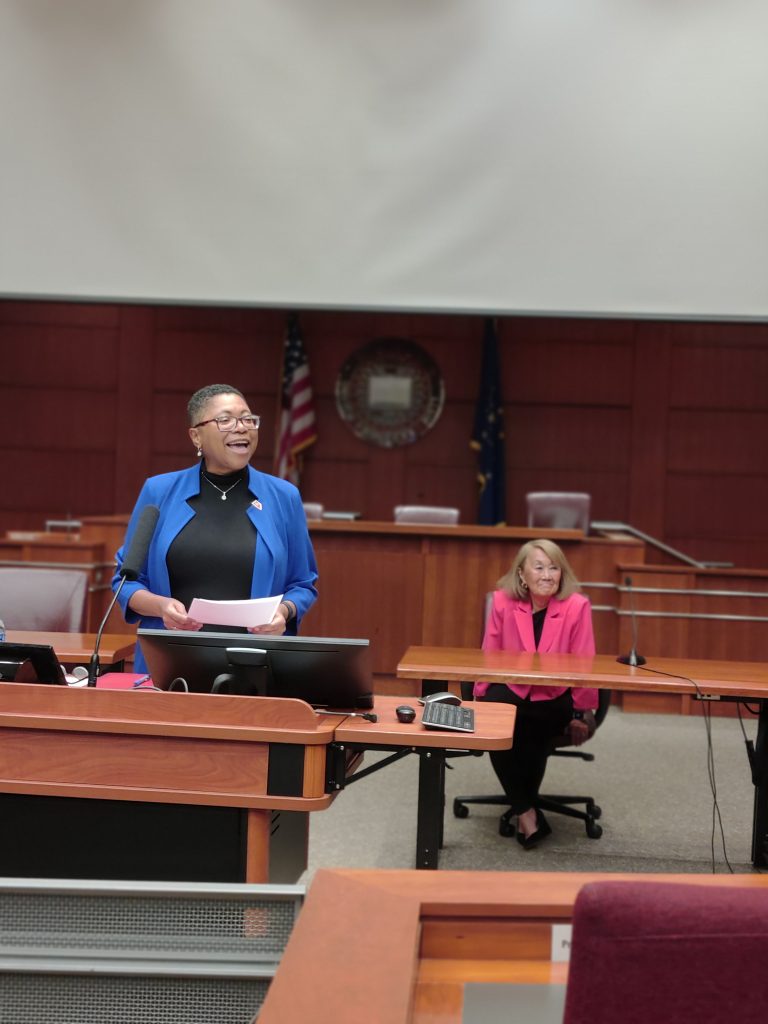 Jeanette Lim Esbrook, who was inspired to become an attorney by the social upheaval of the late 1960s and early 1970s, noted that of the three fundamental rights women were celebrating in 1972 — the signing of Title IX into law, the passage of the Equal Rights Amendment by Congress and the federal legalizing of abortion in Roe v. Wade, which came in early 1973 — only Title IX remains standing.
Esbrook arrived as a newly minted attorney at the then-U.S. Department of Health, Education, and Welfare just as the regulations for the implementation of Title IX were being finalized and prepared for release in December 1979. Her subsequent career has intertwined with the development and enforcement of Title IX policies, allowing her to see firsthand how the 37-word provision brought about change for women.
The former deputy assistant secretary of the U.S. Department of Education shared her professional story and the history of Title IX on Tuesday evening as the keynote speaker for the 2022 Birch Bayh Lecture at Indiana University Robert H. McKinney School of Law.
Named in honor of the late Indiana senator, the annual Bayh Lecture brings national leaders in the legal community and other prominent professionals to Indianapolis to offer their insights on current affairs. This year's lecture commemorated the 50th anniversary of Title IX, which Bayh wrote and pushed his Senate colleagues to pass.
IU McKinney Dean Karen Bravo, in her remarks before Esbrook's speech, pointed out that John Adams was at the Continental Congress when he received a letter from his wife, Abigail. She urged him, as he was writing a "new code of laws," to "remember the ladies."
"He didn't remember," Bravo said. "And his cohorts did not remember. But 196 years later, Birch Bayh remembered."
Esbrook continued the work Bayh started with Title IX.
Speaking after the lecture, Esbrook said she is still driven to practice civil rights law. But she conceded the work is not easy.
"I'm still inspired to be a lawyer. The changes and the challenges are tremendous," Esbrook said, noting she believes in Dr. Martin Luther King Jr.'s adage that the arc of the moral university bends toward justice. "It has been, and it's going to be, a challenge."
Currently, Esbrook said she sees concern for the erosion of women's rights being dwarfed by the daily struggles families are facing in the current economy.
"The issue of (Dobbs v. Jackson) overturning Roe v. Wade is important," Esbrook said. "But it seems to be less of a critical life matter to most families at this time, although it affects women personally, it takes away our sovereignty, and takes away our ability to have control over our own body and our choices. It's equally important, but it's difficult when you're worried about rent and food on the table and gas."
Esbrook's work at the HEW's Office of Civil Rights turned to investigations once the Title IX regulations were published at the end of 1979. Complaints were being filed alleging many university athletic programs were not providing equal opportunities for women.
The great disparity at that time between men's and women's sports was apparent among Esbrook and her colleagues, she said — namely, the women attorneys in the policy group investigating the complaints had very little experience participating in athletics. Fortunately, she said, the men who were regional investigators brought experience playing high school and college sports, so they were able to add to the women's understanding of college athletics.
Divided into teams, the policy group investigated the complaints and identified many areas of noncompliance. They then sent letters with their findings and negotiated agreements to remedy the compliance issues.
Esbrook highlighted a series of statistics that underscore the impact of Title IX in sports.
In 1972, just 10% of intercollegiate athletes were women. That portion has since grown to 48%.
Also, she cited a November 2021 report from the YWCA that found that participation in athletics resulted in an increase in academic success for girls, enabling them to obtain high degrees and more leadership positions in the public and private sectors. In addition, the report noted, female athletes experienced decreases in teen pregnancy, obesity, depression, and feelings of low self-esteem and negative body image.
Esbrook's Title IX work shifted in the early 1980s, when HEW's Office of Civil Rights began receiving complaints of sexual harassment. The attorneys recognized the situations as Title IX violations and she, again, was assigned to develop polices and investigative guidance.
"The Title IX sexual harassment policy eventually formed the basis of (HEW's Office of Civil Rights') anti-harassment policies based on disability and based on race," Esbrook told the IU McKinney audience. "Harassment is one of the few policy areas where Title IX and sex discrimination was the leader in establishing civil rights law and civil rights policy. Typically, it's Title VI of the Civil Rights Act and race discrimination that is at the forefront of developing discrimination policy and law."
Today, Title IX is part of the debate over whether transgender women athletes should be allowed to play women's sports. Esbrook noted the supporters of transgender women athletes assert the transgender athletes are so few in number, they will not displace cisgender women on sports teams.
"We shall see," she added.
After the lecture, Esbrook said she was a "little skeptical" of the numbers argument.
"I think the whole LGBTQ-plus movement is very powerful and I feel there's a lot of vehement support on their part to let transgender women athletes participate," Esbrook said. "On the other hand, there are a lot of outstanding athletes like Martina Navratilova (and) Nancy Makar that are really against hurting ciswomen athletes and don't want (transgender women) to participate. Even though there are few who are trans athletes, I think the issue is big and it goes to some fundamental rights."
Please enable JavaScript to view this content.