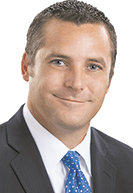 What role does Congress have in dealing with inflation and the nation's economy?

If you talk with Hoosiers every day like I do, you know folks are struggling. Hoosiers are finding it increasingly difficult to pay their grocery bills, their health care costs and their mortgages. They're constantly forced to come up with new ways to make ends meet.
That's Indiana right now. That's Sen. Todd Young's Indiana. And that's by design. You can really tell it's election season, can't you? If you only listened to Sen. Young tell it, you'd never know he voted to expand the national debt by trillions. You'd never know he failed to support efforts like curbing the extraordinary cost of insulin or the expanded child tax credit, made possible through the American Rescue Plan Act.
This at the same time the world is still experiencing economic uncertainty due to the pandemic—with rising food costs, utility costs and inflation beginning to take the country hostage, all while congressional Republicans show no interest in providing any type of meaningful economic relief to working Hoosiers. Now you've got a recipe for a perfect poverty storm, especially for Hoosiers raising kids or paying off student loans.
At the same time, Sen. Young's Republican supermajority colleagues at the Statehouse decided to hit Hoosiers with yet another tax—this time on student loan forgiveness. Indiana is one of only four states that have chosen to tax student loan forgiveness. What that means is, for those of us who are lucky enough to qualify for the one-time student loan forgiveness, all the supposed "inflationary relief" that was the original charge of this summer's special session has now been completely wiped away. That's in addition to the gas tax increase legislators passed.
That means low- and moderate-income Hoosiers who have been hit especially hard by the pandemic economic upheaval will be forced to make choices that mean utility bills go unpaid so families can feed their kids that month. That's Sen. Young's Indiana.
Paying our fair share is an important component of fiscal policy that allows the federal government to properly balance our spending. Unfortunately, Sen. Young is beholden to special interests and votes yes on handsome tax loopholes that benefit a small minority of well-connected Hoosiers while leaving the rest of us out to dry—I mean, how many ways can you keep your foot on Hoosiers' necks, senator?
I'm no tax-and-spend liberal—that ain't me—but let me tell you, I can be trusted to govern in a way that means all Hoosiers can do better and all of us have an equal opportunity to achieve economic prosperity. And I've noticed that when Sen. Young supports spending, that's good inflation, but when Sen. Young doesn't support it, that's bad inflation. That's picking winners and losers, and we're not supposed to do that as elected officials. We're supposed to do better.
Either we're going to help Hoosiers, or we're going to sit idly by. And I refuse to do the latter.•
__________
McDermott, a Democrat, is the mayor of Hammond. He was first elected in 2003. Send comments to [email protected].
Please enable JavaScript to view this content.