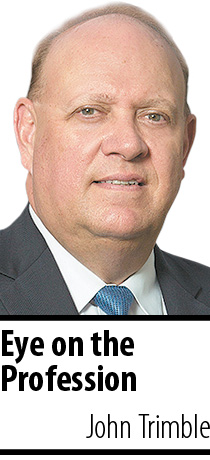 On Sept. 21, 2020, a whole new cohort of lawyers took the oath to practice law in Indiana. You have joined our profession in the strangest and least predictable year that any of us has seen. We welcome you into the bar with enthusiasm, high expectations and hope that our profession will soon return to a semblance of normal. This year more than ever you will need our support, guidance and patience as you get started.
The tips that I suggest in this article are designed for two audiences. New lawyers, I hope that you will embrace these tips and that you will find some benefit in heeding them. Employers and mentors, I hope that you will share these tips with your new lawyers and encourage them to embrace them. These tips are not in perfect order, nor are they exhaustive, but if you can follow them, you will have a short and personal strategic plan that will get you started. Here you go:
1. Expectations. You will not master the practice of law and balance it with life in one month or six months or even a year. Set reasonable expectations for yourself; do your best to meet or exceed them; re-evaluate your expectations from time to time; and, above all else, do not beat yourself up. The reality is that you may have very little frame of reference for what to expect, so find what works for you, your family and your employer, and be prepared to realign expectations over time.
2. Your client. My first day of work the partner who hired me asked me, "John, who is your biggest client?" I guessed and got it wrong. The answer was simple … that partner was my biggest client. He was the person whom I had to please. He was the one who would give me repeat work if I pleased him. He was the person who would evaluate the quality and timeliness of my work. He was the person who would pay me for my services and let me go if my services were lacking. So, this tip is simple … work hard to please your client!
3. Reliability. You will have no job and no clients if you fail to be reliable and responsive. That means being on time, keeping promises, responding promptly to emails and texts, and returning phone calls. There is a very simple rule in law and life: reliable people get ahead and unreliable people are left behind.
4. Work hard. This one sounds really simple, and it is. Just because you have a law degree, a law license, a job and a paycheck does not mean you have succeeded. Too many new lawyers make the mistake of believing that they have arrived and that they are owed the job and the income for having gotten there. The reality is that real day-to-day law is harder than law school. You must adopt an immediate attitude to work just as hard (or harder) as you did in law school. The first two to three years are critical for you to learn your craft and begin developing confidence in yourself and the confidence of others. There is no shortcut.
5. Professional credentials. As soon as you begin to see your substantive legal interests materialize, begin doing what you need to do to develop professional credentials. That requires additional CLE, skills courses, membership in substantive groups, writing, speaking and handling cases in the substantive area. Modern lawyers have an ever-evolving resume online — their website bio. Other lawyers and clients will want to see your professional credentials before they hire you. Don't neglect this important piece of your career building. You need credentials.
6. Social media. Now is the time to realize that your social media presence matters. You need to be on social media, and you need to remember that social media shapes perceptions of who you are. Astute lawyers have a "brand" for each social media platform they use. You want your brands to fit who you are, and it is okay to have different brands for different platforms. What you cannot afford is to be invisible or to be viewed as undisciplined, rude, outlandish or worse. Remember, social media creates awareness of who you are and what you do. Long term, your social media footprint will either bring you clients or drive them away.
7. Your debt. This tip is easier said than done. You are just coming off of several years of relative or actual deprivation. A paycheck feels good. You will want to eat and drink better than you have been able to enjoy as a student. You may want a nicer car or finer clothes or a house. However, I strongly urge you to do all you possibly can to manage and pay down your debt before you take on more debt. Be disciplined. Create a budget. Put bonuses and tax refunds into paying down debt. Long term, you will appreciate it.
8. Civic/bar associations. Join your state, local and specialty bar associations as early as you can and carve out time to participate. Be persistent and make bar association activity a lifetime commitment. You will also want to join civic and arts groups, but join for the right reasons. Bottom line: get out from behind the desk, meet people and get involved. It will be good for your mental health, good for your career and good for your family.
9. Your health. Don't let work get in the way of your health. Exercise, take time off, sleep well and maintain your fitness. Law is hard and stressful, but it can also be amazingly fun. It will be easy for you to work long hours, and the pay rewards can incentivize you to push your health aside. The truth is that if you can maintain your health and fitness, you will be more productive.
10. Your reputation. If you don't remember or follow my other tips, take this one to heart: guard your reputation! A reputation that is lost is horribly difficult to rehabilitate. Never lie, no matter how much the truth hurts. Don't cheat on hours, work product or billings. Be ethical and above reproach. It may not always be easy, but if you get off to a good start now, you will have a better time doing the right thing later.
You are exceptionally fortunate to be entering our profession. Don't take it for granted. Be strategic. My hope is that you will love the law and love lawyers. We are expected to be solid citizens and to stand up for our Constitution and our communities. It won't always be easy, but if you have a guiding personal plan, you will do well. Congratulations! #WillYouBeThere?•
• John Trimble (@indytrims) is a senior partner at the Indianapolis firm of Lewis Wagner LLP. He is a self-described bar association "junkie" who admits he spends an inordinate amount of time on law practice management, judicial independence and legal profession issues. Opinions expressed are those of the author.
Please enable JavaScript to view this content.