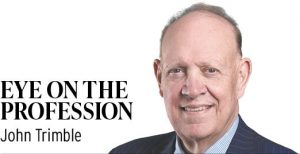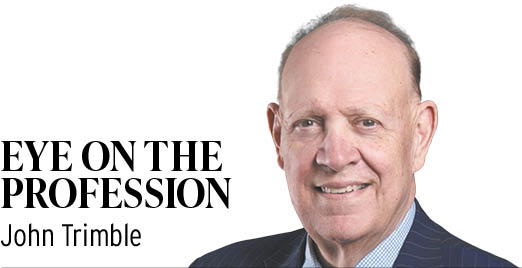 I feel and say the same thing this time every year: "Where has the year gone?" Thanksgiving is behind us and our many year-end celebrations are only weeks away.
So how was your year? Did you help anyone in a meaningful way? Did you advance the reputation of our profession? Did you serve a role in a bar association? Did you renew any friendships or make any new ones? Did you mentor a new lawyer? Were you a good partner, co-worker, boss, friend, spouse, companion, parent or child?
I was reminded of these questions and several more during Thanksgiving week as I attended the annual Recognition Breakfast of the Indianapolis Bar Association and Foundation. At this annual breakfast, the bar and the foundation celebrate the careers of lawyers who have completed 50 years in practice, and they recognize many other bar members for exemplary service to the bar and to the profession.
For many of us in IndyBar, this event is our favorite event of the year. It is always sold out. This year, like every year, there were well more than a dozen past presidents in attendance. All branches of our state and federal judiciary were present. Law firms were there in large groups to honor their members who were being recognized. Families and friends of honorees were there, as well.
As the 50-year honorees were announced, we heard about individuals who have loved and served their profession. They have not only practiced law, but they have been teachers, coaches, scout leaders, church and community leaders, bar leaders, judges and other public servants. Hearing this group reminded me that you are never too old to be inspired. They have done it all. I am sure that many in the audience left with renewed energy to do more.
On occasion, IndyBar recognizes a member with the Luminary Award of Excellence for lifetime achievement. This year, that honoree was John F. Kautzman. John is not only a past president of IndyBar but also a past president of the Metropolitan Bar Caucus and a member of the Executive Council of the National Conference of Bar Presidents. His influence has been national in scope, and through his leadership he has shown the country that the Indianapolis Bar Association is the gold standard of metropolitan bar associations in America. He is a bar leader in every sense of the word.
Locally, John has worked tirelessly to convince city leaders to fund and build a new justice center. Before that he worked to obtain ID cards for bar members to come and go from the courthouse without having to wait for security. As an advocate, he has developed a high-profile reputation as the go-to lawyer for police and firefighters. Those who have known John will tell you that he has always exuded passion for our profession and our bar association. Barely a day goes by that he has not been thinking about what he could do to improve how we serve the community. John Kautzman inspires.
So, as the year winds down, take a moment from this very busy time to reflect. How was your year? Could it have been better? Could it have been worse? What might you change for next year? Can you do anything in the time that is left this year to make a difference for someone or for an organization you support? Can you find a moment to say thank you to someone who has made your year better?
As we celebrate the holidays, let's allow ourselves to be inspired by others and let's resolve to do small things to inspire others. If we can all be reflective now and then, we will all be better for it.
#WillYouBeThere?•
__________
John Trimble (@indytrims) is a senior partner at the Indianapolis firm of Lewis Wagner LLP. He is a self-described bar association "junkie" who admits he spends an inordinate amount of time on law practice management, judicial independence and legal profession issues. Opinions expressed are those of the author.
Please enable JavaScript to view this content.