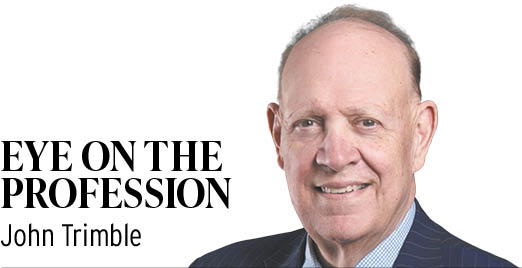 As I write this column, there are multiple signs of trouble brewing in our judicial system.
Headlines continue to mention the recent murder of Wisconsin state court Judge John Roemer. A heavily armed would-be assassin was arrested near the home of U.S. Supreme Court Justice Brett Kavanaugh. Multiple homes of the justices have been the scene of large demonstrations. Federal judges and their families have been murdered in recent years. And, according to a 2021 survey by the National Center for State Courts, public trust in the courts and other institutions is dropping at an alarming rate.
Meanwhile, high-profile politicians continue to impugn the motives of judges who have made rulings that are not to the liking of their political base. At least one high-level Indiana elected official recently derided an Indiana Supreme Court opinion by stating, "the court became a legislature today by overriding the intent of those who are directly elected by the people." False and corrosive statements of this kind have become commonplace.
We can debate the causes of declining public confidence in our judiciary. Some would say that it is the result of the failure of our schools to teach civic education in which students would learn about the role of our courts in our society. They argue that an uneducated public easily falls prey to politicians who accuse judges of improper motives, political leanings or legislating from the bench. I share this view. We need more civic education in schools.
However, there are other reasons.
We lawyers are the starting point. Too often lawyers will attribute an adverse outcome to the judge and will omit the fact that the law or the facts may have simply been against the client. For many, blaming the judge is far easier than blaming themselves or their client for an outcome. However, blaming the judge and imputing improper motives simply further erodes confidence in our courts.
There is no question that news media on both sides of the political spectrum have caused huge harm to public perceptions. Under the guise of "news," TV personalities spew hate and vitriol toward the judiciary. Because of the prevalence of national cable news, many Americans develop their opinions of judges from national television while they lack any knowledge about their local judiciary. In locales that elect judges, political advertising on television further diminishes public confidence.
Social media is another challenge for the judiciary. Anyone these days can find a social media platform "echo chamber" that embraces their personal views of politics and judges. The forum of social media allows anyone to be a "commentator," and too often the commentary is utterly ignorant of the facts or the law behind a judicial order. To make matters worse, the decline of local news coverage of judicial opinions means that many social media users do not have other sources available to them for objective and fact-based discussions of decisions of the day.
The growing lack of trust in and respect for our judicial system has resulted in more pro se litigants, assaults on judges and their families and staffs, lack of support for funding for security, staffing and adequate pay. The list goes on and it is getting worse.
So, what can we do?
First, we cannot remain silent any longer. We are the immediate consumers of the judicial system. We have been trained to objectively assess judicial opinions, and we understand the role of judges in our society. We must individually and collectively through our bar associations be more proactive in educating the public, the media and our politicians about the harm to our democracy if our courts are not protected and respected. If we are active on social media, we should use it to raise the level of conversation about our judicial system, and we should have the courage to condemn and correct unjust or inaccurate statements.
Next, we have to get into schools and talk to students of all ages about what judges do and what they do not do. We need to get before civic groups and share the same message. If we are involved in a political party, we need to voice our concerns and objections when members of our party distort the opinions and motives of judges. We need to lobby legislative bodies to provide adequate funding for security, staffing, technology and salaries. At the same time, we need to hold our elected officials accountable for unfair and inaccurate characterizations of judicial actions and decisions.
Finally, we need to be transparent with our clients about the strengths and weaknesses of our cases. We cannot blame the judge when things do not go our way.
The bottom line is that we need to say, "Enough!" It is time to stop accepting this state of affairs and do something about it. #WillYouBeThere?•
__________
John Trimble (@indytrims) is a senior partner at the Indianapolis firm of Lewis Wagner LLP. He is a self-described bar association "junkie" who admits he spends an inordinate amount of time on law practice management, judicial independence and legal profession issues. Opinions expressed are those of the author.
Please enable JavaScript to view this content.