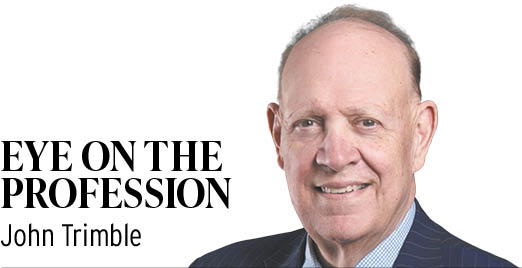 It is an understatement to say that the last two years have been hard. We will never forget the experience of living through a pandemic. In the legal profession we adapted and grew accustomed to virtual work, virtual depositions, virtual hearings, virtual mediations, virtual trials and virtual meetings. To some extent, much of what we do in law will remain virtual going forward. However, we are seeing in-person activities returning more and more as we are reminded that we lawyers like the personal interactions of what we do.
For those who manage and lead bar associations, the last two years have been especially challenging. Membership numbers in some groups have dropped and member engagement has been challenging. Most groups have been able to maintain CLE and other member services virtually, but most of us have realized that virtual social meetings just simply did not fulfill our needs to be with one another.
In my bar association strategic planning work, I have had the chance to poll bar associations of all sizes across the country on the question of why members join and remain as members. Uniformly, lawyers have cited three major reasons for their membership in a bar association: CLE, legal updates and networking with others. While the CLE and legal update needs have been well met by virtual offerings, the networking and socializing need has not been met. All of us have enjoyed happy hour events on Zoom, but they were not the same. We wanted to see one another in person and shake hands again.
In 2021, many organizations began to cautiously offer in-person seminars and annual meetings, but most such events still had a virtual component, and often the in-person attendance was less than the virtual attendance. Many other organizations remained completely virtual. For much of the year it was unclear just how soon we could get back to in-
person meetings and whether people would return.
During 2022, I have had the pleasure of attending several in-person bar association meetings, and one word can describe the mood of myself and those in attendance. That word is joy.
In July, Ann and I attended the Annual Meeting of the Defense and Corporate Counsel in Seattle. Attendance was strong, and I have never seen so many people hugging and smiling and savoring every social event during the week. It was obvious that everyone in attendance had a thirst for in-person interaction. It was exhilarating and exhausting, but oh so much fun after months of isolation.
More recently, I have seen the same joy on a local level. Just this past week, the Indianapolis Legal Aid Society hosted its annual Ignite the Night Roast. A sold-out crowd showed up early and had to be herded from the reception area into the dining area so that dinner could be served. I overheard person after person exclaiming that they had not seen someone else for two years and how good it was to see them. Hugs and handshakes and back slaps were everywhere. It felt like a family reunion.
The next night, the Indianapolis Bar Association and Foundation hosted the "Law Prom" at The Alexander hotel. A very enthusiastic and light-hearted crowd gathered to party and support the foundation's charitable fundraising efforts. Pre-COVID, similar events were fun and well-attended, but this one felt special. There were lots of young lawyers, and the DJ needed no special encouragement to bring people to the dance floor. It was clear to anyone observing the event that Indy lawyers were excited to see one another again. The room felt joyful.
Friends, it is time for us to get back into bar association engagement and to encourage others around you to do the same. I call on my friends in law firm management to lend financial support to your lawyers to come back to bar meetings. I urge supervisors and mentors to insist that your colleagues get back into bar association engagement. Your lawyers will feel rejuvenated by getting to see and socialize with other lawyers again. We will all be better for it, and our much-needed bar associations will be better for it.
I hope that you will come join me in a few moments of joy as we all reconnect! It's time.
#WillYouBeThere?•
__________
John Trimble (@indytrims) is a senior partner at the Indianapolis firm of Lewis Wagner LLP. He is a self-described bar association "junkie" who admits he spends an inordinate amount of time on law practice management, judicial independence and legal profession issues. Opinions expressed are those of the author.
Please enable JavaScript to view this content.