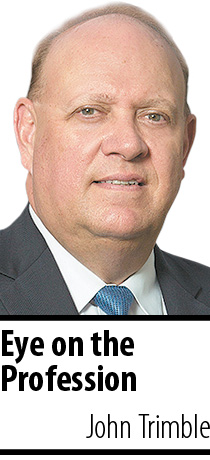 It has been said over and over lately that we are experiencing unprecedented times in our state, our country and around the world. If the COVID-19 pandemic was not enough, our country has been wracked with social unrest in the wake of the killing of George Floyd. Most major cities, including Indianapolis, saw peaceful protests that were followed by looting, vandalism and lawlessness. Any objective and thoughtful person realizes that in many ways, normal as we know it has been changed for good.
At the beginning of the pandemic, I reflected in another article about how our legal profession was on the "front lines" of the pandemic in ways we could not even imagine. Little did I know just how true that would become. While I knew that lawyers had always been the ones who stepped up to be problem-solvers in times of civic stress, I could not have foreseen just how important our leadership would become. We have been called upon to explain to others about the rights we have as citizens and to address the ability of government to restrain our rights. We have seen our justice and judicial systems subjected to intense criticism that is not always fair or justified. Many of us have realized that we must be the voices of reason when emotion and political division have strained the very foundations of our systems of government, our businesses and our way of life.
Now, more than ever, we all need courage.
A courageous man, Dr. Martin Luther King Jr., once said, "There comes a time when one must take a position that is neither safe, nor politic, nor popular, but must take it because conscience tells him it is right." (From "A Testament to Hope: The Essential Writings and Speeches.") In so many words, Dr. King was describing courage.
Courage is the ability to speak truth to power even when that power does not want to hear the truth and may hurt you for speaking.
Courage is the willingness to speak up and out about inequality rather than standing idly by and nodding as someone else speaks or as others remain silent.
Courage is speaking up to friends, family, co-workers, civic leaders and others about racism and racial injustice.
Courage is admitting our fears and then doing something about them.
Courage means you may lose a client or a friend or a political ally because you are willing to speak the truth when the truth needs to be spoken.
Courage requires every person to identify their own implicit biases and to recognize and understand the implicit biases of others.
Courage also requires each of us to learn to be a better listener and to do more to understand the views of others.
Courage is listening calmly as others may call us out personally for our own shortcomings and then acknowledging that we could be doing better.
Courage is more than words, it is deeds.
As the COVID-19 pandemic wears on, we in our profession will have to summon the courage to reopen our courts and make sure our justice system can continue to work. This will not be easy, and it will not happen overnight. However, we all need to be part of it, and we all need to do what we can to make sure the reopening is safe. We also must have the courage to admit our own fears when we don't feel safe in returning, and we should never belittle others who have the courage to admit their fears.
The horrifying death of George Floyd was a sobering reminder that many of us (and I include myself) have not had the courage to stand up forcefully against racial injustice. Oh, we thought we were concerned and supportive of racial equality, but it took the senseless killing of Mr. Floyd for us to realize that the status quo cannot continue. We lawyers, in particular, must find the courage to keep this moment alive and to work individually and collectively to transform our communities. We don't have to go it alone, but the honor we have received to be a voice in our communities cannot be squandered. We must exercise courage in all walks of our personal and professional lives.
If you doubt your own courage, or if you wonder how to summon courage, I have a suggestion. Begin by speaking to an African American friend or coworker about their life experiences and have the courage to listen. Get out of your own comfort circle of culture and try to experience the culture of others. It is only through listening and mutual understanding that we can make headway toward a more just and equal society. It takes courage. You have it. Exercise it. Our profession requires it!
#WillYouBeThere?•
• John Trimble (@indytrims) is a senior partner at the Indianapolis firm of Lewis Wagner LLP. He is a self-described bar association "junkie" who admits he spends an inordinate amount of time on law practice management, judicial independence and legal profession issues. Opinions expressed are those of the author
Please enable JavaScript to view this content.