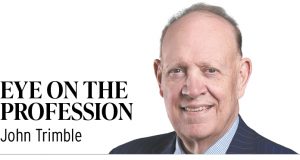 Hello, all. It has been my practice in recent years to have my first column of the new year be about New Year's resolutions. In a manner of speaking, this column will also be about a resolution for the new year, but it is more of a challenge than a resolution.
As we enter 2023, we are living in a world that is more polarized than most of us can remember. Citizens are polarized in their political, cultural, social and religious beliefs. On the extreme fringes, people not only disagree with persons who have differing views — they hate them. Many view persons of differing views as enemies. The hatred has manifested in rage, bullying, name calling, social media attacks and, in some instances, physical violence and death.
I have friends and acquaintances in the bar and the judiciary who have expressed concern that the polarization of our society has begun to spill over into how lawyers and their clients behave in litigation. They are seeing increasing examples of parties demonizing one another, game playing, bullying, lack of cooperation, intellectual dishonesty and lack of candor to the court. The flood of pro se litigants is also a symptom of the erosion of trust in lawyers and the system.
Everyone who is involved in litigation has seen instances of clients who hate each other. Family lawyers see it every day. Hate and mistrust is often an element of probate litigation and disputes over failed business relationships. Occasionally we see it in personal injury litigation after a particularly heinous act of negligence or recklessness.
The question I have for all of us is simple: Do we as lawyers have to embrace and embody the hate that our client has for the opposing party? The short answer should be "no."
We know that the "v." in a case caption between a plaintiff and a defendant stands for "versus." All dictionary definitions of "versus" define it as "against" or "in opposition to" another person or entity. So by the very nature of what we do, we are against someone else. That doesn't mean that we have to view them as an enemy and treat them as such. It does not mean that we lawyers have to embrace our client's hatred and give in to the client's demands that we grind the other side into the ground. As the saying goes, "You can be adverse without being adversarial."
I have many reasons to encourage lawyers to rise above the polarizing hatred that our clients may have for an opponent. First, hate is corrosive. It is not good for your health. Law practice is stressful enough without allowing hate to raise your blood pressure and rob you of sleep at night. Further, hate is unpleasant, and who wants to do a job that you dislike because it is no fun? Unfortunately, lawyers who practice law by embracing the hate of their clients end up isolated because they gain a reputation for their behavior.
Another reason to rise above our clients' animus is the good of our profession. Our profession and the judiciary are suffering from diminishing respect and trust. Every time a lawyer wallows in the mud with an opponent, the public loses confidence in us.
Hate is also expensive. Lawyers who engage in vindictive discovery and motion practices simply cost their clients more money. In the long run, our client relationships suffer if legal bills and expenses are escalated by vitriolic behavior.
My challenge to everyone (including myself) in 2023 is to resolve to practice law as a problem-solver. We may not be able to cure the polarization that is occurring in the world, but we do not have to exacerbate it. Consider standing up to the client who wants you to do things that do not advance the dispute to a resolution.
If you view every matter that comes your way as a problem to be solved and you take a problem-solver's approach to it, you, your client and our profession will all be better for it.
#WillYouBeThere?•
__________
John Trimble (@indytrims) is a senior partner at the Indianapolis firm of Lewis Wagner LLP. He is a self-described bar association "junkie" who admits he spends an inordinate amount of time on law practice management, judicial independence and legal profession issues. Opinions expressed are those of the author.
Please enable JavaScript to view this content.