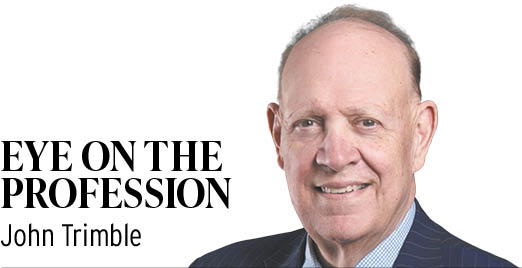 As this column goes to press, we are all enjoying that moment in which the hustle and bustle of the holidays and year-end has passed, the winter doldrums are behind us, and the warmer weather, green grass, spring flowers and longer days are renewing our spirits. If your household is anything like mine, it is also time for our annual spring cleaning. Our houses, our yards and even our cars may be getting a thorough cleaning and straightening.
This time of year, I also like to bring a little spring cleaning to my law practice, and I want to urge you to do the same. The following are some of the things that I like to do and that I advise others to do:
1. Your office. Most of us have begun or are deeply into an effort to go paperless. Nevertheless, most lawyer's offices tend over time to pile up with files, notes, unread articles and all kinds of miscellaneous items. The surface of your desk may have Post-it notes, scraps of notes, legal pads and piles. Like me, your office may be comfortable and cozy, but the reality is that clutter can sap your productivity and be distracting. Set aside two hours, and any file that you have not looked at in the last month should be moved out of your office. Grab a trash bag or two and throw away everything in your office that you are not using. When you are done, dust the surfaces, run the sweeper, and put things into drawers and cabinets and get them out of your view. (If you are feeling extra inspired, take some time and go through desk drawers and file drawers and throw away anything that you have not used in months.) Take my word for it: You will feel a great sense of accomplishment when you are done, and you will work better in a cleaner and less cluttered environment.
2. Your caseload. The beginning of April is a great time to review and assess your case list. Take a look at your calendar and the year ahead and give some thought to the priority of work that needs to be done on a case-by-case basis. If you have what I call the "mental block" case for which you have been putting off the work, put it on the top of your list and get the work done on it. Take the time to create a work plan for each matter, put those plans in order of priority and get started. Many of us are so busy that we find ourselves responding to whatever is the hottest emergency of the moment, but that creates anxiety and is no way to practice law. If you can do some simple planning and think strategically, you will have renewed vigor to get things accomplished and matters resolved.
3. Your website bio and social media profile. We all have a tendency to set up our website bios and social media profiles with pictures and current information, and then we forget them. Before you know it, your photo and your personal information are outdated. Your LinkedIn profile still has you listed doing a job that you left two years earlier. Your picture no longer looks like the real you. It takes very little time to go in and fix those things. Do it. We are living in a digital age when your website bio and social media profiles are your calling card. No one hires you without having checked you out online. Make sure they are getting current information.
4. Your contact lists. Hardly a day goes by that we are not updating contacts or adding contacts to our computer and cellphone contact lists. However, seldom do we take the time to go through our lists and update information. We have contacts we do not need any longer; we have contacts who have retired or died; and we have contacts who have relocated or changed jobs. Your contact list is your lifeline to the world. Keep it current and take the time to update! (While you are updating your contact list, take a minute to call or write someone whom you have not seen or talked to in a while.)
5. Your budget. Some lawyers and law firms work without a formal budget, and for those who do so, I urge you to change that practice. Budgeting and profitability go hand in hand in law and business. If you were too busy at year-end to create a budget, take the time to do it now. If you have a budget, take the time now to assess how you have adhered to it for the first quarter of the year. If you find that you are far off your budget, figure out why and try to fix it. If your expense or income projections for the year were off, adjust them. If you do it now rather than waiting for midyear, you will have a better year. So do it now.
6. Your partnership agreement and strategy. Many, many firms have partner agreements and strategic plans that they drafted and adopted and placed on a shelf. The needs of the firm may have changed. The firm may wish to expand and bring in partners, or it may have senior lawyers approaching retirement. Is your partnership agreement going to address the issues as they arise, or will it serve as a barrier to expansion? Don't take it on blind faith that your partner agreement will be relevant and instructive when dynamic changes occur. Get it out, study it and clean it up now before the need arises.
7. Your health. Spring is a great time to address your health. Did you put on a few pounds and get out of shape during the cold winter months? The earlier sunrises and later sunsets of spring allow plenty of time for exercise. It is time to pump up the bike tires and get some new running shoes and get out on the streets for some cardio. Your mental and physical health and your productivity at work will be vastly improved by even a small amount of exercise. Start with a 20-minute daily walk and then work up from there. You will not regret it.
This list is not all-inclusive, but if you can do any of the things I suggest, you will get spring off to a better start and set a good course for the rest of the year. I hope to see you out on the streets!
#WillYouBeThere?•
__________
John Trimble (@indytrims) is a senior partner at the Indianapolis firm of Lewis Wagner LLP. He is a self-described bar association "junkie" who admits he spends an inordinate amount of time on law practice management, judicial independence and legal profession issues. Opinions expressed are those of the author.
Please enable JavaScript to view this content.