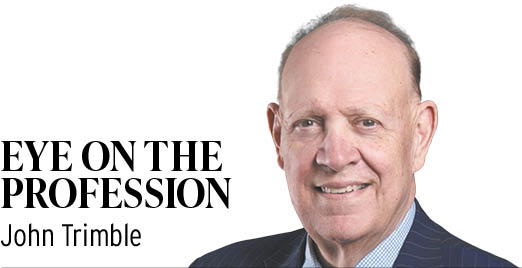 Many of my friends know that my wife and I recently downsized to a smaller home. In the process of moving, I was cajoled by my wife to go through my boxes of memorabilia to see if I could discard a few things and take up less closet space. As I was going through my boxes, I found an article that I had written in February 1993 for Indiana Lawyer titled, "Expert panel offers suggestions for a better life for lawyers." I was inspired at the time to write the article because I had been at a statewide meeting of lawyers, and a number of us from the plaintiff and defense sides of practice had a wide-ranging conversation about our pet peeves. The group gave me permission to take notes and share their views on the things that make our lives as lawyers more difficult. After rereading the article, I thought it might be fun and beneficial to revisit it to see whether anything has changed. While some things have changed, many have not. So, I will share a few thoughts from 1993 and add a few new ones. I will try to set forth the areas of frustration in the order of importance expressed by the group at the time (expletives deleted).
1. Phone tag. This is an area of frustration that still exists but has diminished to a degree by the popularization of voicemail and the fact that fewer lawyers communicate by phone than they once did. However, to the extent you still use the phone (as you should), please return phone calls promptly. Don't call another lawyer early in the morning, at lunch, after hours or on a weekend and leave a message that says, "Call me." If you make a call and fail to reach the recipient, only leave a message if you are going to be available for a call back. Or, leave instructions for when would be best for you to be reached for a return phone call. It is OK, however, for you to leave a message any time if you are merely supplying information or asking the other person about something that may require them to do some research before they respond. The bottom line is that we can all minimize phone tag by being sensitive to avoiding the things that cause phone tag, so do your best to avoid it.
2. Unresponsive lawyers. We are all busy at times, but busy is not an excuse for being unresponsive. Return phone calls. Acknowledge and respond to emails. There is nothing more frustrating than a group of lawyers trying to schedule depositions or a mediation and one lawyer failing to respond to emails for dates or failing to return calendars. Further, there are so many things that can be done and resolved via communication so that motions do not have to be filed with the court. In 1993, the assembled group of lawyers also disliked other lawyers who simply would not respond to discovery in a timely fashion and then refused to respond to requests for when the discovery would be forthcoming. That problem has not changed very much.
3. Surprises of any kind. These days, much litigation proceeds according to a case management plan, so the opportunity for surprise has diminished. However, there are a few things that still happen. All of us hate receiving a Notice of Deposition without any warning. We don't like opponents who come up with last-minute witnesses … particularly expert witnesses. Most of us also do not like last-minute motions to postpone depositions, trials or hearings when substantial planning and preparation went into securing a date and the lawyer and client are ready. We all realize that some surprises are going to occur due to unforeseen circumstances. However, at a minimum, pick up the phone and call opposing counsel to at least let them know that something unexpected is going to happen.
4. Unnecessary work. Interestingly, this is an area that has changed to a degree since 1993. Back then, the lawyer group all hated when a case settled on the courthouse steps after weeks and weekends of preparation. They all hoped alternative dispute resolution and the relatively new utilization of mediation would make last-minute settlements less prevalent. That has happened. While we still see a case or two settle the week or weekend before trial, it happens far less frequently. Another area of complaint in 1993 that still exists to an extent is unnecessary motions practice. Plaintiffs in particular hate responding to summary judgment motions that have little chance of being granted. They also dislike cookie-cutter and overly burdensome discovery in cases in which they have already supplied the defendant's insurer with ample information before suit was filed. On the issue of whether work is indeed unnecessary, there will never be complete agreement, but this is one area in which our clients will benefit from lawyers who do what is needed but no more.
5. Lawyers who fight for the sake of fighting. Everyone in 1993 understood that litigation is inherently adversarial. But they agreed that none of us benefit our clients, the profession or our health if we fight for the sake of fighting or object for the sake of objecting. The lawyer group at the time all agreed that we should be problem-solvers and communicators and should do our best to be adversarial without being adversaries. In the intervening years since I first wrote about this, I do feel this is an issue that has improved. We can credit better case management and ADR for having lessened the unnecessary fighting a bit.
6. Midnight, Friday and weekend filings. This is a new category. Now that we all walk around with our email on our phones, we can receive electronic filings at any hour of the day or night or on weekends and holidays. We all understand that sometimes, late evening, Friday at 5 p.m. or weekend filings cannot be avoided. However, there is nothing more painful than having your Friday evening, weekend or holiday ruined by an unexpected filing. I cannot promise that I will never do it myself, but I hate it enough that I purposely will wait for another time to file something if I know it will disrupt the peace of mind of another lawyer. I would urge others to do the same. We will all be happier.
7. Demonization of an opposing party or opposing lawyer. This is another new category and the last I will mention. In the last decade or so, there has been an increasing practice of demonizing an opponent as a litigation tactic. In my view, it is unfair and unethical. Further, I don't believe most judges like it, and the better judges see through it. Not every insurance company acts in bad faith and not every plaintiff is exaggerating. Indeed, most of the time, litigants have perfectly good-faith reasons for their positions, and they don't deserve to be demonized for it.
I noted in 1993 that many of the above-referenced pet peeves harden our arteries and impact our enjoyment of the practice of law. Life as a lawyer can be hectic, and at times it can be frustrating. However, if we all reflect just a little bit on how we can be better communicators and problem-solvers, we will all be happier, and our clients, our families and our profession will benefit.
And if I ever violate any of the pet peeves above, please feel free to call me out on it. #WillYouBeThere?•
__________
John Trimble (@indytrims) is a senior partner at the Indianapolis firm of Lewis Wagner LLP. He is a self-described bar association "junkie" who admits he spends an inordinate amount of time on law practice management, judicial independence and legal profession issues. Opinions expressed are those of the author.
Please enable JavaScript to view this content.