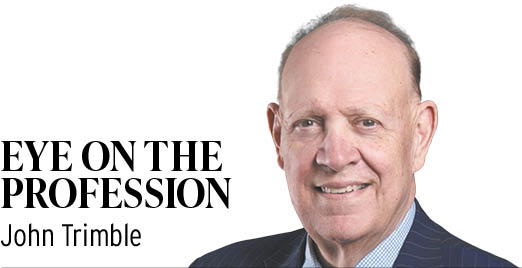 At the end of this month, I will be speaking on the topic of "A Virtual Quagmire: Weighing the Risks and Benefits of Remote Work in a Post-COVID World" at the annual meeting of the Federation of Defense & Corporate Counsel. My research and investigation into that topic prompted me to share some of what I have learned in this column. I hope you will find it helpful.
Anywhere that lawyers gather, the discussion usually turns to the future of the workplace. Managing partners, in particular, are concerned about the productivity of their lawyers, utilization and leasing of space, technology, firm culture and employee turnover. All these concerns are impacted by the question of whether to continue to allow lawyers, paralegals and staff to work remotely.
Many of us have seen major employers in the business world go completely virtual. Businesses are giving up or downsizing their offices. Technology is continually being adapted for virtual chatting, meeting and remote access from anywhere. So, the question is, can this model of working apply to law firms?
The short answer is that we know it can work. The idea of law firms without offices was not the product of COVID. There are many stories of successful firms, large and small, that have worked without brick-and-mortar walls for well more than a decade. Firms everywhere have had small numbers of lawyers working remotely and flexible work schedules for years. However, COVID forced all of us to work from home in the last two years, and even more senior lawyers like me learned that we could do it successfully. Many of us enjoyed it.
As I have read articles, listened to speakers and spoken with lawyer friends everywhere, I have learned that your view of this topic is influenced by your age and experience. More senior lawyers, in general, find greater comfort in the traditional law firm setting because that is what they know. I say "in general" because there are many senior lawyers who got a taste of retirement during COVID, and they loved working from Florida, France, a lake house or the deck of a boat somewhere.
Younger lawyers, who have grown up with technology and a differing sense of work-life balance, have embraced virtual work more readily, and many would be happy to work remotely full time. Many of them see their counterparts in the business world working from the local coffee shop and it has attraction to them.
Here are the questions I hear from law firm leaders:
• Will associates working remotely be able to engage in the internal relationship building and cross-marketing that they will need to become partners someday?
• How will younger lawyers be mentored by more senior lawyers if they are not physically present in the office?
• If law for young lawyers is akin to an apprenticeship, how will they get experiential learning from tagging along with partners and sitting in on client meetings?
• Will lawyers of all ages working remotely be sufficiently engaged in bar associations, civic affairs, networking and all the rainmaking activities that are needed for a firm to survive?
• Will communication break down if it is all done by text message, email and the occasional phone call or Zoom meeting?
• Can we expect lawyers to be disciplined enough to be as productive as they might be in an office setting?
• Can a firm maintain a culture that will attract and keep lawyers and employees if they do not see one another regularly?
There are many more questions, but these are the big ones. Unfortunately for firm managers, there are no "yes" or "no" answers to these questions. There is no "one-size-fits-all" answer.
My advice to law firm leaders is that now is a prime time for strategic planning. For planning to be successful, firms must include all the generations of the firm and key nonlawyers in the planning process. Senior lawyers need to express their ideas and concerns with younger lawyers and younger lawyers need to express their views to more senior lawyers. Frankly, some good implicit bias training within firms would also benefit all generations in understanding one another. Ultimately, the planning process should be intended to address these questions, and any plan should have buy-in from all ages. The plan should be consistent with your view of your firm's culture. Further, more than ever, strategic plans will need to be continually reviewed and tweaked as the firm experiences success or failure with aspects of the plan. Firm culture will have to be monitored regularly.
As firms have been venturing into these uncharted waters, there are a few things they have begun to learn. Remote work may be better suited for some types of practice than others. To the extent that working remotely is deemed to be a privilege, then productivity should be a condition of continuing to have the privilege.
Partners and associates may be treated differently, but if partners are going to require associates to be in the office a certain amount of time then the partners should be there, too.
Exceptional communication within the firm and among partners and associates is essential. This can involve daily check-ins, weekly team meetings in person or by Zoom, and regular in-person meetings of all lawyers and staff. My firm, for example, requires all lawyers and staff to be in the office on Wednesday, so our meetings are scheduled for Wednesday and we regularly provide lunch for everyone that day.
Metrics and financial support for bar association and civic involvement and leadership are also essential. Firms must go to greater lengths to assure lawyers are doing all the things that must be done to maintain the profile of the firm and business development. Similarly, extra emphasis on mentoring will be important.
Periodic reviews of associates (preferably quarterly) are also important to make sure they are on track and meeting expectations. These reviews are also a good time to gauge their work satisfaction and their mental health.
Lastly, there has to be special emphasis on client service and professional courtesy. The firm's lawyers and staff must be accessible and responsive. Clients will not care whether their lawyer is in the office if they get the kind of attention they expect. Other lawyers will likewise be understanding of remote work and flexible schedules if the lawyers in the firm respond to communications.
The best that any of us can do in this period of transition is to enter into planning with an open mind and a spirit of flexibility. If something doesn't work, change it. But we can no longer run a law firm with the attitude that "you will do it this way because that is how we have always done it." That simply will not work.
Let me know if you have ideas for how to approach these issues, and I will share them. Be patient with yourself and one another. Good luck!
#WillYouBeThere?•
John Trimble (@indytrims) is a senior partner at the Indianapolis firm of Lewis Wagner LLP. He is a self-described bar association "junkie" who admits he spends an inordinate amount of time on law practice management, judicial independence and legal profession issues. Opinions expressed are those of the author.
Please enable JavaScript to view this content.