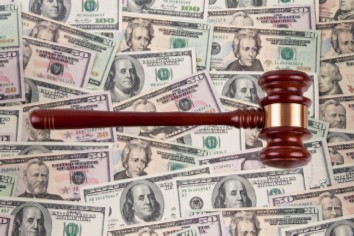 The Promus Wealth Management Group, a 15-member Indianapolis-based wealth management team with $1.5 billion in client assets, moved from UBS Financial Services Inc. to RBC Wealth Management late last month — one of the largest teams ever to join RBC, which manages more than $500 billion in U.S. assets.
Now, UBS has sued seven members of that team, alleging that they have improperly contacted UBS clients in hopes of luring them to RBC. Switzerland-based UBS says the activity is a violation of confidentiality and nonsolicitation agreements that the defendants signed while working for the firm.
Big money is at stake in this case.
According to UBS, the 15 team members collectively generated more than $8 million in annual revenue for UBS. Those clients included businesses and their 401(k) plans, some of which held tens of millions in combined assets.
"It's a very large team, with a lot of assets under management," said securities attorney Mark Maddox, founder of Fishers-based Maddox Hargett & Caruso PC. Maddox is not involved in the UBS lawsuit.
The lawsuit also claims that RBC offered the team a combined upfront payment of $16 million to make the move, plus the ability to earn an additional $8 million if team members met certain revenue goals.
UBS filed the suit Nov. 2 in U.S. District Court for the Southern District of Indiana against seven of the 15 people who left UBS on Oct. 27 and immediately joined RBC. Those individuals are David Bartz of Indianapolis; Daniel Chillemi of Fishers; Ozzie Fishman of suburban Columbus, Ohio; Jordan Frye of suburban Dayton, Ohio; Brendon Harbron of Fishers; George Kempf of Indianapolis; and Marc White of Indianapolis. Bartz, Chillemi, Harbron, Kempf and White were financial advisers at UBS, while Frye was a senior wealth management associate. Fishman was a member of the team's support staff, serving as director and planning specialist.
In its complaint, UBS is asking the court to issue a temporary restraining order and preliminary injunction to stop the defendants from continuing to solicit clients.
UBS said in the complaint that it has also filed arbitration claims against the defendants with the Financial Industry Regulatory Authority, or FINRA.
A FINRA arbitration panel will be the one to hear the dispute and decide whether UBS should receive damages or other relief.
Magistrate Judge Tim Baker presided over a status conference on Nov. 7; he had not yet issued a decision on Nov. 8.
As of Nov. 8, none of the defendants had filed official responses to UBS' complaint. An attorney for the defendants declined to comment.
The local UBS and RBC offices are within sight of each other in the Keystone at the Crossing development, behind the Fashion Mall at Keystone.
Indianapolis securities attorney Keith Griffin, of Griffin Law Firm, who is not involved in the UBS case, said it's not uncommon for firms to sue departed brokers who the firms feel have improperly solicited clients to jump firms.
What is unusual, Griffin said, is the speed with which UBS filed suit. In Griffin's eyes, that speed is an indication of how keen UBS is to stop the brokers' activities.
"This is a significant group," he said of the Promus team.
UBS' allegations
In its complaint, UBS accuses the defendants of using UBS resources to plan UBS client meetings that took place after the defendants had left the firm — including a meeting on the night of Oct. 27, just hours after the defendants had resigned UBS to join RBC.
That UBS client, which was identified only as Client B, had $79 million in assets and had been one of the defendants' largest UBS clients, the suit says.
UBS alleges the defendants went ahead with the meeting even after the company told them the meeting would violate their nonsolicitation agreements.
UBS also claims the Promus team members printed out more than 5,700 pages of information in the week before they left the firm. As a comparison, UBS said, the team printed 2,400 pages during the last week of September.
"The actions of Defendants have damaged the financial viability of UBS's Indianapolis office because they have solicited UBS customers representing a significant amount of assets, as well as caused non compensable damages to UBS's business reputation and the goodwill it has developed at great effort and expense over the years," UBS says in its complaint.
According to the complaint, only one financial adviser who had been with UBS' Promus group remained at UBS after her colleagues switched to RBC.
UBS, RBC and the defendants were tight-lipped when Indianapolis Business Journal contacted them seeking comment.
Gregory Taylor, with the Indianapolis office of Milwaukee-based MWH Law Group LLP, is among the attorneys representing UBS in the case. Taylor did not return multiple phone messages and emails.
Jonathan Scobie, an attorney at New Jersey-based Stevens & Lee PC, is representing all seven defendants. "I'm not permitted to make any comments whatsoever," Scobie said of the case.
Six of the seven defendants did not respond to messages seeking comment. Chillemi referred queries to RBC's branch director, Rhys Helt, and Helt told IBJ that his office would have no comment.
RBC — which is not a party to the UBS lawsuit — did not return phone and email messages seeking comment about the suit.
Growth goals
RBC had widely touted the Promus group's move, sending out a press release on Oct. 27 — the same day UBS said the team abruptly resigned.
In the release, RBC described the Promus group as a "mega-team" that had experience working with wealthy individuals, families and foundations, and with corporate clients and their 401(k) retirement plans.
"The Promus Wealth Management Group is a staple in the Indianapolis advisor community and brings the right experience and energy for our expanding presence in this market," Helt said in the release.
"This is a group of true professionals who do an impeccable job for their clients, and we are thrilled to welcome this powerhouse team to RBC Wealth Management."
RBC also told IBJ the day after the press release that the group was one of the largest ever to join its entire company, in terms of both headcount and client assets.
RBC Wealth Management, whose U.S. headquarters is in Minneapolis, has $510 billion in U.S. assets under management and 2,100 U.S. financial advisers.
The company is part of Toronto-based Royal Bank of Canada, which is that nation's largest bank.
UBS has $1.57 trillion in U.S. assets under management. Its U.S. headquarters is in Weehawken, New Jersey, in the New York City area.
RBC is actively working to grow its U.S. wealth management business. According to the company's 2021 annual report, it invested in "substantial financial advisor recruitment" in 2021 and has a goal to "become the leading private and commercial bank and wealth manager in our key markets."
Luring experienced brokers from other firms is a common growth strategy, Griffin said, because the hope is that some of those brokers' clients will follow them. It's easier and quicker to grow this way than to hire green brokers who haven't developed a big book of business.
"These are experienced brokers — these folks have existing clients," Griffin said of the Promus group. "For RBC, it's one-stop shopping."
Tricky maneuvers
That said, things can get tricky when a seasoned broker leaves one firm for another.
Though clients are free to follow their adviser from one firm to another, Griffin said, those brokers are typically bound by nonsolicitation agreements that limit what they are allowed to say and do.
As an example, Griffin said, brokers who leave one firm for another can contact clients to tell them they have left a firm, and they can provide a phone number where the client can call if they wish.
But brokers generally cross the line if they tell clients which firm they've joined, or if they ask clients to follow them to that firm.
"I always advise (broker) clients in this situation to be as cryptic as possible," Griffin said.
Maddox said most brokers don't face these types of lawsuits when they switch firms, but an individual broker's chances of being sued can vary. "Some firms tend to be more litigious than others."
The broker's own actions also make a difference, Maddox said. If a broker makes a clean break and avoids doing "silly stuff" like copying clients' records, they might avoid litigation altogether.
But, he said, "when they're sloppy, they're going to get sued — and they may get hit with a temporary restraining order."•

Please enable JavaScript to view this content.