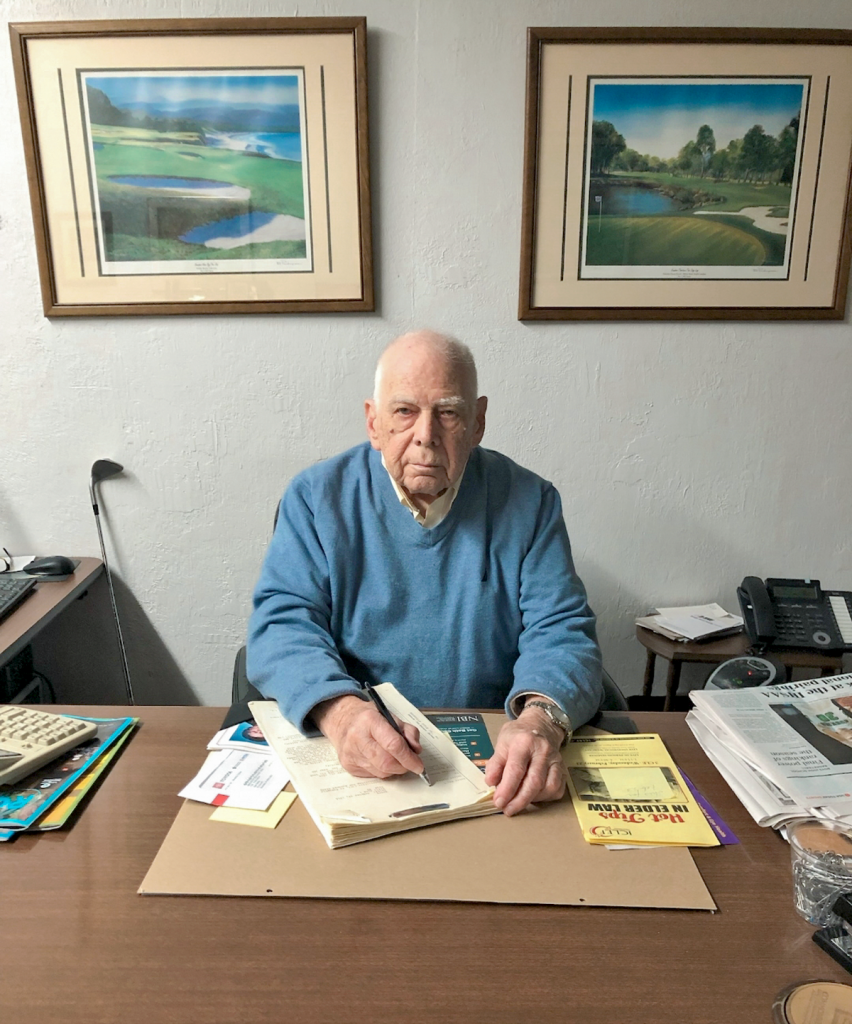 Laying out a big, clean sheet of paper, 92-year-old attorney Don Ashley gathered his measuring tools, sat down and got to work.
Five days a week, the longtime Boonville lawyer gets up and goes to the office, where he practices and consults at his daughters' title company.
"Yes, every day," Ashley said with a chuckle.
Ashley is one of the oldest practicing attorneys in Indiana. His legal career began in 1954 and has run the gamut.
He started as a young public defender and eventually served as Boonville's city attorney from 1956 to 1964 and 1980 to 1988. He later served as deputy prosecutor from 1971 to 1974 and spent 30 years as counsel for the town of Lynnville.
For the past three decades, Ashley has focused on real estate and probate law. Although he hasn't practiced regularly in court since his 70s, he said he does miss the collegiality of the courtroom.
Before moving to his current office in 2012, Ashley had practiced out of an office on the city's public square since 1974 — the same office where his father practiced law beginning in 1946.
Ashley recalled practically growing up at his father's law office, where he spent every day during the summer answering phones and running errands.
Since those days, he said he'd never considered doing anything other than following in his father's footsteps.
Honest day's work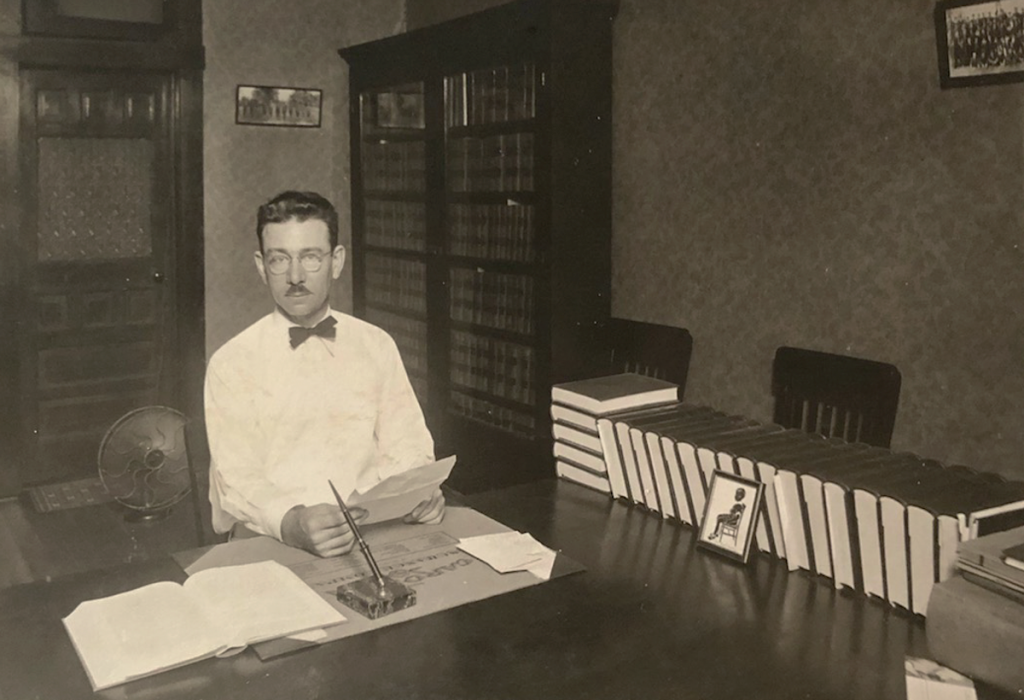 As an only child, Ashley's family and community assumed he would take after his father, who built a successful law practice in Boonville.
Recalling a time when he asked his father for advice about composing complaints and contracts, the response Ashley received was simple, powerful and a little humorous: "Just make sense."
Making sense of complicated matters is something Ashley is good at, his family and friends say.
Ashley has been a fountain of legal knowledge over the years, according to his daughter, Laura Broadhead. He still prepares many deeds at their title company and still plats by hand.
"We've never had a software program that does it for us," she said.
Laura described her dad as being generous with his time and expertise when other lawyers ask to consult with him about their legal concerns or questions.
"It's been interesting for me to sit and watch this take place — to see what he's done and continues to do," she said. "It's amazing because if I'm at the office and he's helping another attorney or trying to explain something, I can learn so much just by listening to his conversations."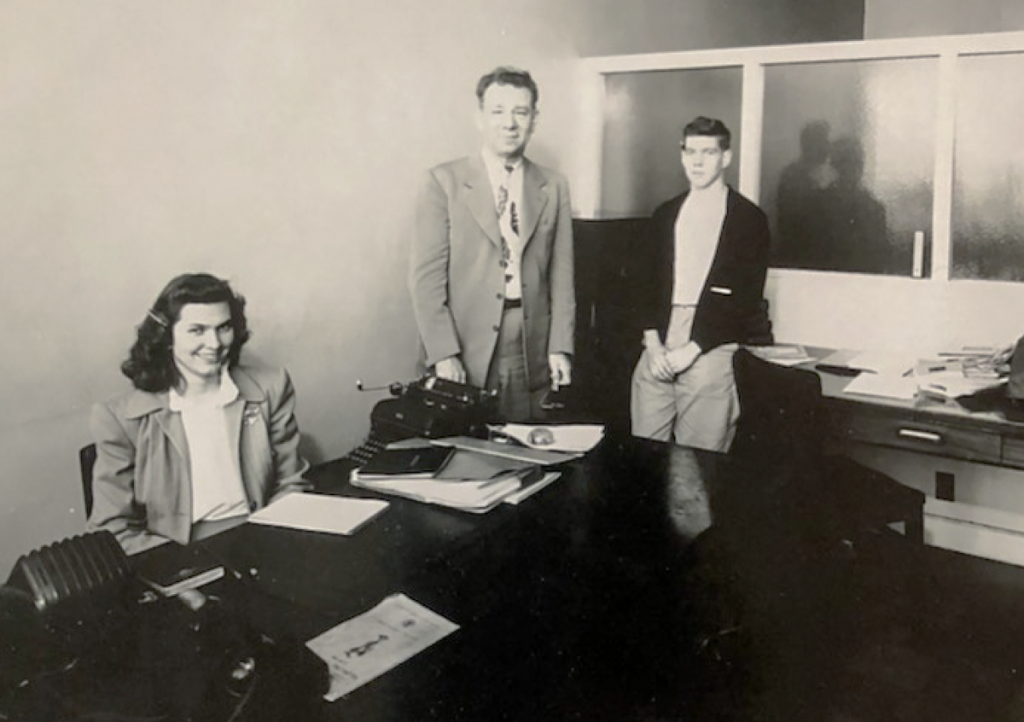 That hardworking spirit is evident in both Ashley's personal and professional life.
Following a 2016 car accident that resulted in the death of his son-in-law, Ashley stepped in to support his family in spite of his own injuries from the crash.
"When my dad got home from the hospital, he didn't feel great," Laura said. "I remember saying, 'I need you back in the office,' and he was back in the office doing commitments he hadn't done in 20 years.
"It was such a traumatic time for us, but he was back in the office doing what he had to do to keep things going," she continued. "He would do anything in the world for his family. It would have been very easy for us to say, 'We're done, it's too hard.' But that's not the way it was."
Benjamin Broadhead, an associate at Faegre Drinker Biddle & Reath LLP and Ashley's grandson, said he thinks it's truly incredible that his granddad continues to practice law at 92.
"I think he's had an incredible career and he's made a big impact on the community," Broadhead said. "He's met and developed relationships with so many people in the town of Boonville and in lawyersick County through his practice. I'm very proud to be his grandson and I'm very proud to be following in his footsteps and in the footsteps of my father and my great-grandfather as an attorney."
The elder attorney said he's proud of his family, too.
"I'm extremely proud and I wish him purpose," Ashley said specifically of Ben.
"I question his sanity for entering the legal field," he added.
When asked if he learned any lessons from his father in all his years of practice, Ashley immediately had an answer: "Be honest and truthful and be faithful to your clients and profession."
Ben chimed in, "Couldn't have said it better myself."
'An institution'
Hard work and generosity are two pillars of Ashley's practice evident to those who know him. Longtime friend and fellow attorney Anthony Long, a general practitioner in Boonville, called Ashley "an institution in the legal profession."
"His skills and talents are undiminished," Long said. "I've never taken a question to him that he didn't sit there and ponder for a second and give me a simple and concise answer."
The friends met when Long relocated to Boonville after being admitted to the Indiana bar in 1970. Long remembered noticing Ashley's reserved demeanor and "amazingly dry sense of humor."
More than 50 years later, Long said Ashley is a dear friend whom he admires deeply.
"Everyone listens to his opinion and takes it seriously — clients and other attorneys," Long said. "When I wrote my first will, I never told him I named him the executor of my estate because I trusted him so much."
Long confirmed there's no question that Ashley's mental acuity is still razor sharp.
"It's amazing how he can take a property dispute and line it out with a big piece of paper and with all of his compasses and little devices," Long said. "He can figure out what's right and when he does it's just phenomenal to see someone his age that is still as competent and acute as he is."
Ashley continues to practice law, he said, because he simply enjoys going to work each day and can't think of anything else he'd like to do with his time. He said he doesn't view practicing at his age as an accomplishment — he's just doing what he enjoys for as long as he can.
"It's been a good life," Ashley said. "I've enjoyed being able to prolong my practice."•
Please enable JavaScript to view this content.