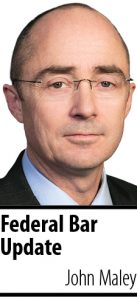 Federal rule changes take effect each Dec. 1 and govern all proceedings in cases thereafter commenced and, insofar as just and practicable, all proceedings then pending. This year, no amendments to the Federal Rules of Civil Procedure take effect.
Several amendments will take effect to the Federal Rules of Appellate Procedure, including to Rule 3, Rule 6 and to Forms 1 and 2. The Judicial Conference's Report from the Committee on Rules of Practice and Procedure explains the Rule 3 and 6 changes as follows:
The proposed amendment to Rule 3 revises the requirements for a notice of appeal. Some courts of appeals, using an expressio unius rationale, have treated a notice of appeal from a final judgment that mentions one interlocutory order but not others as limiting the appeal to that order, rather than reaching all of the interlocutory orders that merge into the judgment. In order to reduce the loss of appellate rights that can result from such a holding, and to provide other clarifying changes, the proposed amendment changes the language in Rule 3(c)(1)(B) to require the notice of appeal to "designate the judgment — or the appealable order — from which the appeal is taken." The proposed amendment provides that "[t]he notice of appeal encompasses all orders that, for purposes of appeal, merge into the designated judgment or appealable order. It is not necessary to designate those orders in the notice of appeal." The excerpt from the September 2020 Report of the Committee on Rules of Practice and Procedure proposal also accounts for situations in which a case is decided by a series of orders over time and for situations in which notice is filed after entry of judgment but designates only an order that merged into the judgment. Finally, the proposed amendment explains how an appellant may limit the scope of a notice of appeal if it chooses to do so. The proposed amendments to Forms 1 and 2 reflect the proposed changes to Rule 3. The proposed amendment to Rule 6 is a conforming amendment. Report of Committee, September 2020.
The undersigned views this as a commonsense improvement, reducing risk for appellants. The text of the rule change and commentary is available from the undersigned or at https://www.uscourts.gov/sites/default/files/congressional_package_-_april_2021_0.pdf. Again, this does not take effect until Dec. 1.
Southern District Local Rule Amendments: Effective Nov. 8, the Southern District of Indiana enacted an immediate amendment to Local Rule 5-3 – Eligibility, Registration, Passwords for Electronic Filing; Exemption from Electronic Filing; Local Rule 83-5 – Bar Admission; and Local Rule 83-6 – Pro Hac Vice Admission. Effective Nov. 8, the court's CM/ECF system will be upgraded to NextGen, which will require the attorney admission and pro hac vice processes to be handled electronically through PACER. Accordingly, immediate, non-substantive amendments to the court's local rules were necessary to reflect these changes. The amendments took effect o Nov. 8; comments regarding the rule amendments are welcome on or before Dec. 4, 2021. Please send any comments to: Roger A. G. Sharpe, clerk of court, via: [email protected]
Annual Federal Civil Practice Seminar: The annual Federal Civil Practice seminar is set for Dec. 17 from 1:30 to 4:45 p.m. in Indianapolis, and includes Chief Judge Tanya Walton Pratt, Judge Richard Young, Magistrate Judges Mario Garcia and Joshua Kolar, Clerk Roger Sharpe, and Don Wall (Counsel to 7th Circuit Executive), with the undersigned and Offer Korin providing an update on rules and case law. Registration is online at theindianalawyer.com.•
• John Maley – [email protected] – is a partner with Barnes & Thornburg LLP, practicing federal and state litigation, employment matters and appeals. He clerked for Judge Larry McKinney from 1988-90. Opinions expressed are those of the author.
Please enable JavaScript to view this content.