Indiana Court of Appeals Judge Nancy Vaidik is "steadily improving" after being hit by a falling tree branch while bicycling near the Indiana Dunes State Park on Sunday morning.
The Indiana Department of Natural Resources confirmed to The Indiana Lawyer that reports of a woman being struck by a tree limb involved Vaidik. The Indiana Court of Appeals did not provide any additional details about what happened but said she is "steadily improving" and her doctors are optimistic she will make a full recovery.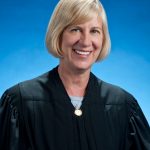 Vaidik was riding her bike along State Park Road when a branch broke from a tree and fell about 20 feet, hitting her directly, according to Porter Fire Department Chief Jay Craig. He called the accident a "freak thing" and said the tree was healthy with green leaves, and the weather was only a "little breezy."
Craig's department responded to the call for help at 10:12 a.m. Craig did not provide details of the nature of Vaidik's injuries but said when emergency personnel arrived, she was in "serious condition."
Vaidik was transported by helicopter to a Chicago hospital, Craig said.
The Court of Appeals is reviewing and expects to finalize a plan today for handling Vaidik's caseload in her absence.
"From the public standpoint, there will be no discernable impact," said COA administrator Larry Morris.
Vaidik, a 1980 graduate of Valparaiso Law School, was appointed to the Court of Appeals in 2000 by the late Gov. Frank O'Bannon. Prior to joining the appellate bench, she served as the chief deputy for the Porter County prosecutor and worked in private practice. Then from 1992 to 2000, she served as judge of the Porter Superior Court.
Please enable JavaScript to view this content.