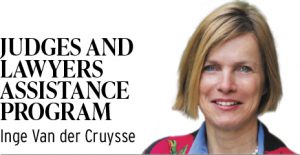 Lawyers and judges suffer from mental health and substance abuse issues at rates well above the U.S. population average, according to a widely published national study the American Bar Association conducted in partnership with the Hazelden Betty Ford Foundation in 2016. It found that a staggering number of lawyers and judges struggle with mental health issues: 21% engaged in problematic drinking (three times higher than the general population), 61% reported anxiety and 46% reported depression at some point during their legal career. The study found also that 25-30% of lawyer disciplinary charges were the consequence of untreated addiction or mental illness. In other words, the stigma around mental health issues endangers the entire legal profession.
Two positive developments from this recognition of mental health and substance use issues are that well-being has become an important part of the conversation about the state of the legal profession and that the stigma attached to mental health and substance use has been reduced.
Since 2016, the calls from lawyers and judges for help have doubled at the Indiana Judges and Lawyer Assistance Program. This indicates that JLAP's outreach and education have been effective.
But JLAP needs your help: JLAP has worked hard to reduce the obstacles most cited by lawyers and judges in the 2016 study that stopped them from seeking help: the fear of being found out (55%) and concerns about confidentiality (47%).
In this article, I would like to highlight a particular obstacle to seeking treatment from the 2016 study that has so far been overlooked in the well-being conversation: 30% of lawyers reported they had no financial resources (through savings, employment, family) to access mental health treatment. A staggering 29% cited not having access to health insurance that adequately covered mental health treatment. It turns out that our profession creates safety nets for our clients through malpractice insurance at the expense of health insurance coverage for the practitioner in some types of practice.
Since its inception in 1997, JLAP has had a treatment fund to pay for treatment and treatment-related expenses, including in-patient and out-patient treatment, psychiatric assessments and individual counseling, medication and follow-up care. The JLAP Treatment Fund has been modest in size and has been tapped into only sparingly when lawyers qualified for financial help.
The JLAP Treatment Fund limits financial assistance to JLAP clients in the direst emergencies, whose health but also whose careers can be saved by the assistance. To participate in it, the JLAP client is required to complete the treatment funded and commits to co-funding treatment in any way possible. The JLAP client is also committed to giving back to the JLAP Treatment Fund in the future, whenever able. Treatment costs can be expensive. They can vary from, on average, $125 for an individual counseling session to weekly out-patient treatment of $4,500 and in-patient treatment of $7,500 per week to neuropsychological testing and assessment for cognitive functioning assessments as high as $5,000. JLAP clients are requested to pool their own funds with the amount JLAP can contribute. And when JLAP intervenes to help, it can often negotiate lower fees with the health care providers, especially those who are familiar with JLAP's work. JLAP clients also receive recommendations on where to find financial assistance for expenses not covered by the JLAP Treatment Fund.
The JLAP Treatment Fund needs help. The fund is financed through private donations only. While JLAP is structurally incorporated within the Indiana Supreme Court administration with its own operating budget, the JLAP Treatment Fund is hosted and operated graciously by the Indiana Bar Foundation to protect client confidentiality.
In the same way JLAP saw requests for help double, it has seen an increase in the demands on the JLAP Treatment Fund.
Until 2022, the JLAP Treatment Fund received ad hoc donations from loyal donors and a range of sources: solo practitioners, law firms small and large, past JLAP clients who had been helped by the JLAP Treatment Fund in the past, commemorative gifts from family members, JLAP volunteers and JLAP staff. In the spring of 2022, the JLAP Committee's volunteer members, not restricted by rules of professional responsibility or judicial ethics, launched a fundraising campaign for the JLAP Treatment Fund. When colleagues call JLAP for help and finances are the only obstacle to treatment that saves their health and their careers, we as colleagues need to be able to assist.
JLAP volunteers will reach out to members of the legal profession personally to request a contribution for the JLAP Treatment Fund. If you want to consider a tax-deductible contribution to assist and protect access to mental health treatment for our colleagues, please donate online by going to https://inbf.org/donate, selecting the JLAP Treatment Fund in the "Direct my donation" tab and making a donation. You can also find information online about how to make a contribution by check designated to the JLAP Treatment Fund in the message line.•
Inge Van der Cruysse, JLAP Committee vice chair and chair of the fundraising campaign for the JLAP Treatment Fund, is a retired lecturer at Indiana University Maurer School of Law. Opinions expressed are those of the author.
Please enable JavaScript to view this content.