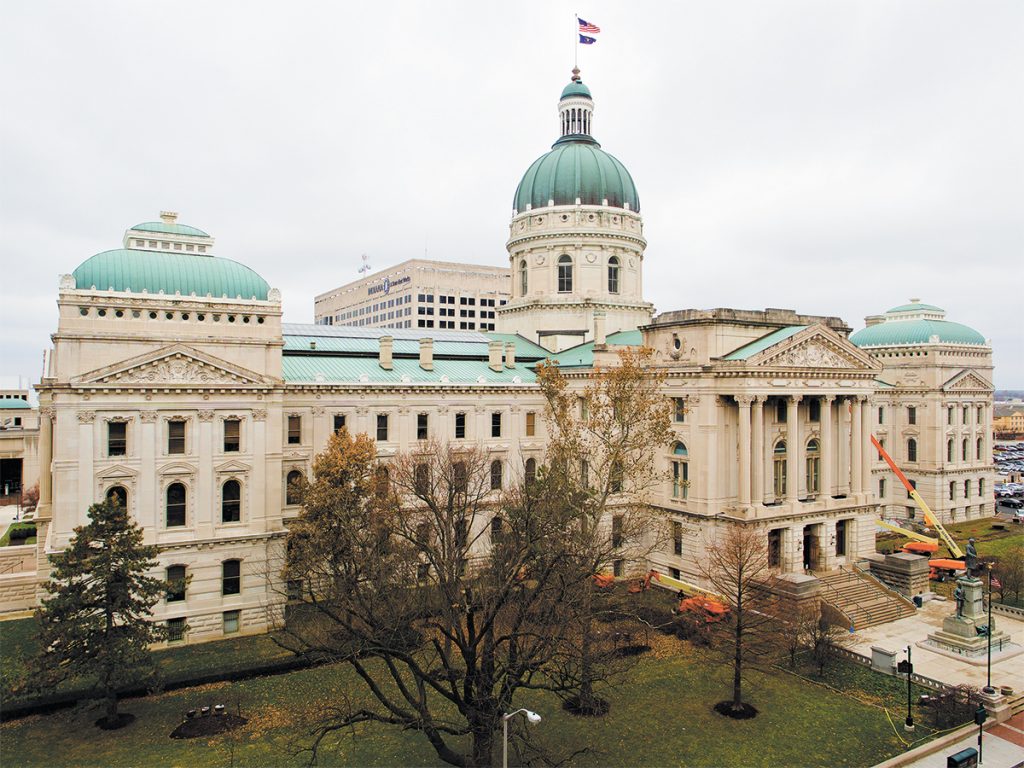 Wholesale criminal justice reform has been an ongoing process in Indiana at least as far back as 2014, when the Legislature enacted sweeping changes. Now, the state seems poised to enact a new measure that criminal justice stakeholders say is the natural next step in the process.
The measure, House Bill 1068, would allow for the creation of local justice reinvestment advisory councils modeled after the statewide JRAC. The local councils would be tasked with reviewing criminal justice practices on a county or regional level, collecting data and reporting back to JRAC, which would use the data to make policy decisions.
Authored by Rep. Randy Frye, R-Greensburg, HB 1068 is described as the next step in implementing the recommendations that came out of the Indiana Jail Overcrowding Task Force's 2019 report, though most stakeholders see the legislation as tackling more than just the number of people who are in local jails. Rather, the idea is to go deeper and find out why people are in jail, how they got there and how long they're going to stay.
"In some counties, when a person got arrested they went to jail, in others they went through a pre-incarceration assessment that determined if they needed to be in jail or could go home on some sort of work release. There are all kinds of things — community corrections, home arrest, released on your own recognizance," Frye said. "Counties are not using all of those options. … What the bill does is pretty much requires every county or group of counties if they partner together to consider all options at the time of incarceration."
A spider web
Under HB 1068, the local JRACs would include stakeholders such as the local prosecutor and public defender, judges, mental health professionals, probation officers and local elected officials, among several others. Existing community corrections advisory boards could also serve as the local JRAC.
Grant Circuit Judge Mark Spitzer sees the legislation as bringing criminal justice reform in Indiana full circle.
Grant County was one of seven jurisdictions nationwide that began studying evidence-based decision-making on the local level in 2011. Then in 2015, House Bill 1006 created the Justice Reinvestment Advisory Council, which was tasked with studying criminal justice reforms, including evidence-based decision-making, on a policy level.
Now the process has come back around to empowering local communities to implement criminal justice reforms, Spitzer said, though HB 1068 creates a structure for collaboration between the state and local JRACs.
While many communities have multiple organizations looking for ways to improve the criminal justice system, those organizations can tend to view reform through the lens of their specific "silos," Spitzer said. Through HB 1068, those organizations have an avenue to work collaboratively.
"The justice system is like a spider web — you pull on one string and it pulls on a bunch of others," the judge said. "If you're in your silo, you're not appreciating that fact."
By bringing stakeholders out of their silos, the legislation can help them see what Spitzer called the most important law in the criminal justice system: the law of unintended consequences.
"If you're all in the room, all talking together as you're talking about and making those decisions, stakeholders can raise their hands to jump in and say, 'This is how this is going to impact me and my job,' or, 'Think about this consequence' or, 'This is how we can help you achieve the result you're trying to get to,'" he said.
A symptom and a problem
While Frye presented HB 1068 to the Indiana Legislature as the next step in resolving jail overcrowding, stakeholders acknowledge the issue is much more complex.
Mary Kay Hudson, executive director of the Indiana Office of Court Services, pointed to studies into bail reform and pretrial release that in many ways overlapped with the jail overcrowding study.
The three issues are closely related: A person who cannot afford bail or who does not qualify for pretrial release will remain in jail, thus contributing to the overall jail population. The reverse is also true, with those who do make bail or qualify for pretrial release freeing up space.
But going to jail isn't as simple as committing a crime and getting caught. Hudson estimated there were at least seven ways a person could end up in jail, and sometimes for multiple reasons. Also, factors such as a specific court's approach to case management or prosecutorial charging decisions can impact jail numbers.
The fact that a jail is full is only one piece of the puzzle, Hudson said. The bigger question is why: Are there shortcomings in the local system that put the wrong people in jail? How do courts respond to violations of pretrial release? Is there sufficient access to problem-solving courts? What reentry resources are available?
Thus, jail overcrowding is both a problem to be solved and a symptom of a bigger problem within the criminal justice system generally, Hudson. JRAC has studied that problem at the state level, but that was not enough to effect change.
"We need to work with local jurisdictions to move the needle on improving efficiencies and protecting public safety," she said.
Communication and collaboration
Creating local JRACs does not mean the state body is stepping back. Rather, HB 1068 creates a structure to facilitate communication between the local councils and the statewide group.
For starters, JRAC will be available to help local jurisdictions form their own councils, Hudson said. From there, JRAC can provide technical assistance and high-level training.
Devon McDonald, executive director of the Indiana Criminal Justice Institute and a member of JRAC, said he is most excited about the opportunity for more data collection.
The local councils will study their practices and gather data, which must then be submitted to JRAC in an annual report. From there, JRAC will use the information received from local stakeholders to develop policy and legislative recommendations.
"I think that's going to be one of the greatest benefits," McDonald said.
Spitzer noted the importance of having data versus making value judgments. An idea might seem good when it's introduced, but data can provide a better picture of how the idea worked in practice, he said.
Multiple answers
During hearings on HB 1068, some lawmakers raised concerns about why the state is continuing to "study" jail overcrowding rather than putting solutions in place. But Frye said his bill is not a "study" — it's an actionable step toward reducing jail overcrowding by moving the focus to local decision-making.
Sen. Mike Young, R-Indianapolis, also suggested that the COVID-19 pandemic could have provided the answer to jail overcrowding, as many courts allowed for the release of nonviolent offenders in the name of public health.
Spitzer agreed COVID has likely helped some judges get more comfortable with pretrial release reforms. But while the pandemic may have provided an answer to jail overcrowding, it didn't provide the only answer.
"I think it's a little early to draw final conclusions about the COVID era," the judge said. "If you look across the United States, there has been a spike in criminal activity at the same time as pretrial release related to COVID. So that's something I would want to tease out before I drew firm conclusions."
Despite the concerns raised by some lawmakers, HB 1068 passed both the Indiana House and Senate with unanimous support. The bill received a minor amendment in the Senate, sending it back to the House, where lawmakers concurred with the amendment.
At IL deadline, the bill had not yet been sent to Gov. Eric Holcomb for final review.•
Please enable JavaScript to view this content.