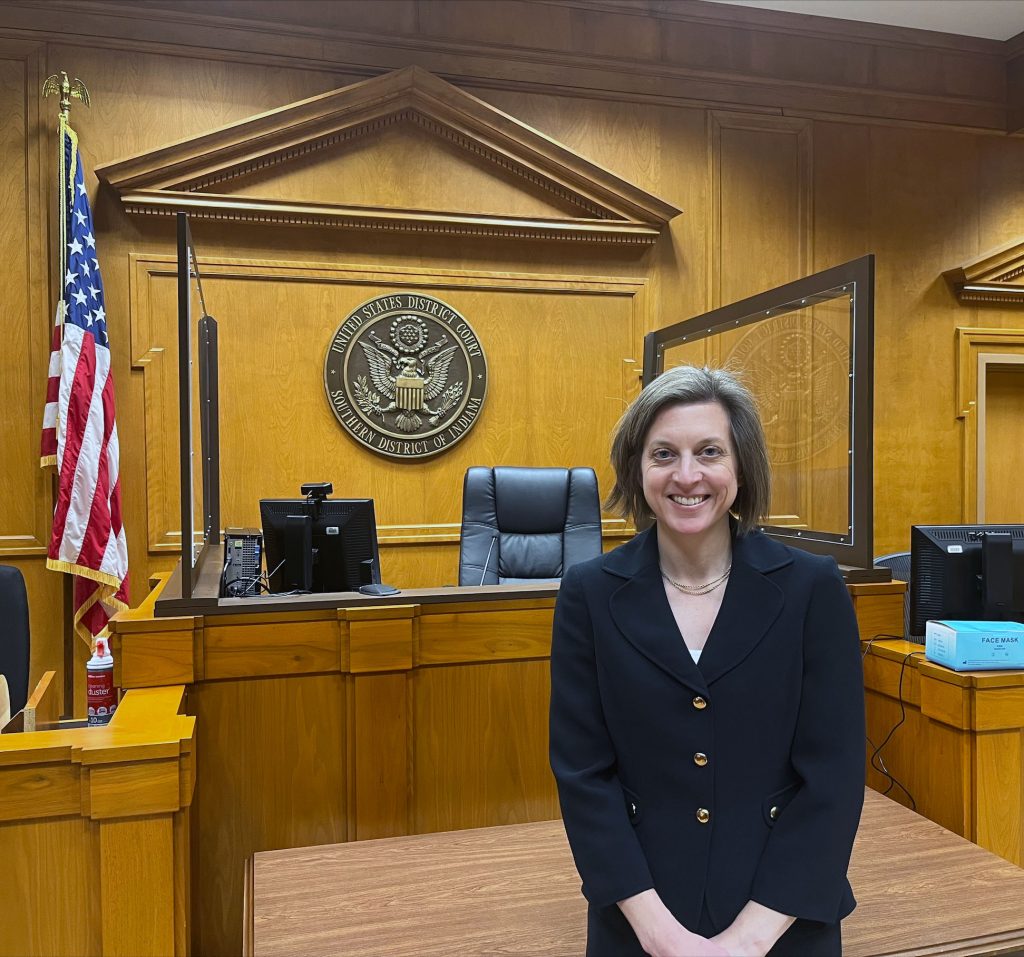 While working for the U.S. Nuclear Regulatory Commission as a nuclear scientist in the nation's capital, Kendra Klump saw firsthand the gaps between her colleagues and policymakers.
Those challenges inspired the Wisconsin native to go to law school "with the grandiose plans of building the bridge and bringing all those parties together."
Today, Klump is still trying to build bridges, but now in her new role as magistrate judge for the Indiana Southern District Court.
Klump was sworn in on Jan. 6 in a private ceremony at the federal courthouse in Indianapolis. She succeeds Judge Doris Pryor, who was recently elevated to the 7th Circuit Court of Appeals.
She worked for the Nuclear Regulatory Commission after graduating from Georgetown University in 2004. She then decided to go to law school at the University of Michigan before clerking for now-Senior Judge Judith W. Rogers at the U.S. Court of Appeals for the D.C. Circuit.
Following her clerkship, Klump was hired as an assistant U.S. attorney for the Northern District of Ohio in Cleveland. She then came to the Hoosier State and joined the Southern District of Indiana as an AUSA in 2017, where she served up until becoming judge.
"I've been so fortunate thus far in my career, and I'm just really looking forward to getting started in this position and hopefully making a difference and being a positive influence on the court," Klump said.
Indiana Southern District U.S. Attorney Zachary Myers called Klump a "phenomenal leader" and "dedicated public servant"
"Although her talents will be sorely missed, the entire district will benefit greatly from her passion for public service and the rule of law," Myers said in a statement.
Klump is the second magistrate judge to join the Indiana Southern District since November, as Magistrate Judge Kellie Barr assumed her duties after former Magistrate Judge Debra McVicker Lynch retired on Oct. 31.
A formal investiture ceremony for Klump will be held at a future date. Magistrate judges are appointed by district judges for eight-year terms and can be reappointed to successive terms.
Indiana Lawyer recently sat down with Klump to learn more about the newest member of the Indiana Southern District Court bench. That conversation, edited for length and clarity, follows:
Indiana Lawyer: You're just a few weeks into the magistrate judge job now. How's everything going? How has the transition been for you?
So far, so good — hitting the ground running. I have a great team. I had a very short time period between when my position was announced and my start date, but I was fortunate to get my two law clerks and my courtroom deputy on and get that staff hired. They've been a huge help, as has everyone in the courthouse; all the other magistrate judges' chambers, district judge chambers, the clerk's office, everyone's been great. So far the transition has been good.
Did a career in the law always interest you?
I've actually had an interest in law for quite a while. When I was in college, one of my summers I was a summer secretary at a law firm in Milwaukee. So I always had an interest in law, but I was a science and math undergraduate and I pursued that career when I graduated from Georgetown. I was more on the engineering and physics side for about four years until I decided to go to law school, and that jump was motivated by what I saw on the scientist's side — that even the scientists and the policymakers, even when working toward the same goal, really didn't speak the same languages. So I went to law school with the grandiose plans of building the bridge and bringing all those parties together. I ended up going into criminal law and took a different turn, and (now I'm) kind of right back toward that bridge-building function since a big part of a magistrate judge's role is to help people bridge their divides and get some disputes settled.
You've moved around to different states. How did you end up in Ohio before coming to Indiana?
I was born and raised in Wisconsin, went to undergrad at Georgetown in (Washington) D.C., worked abroad for a year and then returned to the D.C. area to work for the Nuclear Regulatory Commission. So I've really been in federal government pretty much my entire career and feel passionately about public service. From there I jumped to law school at (University of) Michigan and did some summers in Denver, which is where I was where I'm barred, in Colorado. And then what took me to Cleveland is, after law school and clerking, I applied to the honors program through the Department of Justice and I felt very strongly about working for the Department of Justice. Essentially footloose and fancy free at the time, I was willing to go wherever the opportunity presented itself, and I was fortunate to get a position in the Northern District of Ohio. So I practiced there for about five years and then personal reasons brought me here to the Southern District of Indiana, and I'm very lucky they did. It's been a wonderful district to practice in and now be so fortunate as to be on the bench.
How has your time as an AUSA prepared you for this job?
I think there are a couple things about being an AUSA that prepared me well for this job, one being on the criminal prosecution side. Some may think that's so different than civil, but really what you're doing as a criminal prosecutor is the same as any attorney: try to look at a set of facts, look at what you have to prove, investigate those facts, build your case and — especially when your standard is beyond a reasonable doubt — to be very, very critical of your own work and your own case and to really pull out the flaws and to work through those flaws. I think that has prepared me in as far as now being involved in civil as well as criminal law, really being able to delve into issues to adapt to different factual scenarios. I have experience with drug trafficking but also mortgage fraud or bankruptcy fraud, for example. So those experiences have prepared me. The other part of being an AUSA (that) is perhaps common to many attorneys or fields of law is just learning how to talk to people.
What are some significant achievements you accomplished as an AUSA?
One of the things I'm proud of is that I was able, during the course of my career, to handle a balance of those long-term complex investigations — like the mortgage fraud or the bankruptcy fraud or money laundering — with the short-term, quicker-hit cases, so to speak. I'm also proud of my relationships with the court as well as with the defense bar when I was a criminal prosecutor. I feel like I worked hard to earn their trust and to be a zealous advocate for the United States, but also a trusted opponent. I think I was able to achieve justice and do it in a fair and efficient way, but also in a way that was as professional and pleasant as possible given it's a criminal matter.
This (the Indiana Southern District Court) is one of the busiest offices in the country. How do you plan to administer justice fairly while keeping the docket moving?
I'm a former scientist. It was a while ago, but maybe because of that I have a penchant for (Microsoft) Excel and spreadsheets and numbers. I think what's become apparent right off the bat here is that there's a huge number of cases, and so the challenge for me is going to be getting a handle on how best to manage that workflow. My plan is to develop a system, with the assistance of my staff, to keep my finger on the pulse of those cases and to see them progress, and perhaps in the beginning to check in with the parties more frequently than maybe I might in five years just so I'm up to speed with everything. I just told somebody the other day, even if a phone conference is five minutes and there's really no update, that's not too much skin off my back to sacrifice. I plan to just use the skillset that I've already developed as an AUSA and even as a professional before that to handle a lot of work, and sometimes in circumstances that are less than pleasant.
What are you looking forward to most about being a judge?
That's a toughie. I'm looking forward to being in the new role of being able to bring parties together. As a litigator, that's not your job. It's a luxurious position to be in where I can try to help resolve disputes instead of just being one side of the dispute. Counsel can certainly participate — of course they do in negotiations and getting things resolved — but to take a more active role and to sort of help other people to hopefully feel like their time in federal court has been a positive one is something I'm looking forward to.
You're involved in several groups that advocate for women in the legal profession. Why is that something that's important to you?
Representation of women is always something I'm excited to encourage. I'm fortunate enough to have benefited from a very supportive group of female co-workers in the past, so I want to be able to provide that experience or mentorship to other newer female attorneys, if possible.
Is there anything else you're passionate about, either in the legal profession or outside of the legal profession? What do you do for fun?
I have young children, so that is mostly fun and certainly takes up a lot of my free time. A lot of my free time is family time and keeping that balance between work and home. The children certainly help you shed the stresses of the job, because whatever their stresses are seem to come first. I also enjoy running, although I don't get as much of an opportunity to do that as I used to, but that's something that is a little bit of me time that's a way to destress outside the office walls.

In the future, when your time as a judge comes to an end, what type of legacy do you hope to leave?
One of lessons I learned early in my legal profession was that what can seem like a very routine day to the lawyers and to the court staff  is probably a hugely significant day for the litigants, whether they're a defendant or plaintiff. When I learned that lesson early during law school, I said, "Man, I need to hold on to that so I don't just become a part of the machine where it's just sort of like processing and kind of like going through the motions." So if I had a legacy, I would want it to be where attorneys, yes, but even more so, individual litigants, whether those are on the civil or the criminal side, when those individuals come into the courtroom, when they leave they may not walk out the door was saying, "Oh yeah, that was a great day," or, "Oh, that was the best-case scenario for me." They may not say that, but they're going to say "Oh, I feel like I had my day. I feel like I was treated with respect. I wasn't defendant number 275, but I was heard, was seen. And while I may not be ultimately satisfied with everything that happened, the process was fair. That judge up there heard what I was saying, gave me my chance. And I understand why what happened even if they don't like it."  I guess that would be my legacy — to make the Southern District of Indiana, to an even greater extent than it already is, a place where litigants feel like they had their day in court and it's a truly meaningful day and the significance of their day was recognized by everybody in the room.
Are there any individuals that come to mind that reached out to you and either gave you advice or congratulated you when you became a magistrate judge?
Many people were very gracious in reaching out and congratulating me, whether those were just former colleagues or mentors or members of the bench now. But I think of, not directly answering your question, my grandfather, who's no longer with us and passed away many years ago. I think that I almost view him as sort of giving me advice to the extent that he can now that I'm in this role, because when I was younger he would always say that, "Oh, if I were growing up as a professional today, I would be in conflict resolution." And he told me that in a really serious way, and I was a young kid at the time, but now I'm seeing how important that is, to try to bring people together. He was a minister, so my dad now has his robe. The robe is a little too big for me and I can't reuse it as much as I would like to, but I plan to take his initials out of his robe and put it in mine once I get one. He just had this very calm confidence that just put everyone at ease, and that was the way he just started bringing people together as soon as he walked into a room. I know that's not exactly what you asked, but I kind of view that as the model that I want to follow: As soon as people walk in the room, they take their guard down. "Federal court is a big deal, but not to the extent that I'm going to be paralyzed and not be able to act and, you know, get my case moving forward and understand what's going on." So I'd like to kind of follow in his footsteps in that manner.
What is something that you think lawyers should know about you, or you would like lawyers to know about you?

I'm very straight-dealing, so you can just tell me like it is. If you can say it in five words instead of 10, that's fine. I'd rather know the bad news now than wait to hear it two weeks from now. I guess problems are better brought up sooner rather than later; that just gives us a little bit more time to come up with a solution if we need to.•
Please enable JavaScript to view this content.