It's become an almost annual tradition in Indiana: In the spring, the Legislature passes an abortion regulation, and in the summer, the federal courts begin to weigh in.
The first stop is the U.S. District Court for the Southern District of Indiana, which almost always enters a preliminary injunction keeping the regulations from taking effect.  From there, the regulations take varying paths.
The cases are usually appealed to the 7th Circuit Court of Appeals, which often upholds the injunctions, though many times with a dissent. Occasionally the U.S. Supreme Court will grant a writ of certiorari or order a case back to a lower court for review based on new precedent. But other times, the nation's highest court doesn't weigh in.
The newest Hoosier abortion regulations passed during the 2021 session of the Indiana General Assembly has already begun this familiar path. This year's laws required abortion providers to tell patients about the possibility of a so-called medication abortion reversal, and prohibited abortions via telehealth or telemedicine.
As in years past, these regulations were preliminarily enjoined in June, keeping them from taking effect July 1 as scheduled. The Indiana Attorney General's Office had not yet announced an appeal at IL deadline, though Republican AG Todd Rokita said in a statement that he "remain(s) committed to protecting the sanctity of life and women's health under the rule of law as (his) highest priority."
Should this year's case — All-Options, Inc., et al. v. Attorney General of Indiana, in his official capacity, et al., 1:21-cv-1231 — advance to the appellate courts, the composition of the panels reviewing it will likely be different.
The 7th Circuit Court of Appeals has added judges Thomas Kirsch and Candace Jackson-Akiwumi — Donald Trump and Joe Biden appointees, respectively — in the last year, while conservatives now hold a 6-3 majority on the Supreme Court following the confirmation of three Trump nominees. The ideological bent of the highest court, in particular, is raising questions about whether longstanding abortion precedent could soon be revised.
Specifically, the high court's recent grant of cert to a Mississippi abortion case has conservatives and liberals alike buzzing about whether Roe could be in danger. The case, Dobbs, et al. v. Jackson Women's Health Organization, et al., 19-1392, deals with a 2018 Mississippi law that limited abortion after 15 weeks' gestation to only cases of medical emergencies or severe fetal abnormality.
But experts say it's impossible to predict what the court might do, and any change to abortion precedent likely won't have a short-term impact that could affect pending cases such as All-Options, Inc.
"One wonders what prompted four justices on the court to grant cert," said Stephanie Toti, senior counsel and project director for New York-based organization The Lawyering Project. "But at the same time, while only four justices are needed to grant cert, five are needed to decide a case. So the mere fact that the court has decided to hear a case doesn't necessarily indicate it's going to reverse the lower courts."
Indiana litigation
All-Options, Inc. challenges Indiana House Enrolled Act 1577, which would have required abortion providers to give this disclaimer to patients: "Some evidence suggests that the effects of Mifepristone may be avoided, ceased, or reversed if the second pill, Misoprostol, has not been taken … ." The bill also prohibited medication abortions via telemedicine, and a provision of Senate Enrolled Act 3 prohibited abortions via telehealth.
Toti — whose organization serves on a team of plaintiffs' counsel in All-Options, Inc. — said there is "absolutely no scientifically valid evidence that the effect of abortion medications can be reversed." The plaintiffs argued that the disclosure was misleading and potentially dangerous, and that it violated providers' First Amendment rights and patients' rights to abortion access and to equal protection.
But conservative lawyer James Bopp Jr. said the disclosure is factual — there is "some evidence" that a medication abortion can be reversed, he said. Three studies have been conducted,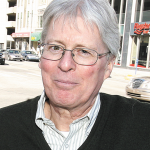 but according to Toti, two were not "scientifically valid" and the third presented health risks to the patients.
Bopp noted the disclosure doesn't require patients to actually taken any action. Rather, he called it an example of "informed consent" in making a medical decision.
Toti and the plaintiffs also argued the disclosure unfairly singles out abortion patients by making them receive special information that patients for other procedures don't have to receive. That's the heart of their equal-protection claim.
But Bopp, of The Bopp Law Firm in Terre Haute, said the reason for the distinction is obvious.
"Abortion is the only medical procedure that there's a constitutional right to," the Terre Haute lawyer said, pointing to Roe and calling the plaintiffs' equal-protection argument "fallacious." "The important thing is that no other procedure involves the taking of human life."
Toti described Indiana as being a "highly restrictive" environment in terms of abortion access, saying it is difficult to get a first-trimester abortion in the Hoosier State and almost impossible to do so in the second trimester. And given that many Indiana abortion regulations have been struck down in recent years, some say the Legislature's "aggressive" approach in 2021 raised eyebrows.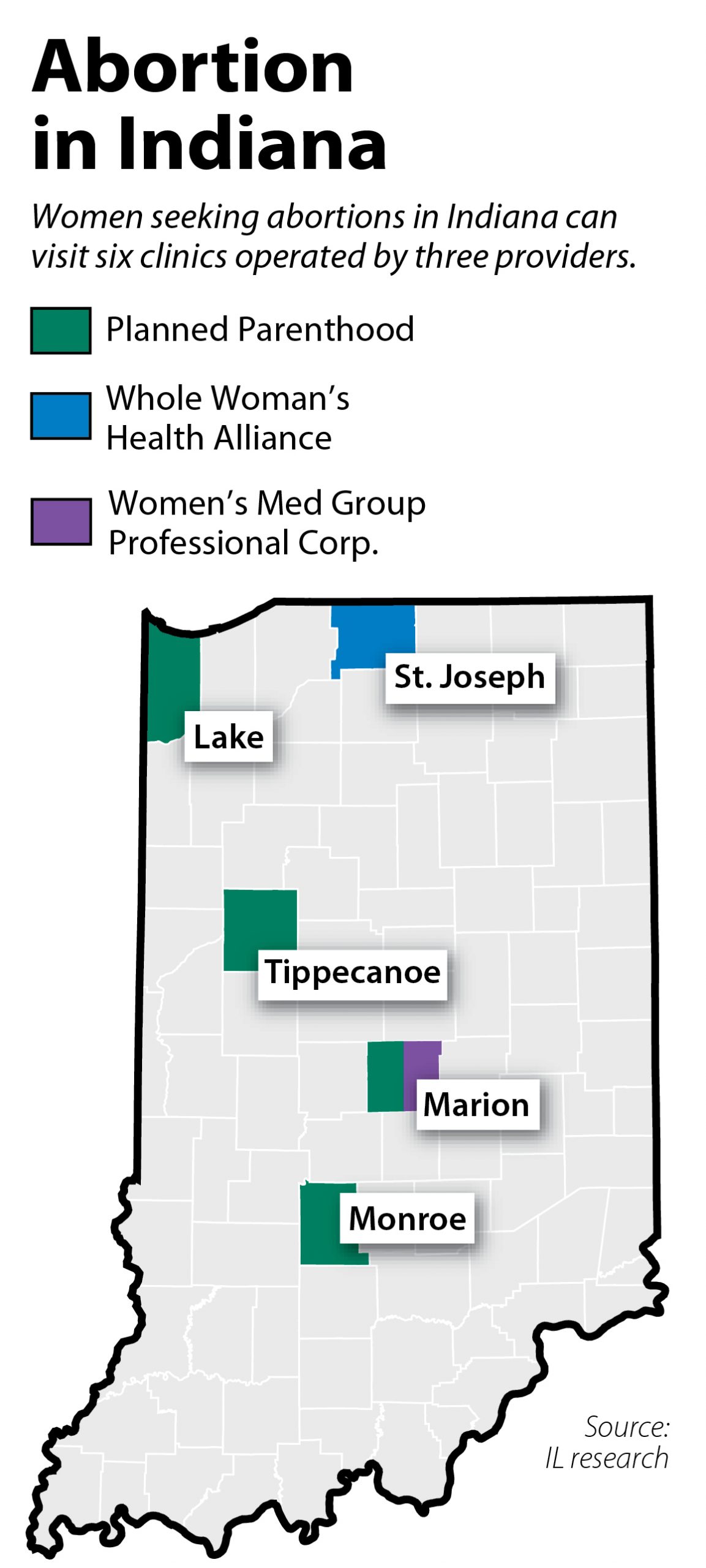 "Personally, I was surprised that, given previous rulings, the laws were not more narrowly tailored and were crafted in a way similar to prior legislation," said Marion County Prosecutor Ryan Mears, a Democrat who is named as a defendant in his official capacity in All-Options, Inc. "Courts have already said that the legislation previously passed didn't pass constitutional muster, so I would think they would not double down and not pass more stringent abortion laws, which is what was done in this case."
But Bopp noted some Indiana abortion restrictions have been upheld. One recent example came in 2019, when the Supreme Court reinstated an Indiana law requiring that aborted fetal remains be disposed of as a "deceased human body."
Supreme Court impact
A little less than a month after HEA 1577 and SEA 3 were signed by Indiana Gov. Eric Holcomb, the Supreme Court granted cert in Dobbs.
The Mississippi Southern District Court granted summary judgment to respondent Jackson Women's Health Organization, and the 5th Circuit Court of Appeals upheld the ruling against the state. At the Supreme Court, the justices agreed to answer the first of three questions posed in the state's petition: "Whether all pre-viability prohibitions on elective abortions are unconstitutional."
While it's always difficult to predict how the justices might rule, Bopp sees a likely outcome in the Mississippi case: the elimination of fetal viability as the line that separates constitutional versus unconstitutional abortion regulations. That would open the door for a new standard to judge abortion regulations against, he said.
Some pro-abortion policy advocates have pushed for treating abortion regulations as sex discrimination, making such regulations unconstitutional. Conversely, anti-abortion groups have proposed a refining of Planned Parenthood v. Casey's undue burden standard.
"It's going to depend on whether a majority of the court can be persuaded to take a particular approach that makes more sense than the current approach the court is using," Bopp said.
To Toti, the grant of cert in Dobbs is "concerning." It's been almost 50 years since Roe was handed down, and in that time, Toti said, the right to a previability abortion has been consistently upheld.
Given that consistency, and the fact that the circuits aren't split on the issue, Toti said she doesn't see a reason for the high court to intervene. Still, she maintained that it's "really hard to read the tea leaves" about the high court's interest in the case and how it might rule.
Bopp agreed that it's difficult to predict how the high court might approach a particular issue, and he doesn't foresee any sweeping changes coming out of Dobbs such as the overturning of Roe. Further, Toti said the grant of cert to Dobbs will have no immediate impact on the Indiana case.
Richard Garnett, a professor at Notre Dame Law School and director of the Notre Dame Program on Church, State & Society, wrote in an email to Indiana Lawyer that "any challenges to regulations of abortion (that invoke federal claims, as opposed to state-law ones) are going to be kind of 'on hold' until Dobbs is decided. Or, if a lower court has to rule on such a challenge in the interim, any appeals will certainly depend on what the Court does in Dobbs."
With or without Dobbs, Mears raised concerns about the cost of defending against abortion-related lawsuits in Indiana. Staff members in his office have had to follow such litigation and have been deposed in the cases over the years, he said. Also, there's the fiscal impact of the state having to pay plaintiffs' legal fees any time it loses.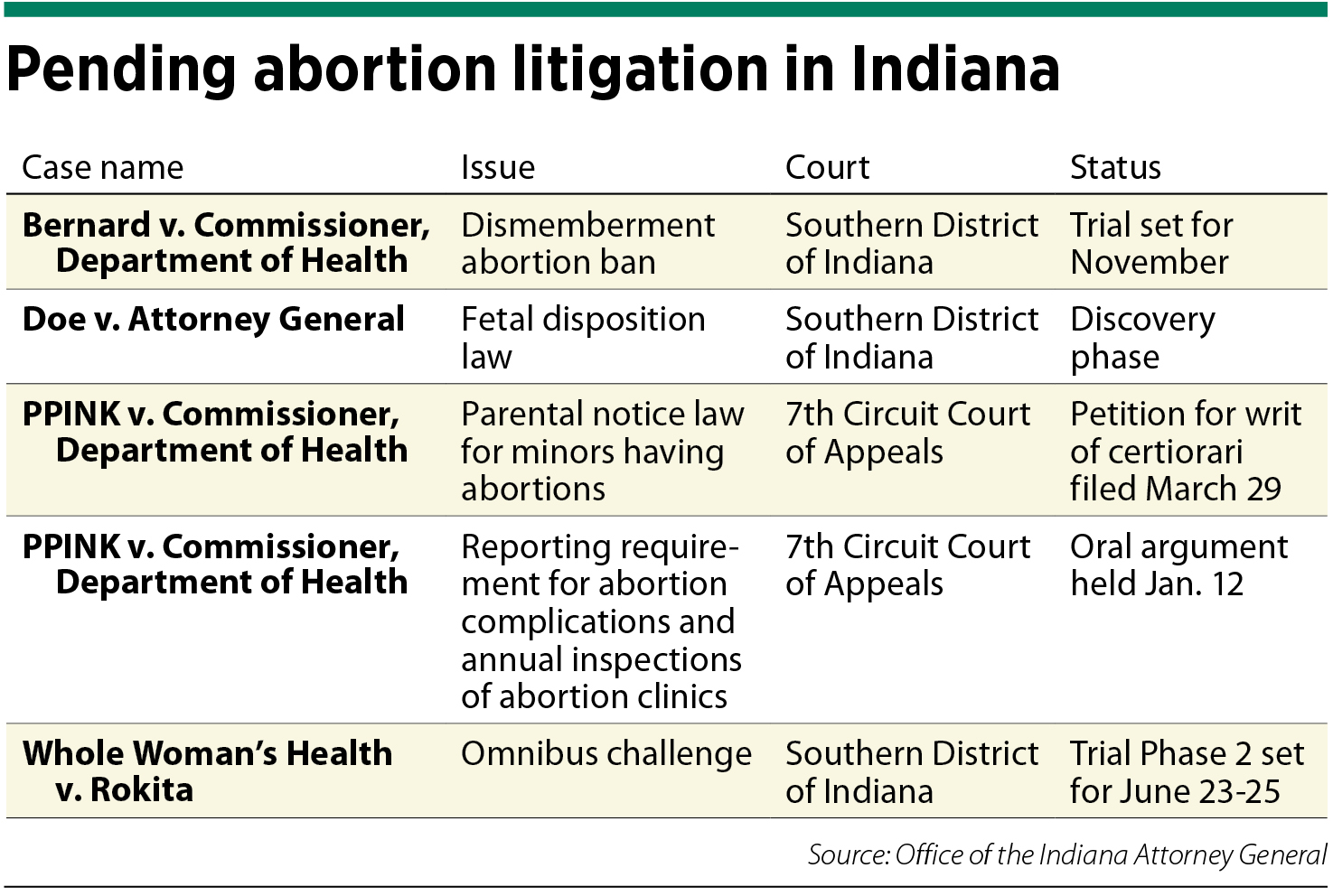 Bopp, however, maintained that Hoosiers and the Legislature "want to protect unborn life." So, he said, as long as pro-abortion advocates keep challenging Hoosier abortion restrictions, anti-abortion advocates will continue to push back.•
Please enable JavaScript to view this content.