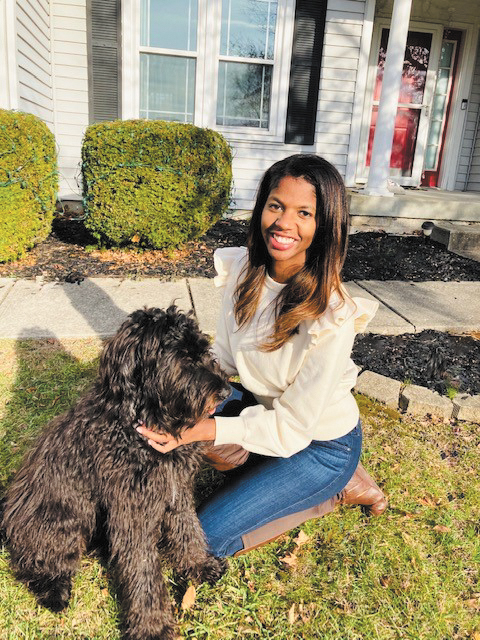 Cruising along with windows down and daydreaming with her daughter about which house is their favorite is a pastime that Carmel attorney Andrea Shelton didn't want to give up. Now she's living out that dream after picking up a side hustle of real estate during the pandemic.
After law school, Shelton began practicing at a private law firm, eventually becoming a trial lawyer for insurance companies. She's worked at GuideOne Insurance since 2018, serving as its legal and compliance counsel. It's a flexible job with a great boss, she said, which has allowed her to simultaneously dip her toes into a second career path.
"Even as a kid, my mom and I would drive around looking at houses and go to open houses on Sundays. I always liked it, loved HGTV and all of that stuff," Shelton said. "Houses and different neighborhoods have different vibes to them."
Keeping the family tradition alive, Shelton and her young daughter took to the "cheap entertainment" of admiring homes from behind the wheel during the pandemic while social distancing was in place. It wasn't until her 9-year-old offered some wise advice that Shelton realized she could pursue her two passions at once.
"She's thinking about being a lawyer and she wants to be scientist. For whatever reason we were talking, and she said she wasn't sure what she wanted to choose. I said, 'You can do both, honey,'" Shelton recalled. "Later on that week, we were again driving around and she said, 'Why don't you sell a house?' I responded with, 'I'm a lawyer.'"
But when her daughter asked, "Why can't you do both?" Shelton realized she was right. Without the forced changes caused by the pandemic, Shelton said she never would have thought she could take on a second career.
"I'm a lawyer and I love what I do, so I don't want to give up my job," she said. But after learning that she could take a real estate class at night without interfering with her day job, the Carmel attorney took the first steps toward becoming a real estate agent.
"I just said, 'Okay let's go,'" Shelton said. "And I've been going."
Getting after it
Since January, Shelton has sold homes to Hoosiers across the state with Highgarden Real Estate Inc. after passing the real estate license test in November 2020. She found her brokerage in December and received her license before the end of the year.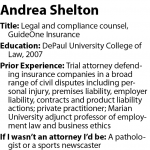 She's been actively selling ever since, using her weekends for showings and meetings with potential buyers. Her clients range from first-time homebuyers to widows, and so far she's made at least one listing — not bad for her first six months, she noted.
"Some people don't sell their first home for over year. It's kind of like the law. You don't know what you don't know," Shelton said. "But I have to say, I'm glad I've done it this way, because I know that's OK and I'll figure it out. Especially as lawyers, we want to know all of the answers right from the beginning, and that can hinder us."
For Shelton, selling real estate is a pleasure because of the happiness it brings to her clients.
"And for the most part it's a happier experience than if people are involved in a lawsuit," she added with a laugh. "It's still stressful, but I like making people feel better. I like uplifting people and helping people."
Using positive affirmations, Shelton said she encourages her clients to make things happen, noting they can't sit around and wait for it.
"You have to go after it," she said. "And don't limit yourself. Put your mind to something and it can happen. This time a year ago I wasn't thinking about being a real estate agent, and it's become a nice side hustle."
One motivational lesson Shelton has learned from her real estate experience is that if you want to do something, don't worry about the passage of time, because the time will pass anyway.
"Sometimes, especially with lawyers, we do certain things for so long. You can still do something else, and it doesn't have to change your whole life. Just carve out a piece and see where it takes you," she said.
Although most people who have learned about her new adventure have been supportive, others have been skeptical.
"They say, 'Oh, are you not going to be a lawyer anymore?' They just operate in the mindset that there is no way you can do two things at once. And you absolutely can," she said.
Keeping the balance
Lawyer by day and real estate agent by night, Shelton said she works to ensure she is able to balance both of her careers without either going by the wayside.
"I'm an early riser so I multitask pretty well. I'm doing my legal job during the day and then around lunch I look, seeing how the markets are going, how my listings and offers are doing," she said. Having a great boss is also imperative, Shelton added.
"She trusts me and knows I'm doing my job. I'm really good at managing my time," she said. "That's crucial."
At the end of the day, Shelton said she doesn't want this new adventure to be an additional stressor in her life. She just wants to have fun with it and go forward with no expectations.
"It's a way of getting me out from behind my desk. It was never supposed to be stressful," she said. "I just love looking at these houses anyway — might as well help someone else find what they want, too."•
Please enable JavaScript to view this content.