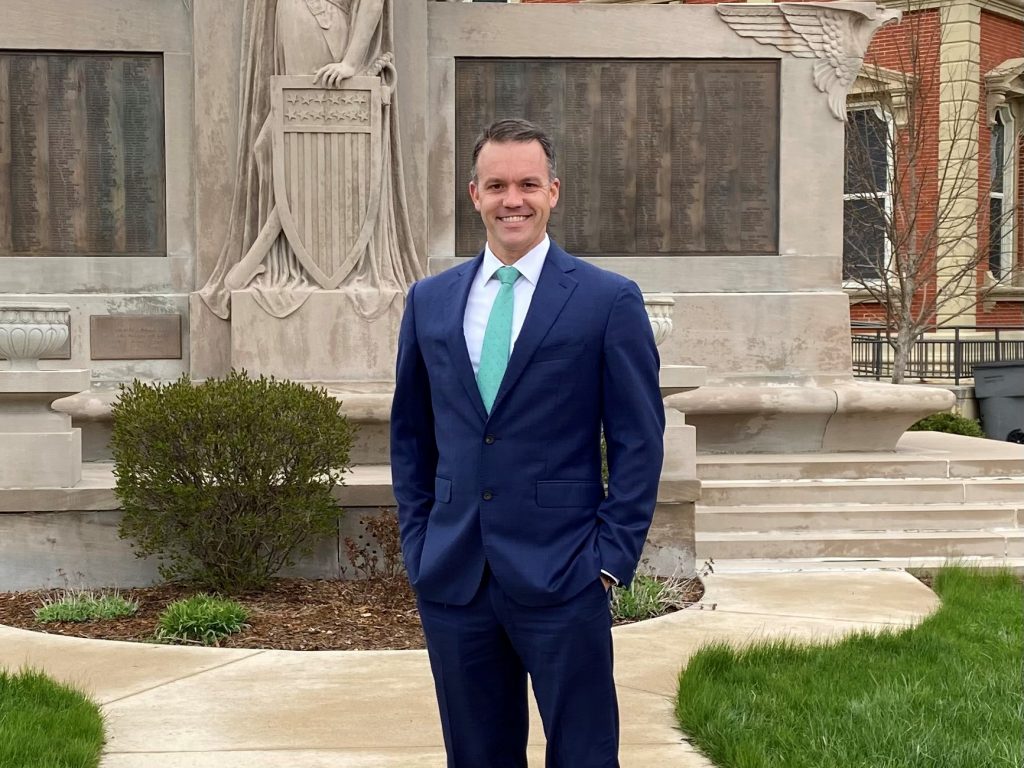 Adams Superior Court Judge Sam Conrad's move to the bench was, in his words, "unexpected and improbable."
While enjoying his time in the Army Judge Advocate General's Corps and anticipating his next assignment, Conrad was diagnosed with a rare histamine disorder that abruptly ended his time in the Army in 2020.
The Decatur native had previously spent his undergraduate years at Indiana University in Bloomington before receiving his law degree at the University of Dayton Law School in 2012. He then briefly worked in what is now Faegre Drinker Biddle & Reath LLP's Fort Wayne labor and employment practice group before accepting a JAG commission in 2013.
Conrad described his time working in the JAG Corps as "dynamic and rewarding," giving him the opportunity to practice multiple legal disciplines. But around the same time his health required him to step away from a career he loved, a need surfaced in Conrad's hometown for voters to have an option on the ballot for the Adams Superior Court judge. 
Conrad won the 2020 general election against Patrick R. Miller, formerly judge of the Adams Superior Court. Miller was banned from judicial service in Indiana for life this year after violating judicial conduct rules related to his failed 2020 reelection campaign.
Conrad said his options were limited in filing his candidacy and he faced many hurdles to get there. Having missed the filing deadline for the 2020 May primary, Conrad ran as an independent. He said it was a challenge trying to secure petition signatures and run a campaign without a party's help.
His active duty status as a junior officer also posed a problem, which required him to receive permission from the secretary of the Army in order to file for candidacy. Regardless, Conrad was able to secure that approval before the July 2020 filing deadline for independent candidates with the help of his supervisors and JAG Corps leaders.
"His approval, however, came with a catch," Conrad said. "I could file, but not campaign in any way until I was discharged from active duty."
Hurdle number three was completing the Army's medical discharge process as soon as possible. Although he was informed that the process could take up to one year to complete, Conrad finished it in just one month.
After being discharged in August 2020, he finally began campaigning for the judgeship in September 2020.
"Despite these hurdles and with the support of my military leadership, family and friends, I was able to file my candidacy, run for office and get elected," Conrad said. "In our family, certain circumstances in life are simply described as a 'God-thing.' My election was one of them."
Conrad is the fifth Indiana trial court judge to be featured in a new Indiana Lawyer spotlight series focused on the state's judicial officers in more rural communities. Here's what he had to say:
Indiana Lawyer: Why did you choose the legal profession?
Conrad: Everyone experiences stressful, difficult periods in life. Good lawyers can ease burdens and make situations a little easier to manage. I went to law school to help people and be that kind of lawyer.  
Name a memorable moment or experience from your time on the bench that you'll never forget.
The first time the bailiff called "all rise" before I entered the courtroom. I was fortunate to appear before many military judges whom I respect. It was and remains incredibly humbling to serve as a judge.
What's the first thing you do once you hang up the robe at the end of the day?
At the end of the workday, I hustle home to four great kids and an amazing wife. This time of year, someone — usually more than one — needs a ride to practice, help with homework or a grievance with their sibling to be heard. That usually keeps me busy until we figure out what to do for dinner.
What has serving in a rural community like Adams County taught you about the practice of law that might differ from a more urban county?
There is less of an opportunity to specialize in a smaller community, both for the bench and bar. On any given day, a judge may hear a variety of cases not only in the superior court, but possibly in the circuit court, as well. The same is true for local counsel who may appear at a criminal initial hearing in the morning, mediate a divorce in the afternoon and serve as legal adviser to a municipal board in the evening. Since returning home, I have gained more respect for the intellectual gymnastics required to practice law in a small community.
Is there anything you've learned about yourself since taking the bench?
Yes. I have a deeper admiration for resilience in the face of adversity than I realized prior to taking the bench.
If you could change one thing about the practice of law, what would it be and why?
I would reduce the number of unrepresented litigants in civil cases. Attorneys can provide an invaluable service in not only navigating complex procedural rules, but also in preparing a litigant for more straightforward hearings.
What's a song or book that you've been gravitating toward recently?
"Battle Belongs" by Phil Wickham. It is a song of inspiration, hope and a framework for tackling challenging times, especially relevant during COVID. And although not a book, I enjoy reading Peggy Noonan's commentary on current events in The Wall Street Journal.
If you could travel outside of the country tomorrow, where would you go and why?
Majorca, Spain. My wife and I visited before we left my military assignment in Europe. The beaches are beautiful and the architecture is idyllic.
What is your favorite part about serving as a judicial officer?
Watching a party's fearful, stressed-out demeanor change after they gain an understanding of the process and the way ahead. Often, a courtroom can be an intimidating environment. By controlling the temperature in the courtroom, I've enjoyed seeing litigants gain an appreciation for our judicial system.
Any final thoughts about your time in the legal profession?
Professionally, I was most fearful of losing the camaraderie with fellow attorneys I enjoyed while serving in the JAG Corps. However, it has been refreshing to experience similarly strong camaraderie within the judiciary, both among fellow judges and court staff.•
Please enable JavaScript to view this content.