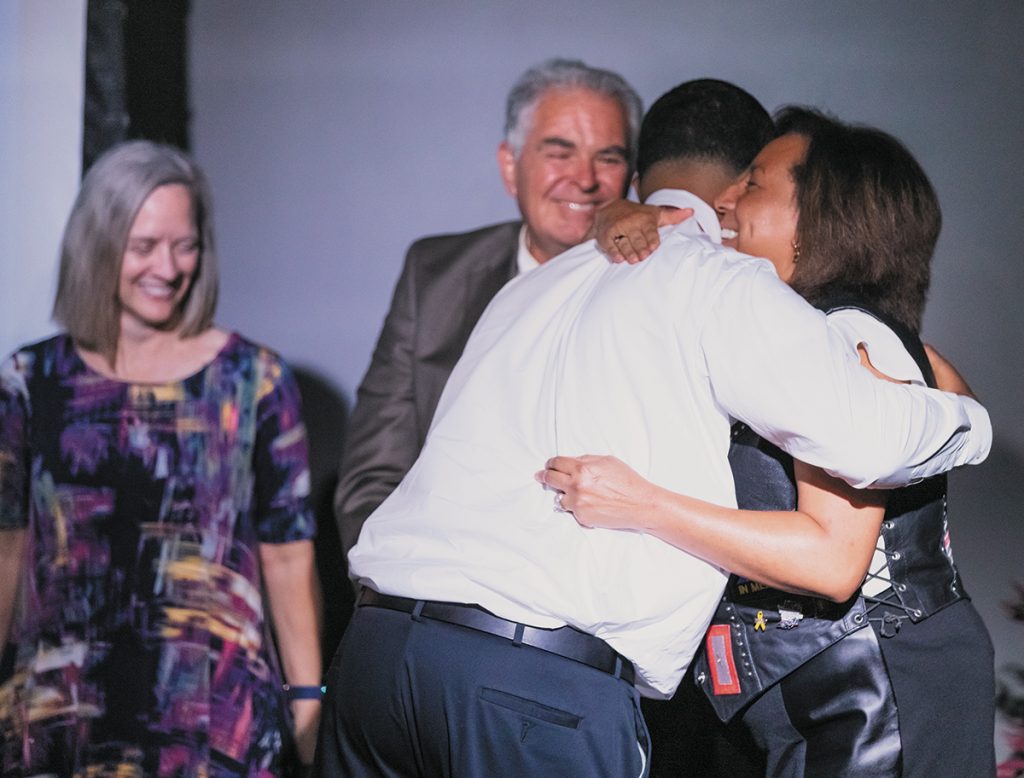 In her 14 years presiding over Floyd Superior Court 3, Judge Maria Granger said she's learned that listening is a superpower for any judge — and a skill she gets to practice and hone each day.
"As judge, it is vitally important to give litigants, colleagues, employees the grace to express their point of view and for me to listen, acknowledge that I understand it, then take appropriate action," Granger said.
Born and raised in Washington, Indiana, Granger graduated from Indiana University Robert H. McKinney School of Law in 1994 and landed in Jeffersonville to work as a Clark County deputy prosecutor. She would later become a Floyd County deputy prosecutor in New Albany.
Granger went on to open a solo general law practice in New Albany and later practiced real estate law as an associate with Kightlinger & Gray. Her time in practice also included work with the Floyd County Office of Family and Children and with New Hope Services Inc.
Granger was first elected in 2008, then reelected in 2014 and 2020. Even before she was elected, she served as a Title IV-D referee.
Recognized for establishing the state's first veterans court and for aiding other counties in forming similar courts, Granger said those efforts have been some of the most memorable of her legal career.
"As an American whose family has sacrificed a son for our country, tireless effort to help restore servicemen and women who have sacrificed for all of us is the least I can do," she said.
Granger is the latest Indiana trial court judge to be featured in the Indiana Lawyer spotlight series focused on the state's judicial officers in more rural communities. Here's what she had to say about being a judge, the practice of law and life off the bench.
Indiana Lawyer: What helped you decide to choose a career in the law?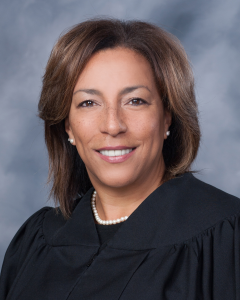 Growing up I just knew that I would follow a career in music. When I was 17, a little more than a month before I graduated high school in 1987, my uncle, a Vietnam veteran, was arrested in his hometown for drinking in public and was severely beaten while in custody in the county jail and died from his injuries. After this traumatic experience, I changed my career path from music to law because I believed the law could enhance humanity in even greater ways than music.
What has been the most fulfilling aspect of serving as a judge?
Love is in details. My approach to cases or projects begins with this mindset, and it flows right back to me and nurtures my affinity for the law. My attitude stays fixed on, I want to get the decision right under the law in both the legally and socially complex cases. I want my decision clearly understood for the parties' and the public's benefit. Whenever I can, I also want to help the parties pick up the broken pieces in life and put them back together for the better. This is most fulfilling to me.
Name a memorable moment or experience from your time as a judicial officer that you'll never forget.
The whirlwind year when the energy spent engaging with legal, military, educational and civic groups across the state brought me to the point that I knew Indiana fully embraced veterans court. Chief Justice Loretta Rush highlighted the accomplishments of a graduate of the Veterans Court of Southern Indiana during her State of the Judiciary address in 2015. The army specialist and his family are still doing well. Shortly after, I was Sen. Joe Donnelly's guest to the State of the Union speech of President Barrack Obama in 2016 and represented the work of trial court judges for our efforts in establishing veterans courts across Indiana. Back then, there were already more than 20.
You are the architect of Indiana's veterans courts, opening the first in Floyd County. Now there are nearly 30 statewide. What is your biggest takeaway from the past 10 years of watching these programs grow?
Mostly gratitude for the opportunity and for the learning alongside judges and lawyers across Indiana who do this work and refer to these programs without any extra incentive except the fulfillment of doing the right thing. The worthiness of any effort to start a new program or pathway depends on if others can and will follow. Lasting impact always involves the thoughts, talent and energy of many, and veterans court is no exception. I may have been the first to draft a set of policies and procedures for the program. What is most important, though, is that for the Indiana veteran who signed a blank check up to and including life and encountered trouble with the law, veterans court will be there to help restore some of that investment far into the future — a big win for us all.
What's the first thing you do when you get home at the end of the day?
I usually change clothes and either go for a swim (during the summertime) or a walk before dinner. Thirty minutes is just the right amount of time that I need to decompress and switch gears to tackle whatever is on the home agenda that evening.
What's a song, book or podcast that you've been gravitating toward recently?
Lately, I have been working on building a repertoire of songs as I am gradually getting my singing voice back into shape. It has been quite a few years since I last performed in public. My list of songs is long and varied, but the first two I am practicing are "Hallelujah" and "Colors of the Wind."
From your perspective in a more rural county, what are the biggest legal challenges your community faces?
Floyd County is unique, having the smallest land area of counties in the state but with more urban than rural characteristics. We do have access to various social services in our region that help the courts address some common problems. Like many rural counties, however, we also have a substantial number of self-represented litigants and are concerned about ensuring equity and access to court services to address the emergent needs of families and assist those who have less means or are experiencing behavioral health challenges.
Where do you receive inspiration and/or encouragement?
I draw inspiration from the resilience of everyday people that I meet as they grapple with everyday challenges. My first encouragers and favorite examples of how to love, strive and face the world with courage are my parents: my dad, a Marine who later retired as a boiler operator with Duke Energy, and mother, a postal worker who graduated college later, then retired as an accountant from Crane NWSC. I am also encouraged by my husband, who retired from the U.S. Army after 25 years of military service, and our children for the way they have bravely faced adversity in their lives and are loving parents. My stepson, Sgt. Steven P. Mennemeyer, killed in action during his second tour in Iraq in 2006, uniquely inspires me in the way he lived out the medic's creed, "to only leave the battlefield when I have your wounded." I weave parts of each of them in my interactions with people inside and outside of the courtroom.
If you could change one thing about the practice of law, what would it be and why?
The No. 1 change would be to strengthen public trust in the administration of justice and in the rule of law, regarding it as a core value, and persistently asking if what we do serves to weaken or strengthen public trust and the rule of law. The law is meant for the people, and we are humbly its dutiful servants.
What is one thing you wish the legal profession knew about you that they don't already?
I really am an open book for the most part.•
Please enable JavaScript to view this content.