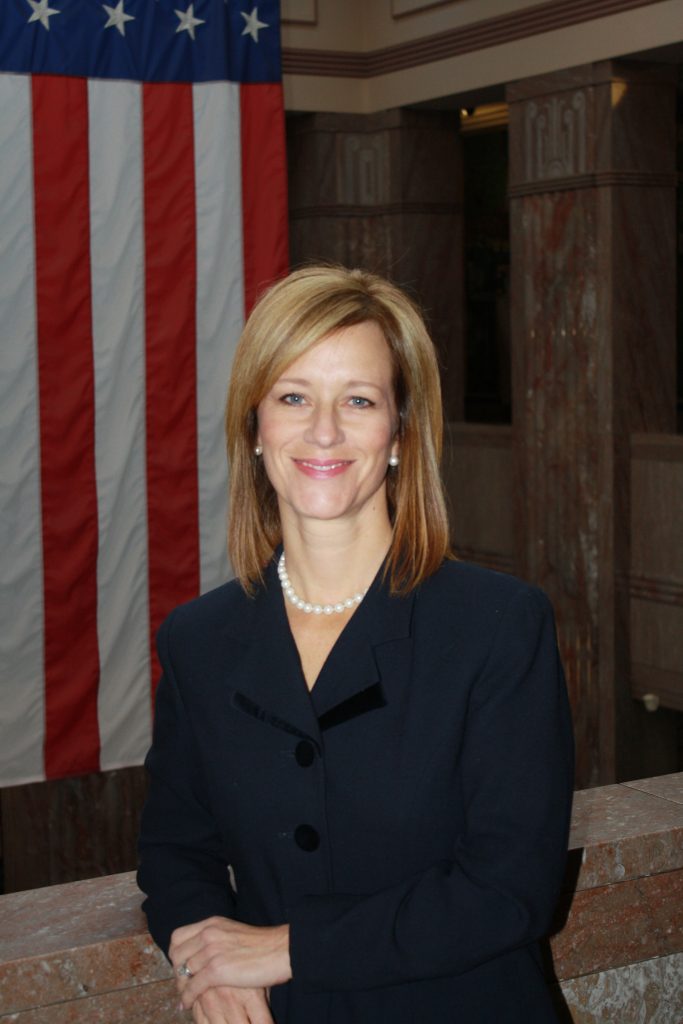 Fountain Circuit Judge Stephanie Campbell is a born-and-raised Fountain County girl, and that's the way she likes it.
Sure, sometimes the line between being Stephanie and being Judge Campbell can get blurred when she's out in public. But for Campbell, the people who appear in her court aren't just litigants — they're her neighbors.
"There's no place I'd rather be," Campbell said of Fountain County. "It's a great job — I'm honored to have it, but I'm more honored to be part of a great county.
"That sounds kind of cheesy, but I was one of those typical kids in high school, I couldn't wait to get out of here," she added. "Now I can't imagine being anywhere else."
Aside from college and law school, both of which brought her to Indianapolis, the Veedersburg native has built her life and career in her hometown. You might find her on the bench at the courthouse in Covington, or you might see her on the tractor at her family farm.
Given those deep roots, Campbell said she hopes the citizens of her county know how seriously she takes her work as their only local judge.
"Hopefully they know that I care about this community more than just being their judge," she said, "but also being a part of the community."
Campbell is the latest Indiana trial court judge to participate in Indiana Lawyer's "Meet the judges" Q&A series spotlighting judges from more rural communities. Here's what she had to say about life on and off the bench.
Where's your hometown?
Right here in Fountain County. I am from Veedersburg, Indiana, and our claim to fame is that we had a brick factory that made the bricks that are the original pavers for the (Indianapolis Motor Speedway) track.
Where did you get your undergrad degree?
Butler University.
And then your law degree?
IU-Indy (Now Indiana University Robert H. McKinney School of Law).
Tell me about your interest in becoming a lawyer.
It probably all started out with my father telling me one day I should be a lawyer because I like to argue so much, and that kind of sparked my interest. But at Butler, I was a journalism and radio/TV major and I didn't really think about being a lawyer anymore after maybe my elementary school years. But I took a constitutional law class as part of my undergraduate degree and fell in love with it.
I took a year off (after college) and was a disc jockey … I didn't take life real seriously for about a year. I also worked in a law firm during that time and fell in love with courtroom work. I had worked for an attorney and that was kind enough to let me tag along, and so then I knew I liked that more than being a disc jockey. And I thought I better take life seriously and moved on to law school.
What kind of law firm was that?
It was a sole practitioner, very small town. I did live in Indianapolis — I stayed there after I went to Butler, but it was on the south side of Indianapolis in a small town called Bargersville, and he was just great. I guess there were two attorneys in there, but I primarily worked for the one. He really helped me understand the fact that there was a decent living to be made in a rural county, but a lot of people that could be helped.
What did you do after law school?
While I was in law school, I worked for the Department of Revenue in their Inheritance Tax Division and continued to work for them for just a bit after law school, but by then I was living back here in my hometown and driving back and forth. Then I became an associate with one of our small practices here — a big firm for our county but a small practice by regular standards— and I stayed there for 10 years. Then I became a sole practitioner for about seven years before I took the bench — I guess was almost 10 years, a little bit longer.
What kind of law did you practice?
You know, you have to do a little bit of everything, but primarily I did civil practice — family law and civil.
When did you decide to seek the bench?
I became a part-time small claims magistrate commissioner for my predecessor and did that for six years while I had my solo practice and got to fill in for her a lot and realized that I really did enjoy it. And then when she retired, I decided to run. I ran against our prosecuting attorney, so that was a tough race. But fortunately I was elected, and I have just started my second term.
What do you enjoy about being a judge?
That's a good question. There's a lot of things to enjoy, but my heart is with working with the children that come through our court system — to me, that is the most important part of my job. I'm the only judge in our county, so I see all the cases, from the traffic tickets all the way up to the heaviest criminal or the biggest money fusses between people. But there's nothing more important to me than the (children in need of services) cases, the custody cases, where the kids are really caught in the middle. The adoptions that I do, that's where my heart lies. I don't know if it's my favorite part, but I think it's my most important part. I was a guardian ad litem, and I always enjoyed that when I was a private attorney. And I'm a mom.
Being the only judge in the county, that's probably a unique experience.
It is. And we're a small county — we only have about 12,000 people, so there's not very many people that you don't know. And if you don't know them, it's only about one degree removed from knowing them. It's hard, because you know so many people and you already know their background and you want to be unbiased and open-minded about everything. But I also think it gives the court a better understanding of what people are going through when they come in front of you and hopefully makes the court more compassionate, me more compassionate as a judge, because while you can't put aside everything that you know, you will also see them as a human being rather than just another litigant.
What do you think is unique about being a judge in a community like yours versus a Marion County or an Allen County?
It's unique because when I walk out of here, I'm truly a person, a part of the community. And I think having grown up here and been part of this community my whole life, people don't just see me as a judge; they see me as a person.
Do you think there are any issues in terms of resources or anything else that your judicial system might face versus a larger county?
Oh, it's an epidemic in every small county, just the lack of resources. So many people are battling their addictions and we don't have the professionals here to help them. The professionals that help deal with substance abuse don't get paid enough anyway. They certainly don't seek out the smaller counties to practice there forever, so we might get a mental health professional or some other type of professional for a little bit, but usually we're a steppingstone. The turnover is so hard on people with addiction because they come to trust the professional and then they show up for their next meeting and it's somebody else. We are lucky that we have a core group, but they're overwhelmed. They're overworked. It's scary.
I've heard about different efforts from the Indiana Supreme Court and the Legislature to try to provide some of those resources to communities like yours. Have you seen that trickle down yet to your community?
We're creative because we don't have a lot of funding, we don't have the huge tax base. Honestly, it's not even really so much about the money. It's about the boots on the ground: How do we get people to come here and stay here and be willing to live in a rural community as a professional? I think the funding is out there, but we can't get people to stay here. We make do with what we can, and the professionals that we have — the court system, the probation officers — you see a lot of the same faces in a lot of the same meetings, and they're all willing to do whatever they can, but there are only so many people.
That's kind of being a doomsday person. It's just the creativity in seeing the same people day in and day out that are here and saying, "OK, what can we try next?"
Is there a particularly memorable moment from your time on the bench that sticks with you?
The most memorable for me are when I do the adoptions. I sit up here and I try to not show emotion, but when I get to do an adoption and place a child with their forever family after maybe spending two or three years in front of me on other cases, it's not the end that you're hoping for when you start the case, but it becomes apparent that that's the direction it's going. To get to be a part of that and see a child have stability and not wonder what's coming next in their lives is the most memorable thing. I'm going to start crying just thinking about it! And then they come back and they see me and they're doing well and they have a family that maybe they didn't get from the get-go. Those are the things that keep you going.
Is there anything that you've learned about yourself during your time as a judge?
I guess I have a patience in the courtroom — most of the time, not all the time — I didn't realize I had that. I wasn't really patient with my kids. I expected a lot from them. I always told them, "Exceed expectations," and they did that well. But being a judge has taught me that not everybody is on the same track or the same course, and so it's helped me to understand that my way is not the only way.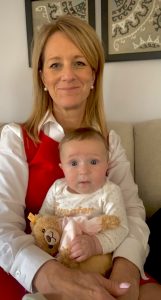 What about when you're not at work — what do you enjoy doing?
We're very family-focused, and I just became a grandma within the last year, so that's really brought our kids together again and we spend a lot of time together as a family. We go to the lake. We like boating. Being a judge in a small county, I don't want to say it's a 24-hour job, but it's a lot of hours, just like a lot of people have that kind of job. So it's good to be with your family and be mindful of the fact that I'm not just a judge.
If you could change one thing about the practice of law, what would it be?
As we educate attorneys, I would like to see those that are going to be practitioners have more real-world experience. It's so nice to see an attorney walk into court after they pass the bar and this isn't the first time that they've been here; those are the attorneys that seem more well-rounded. So I would like to see the law schools, and as young attorneys come up through the ranks, get more court time, not just book time. I think that's a preparation and an education that is priceless for an attorney.
Is there anything else we should know about you?
We have a family farm, so when I'm not here, I might be on a tractor. I don't mind that at all; it's a nice change. I like to try new things: I've done beekeeping, I've raised pheasants, I've made maple syrup. I'm pretty family-focused — focused on the kids and focused on the kids in the courtroom.•
Please enable JavaScript to view this content.