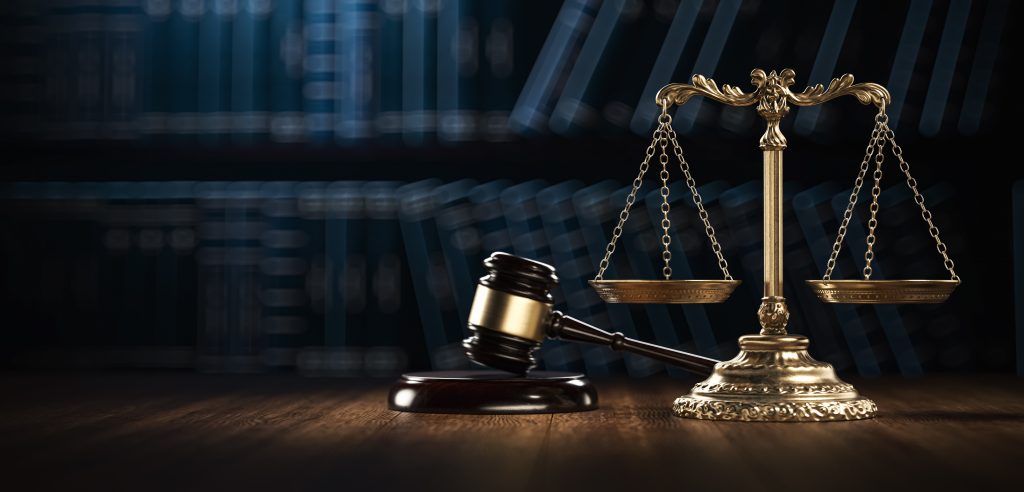 Growing up in a rural farming community, Dale Arnett spent the early part of his career shearing sheep and working farm jobs. His life took a turn in his mid-30s that led him to law school, but becoming a judge was never on his radar.
Indeed, it would be another three decades before the now-Randolph Superior Court judge took the bench in Winchester. Now in his third year as a judicial officer in the northeastern Indiana county, Arnett said he finds his work rewarding.
"I was trying to do good things as a general practitioner and a public defender, but I feel like being a judge, I can help people more," Arnett told Indiana Lawyer.
Arnett — a 1973 graduate of Indiana University and 1986 graduate of the Ohio Northern University Pettit College of Law — is the most recent Indiana judge to be featured in IL's Spotlight series profiling judges in more rural communities. Here's what he had to say about life on and off the bench.
What prompted you to go to law school?
I had gotten a divorce and I was a single father and couldn't get my daughter. I came in second — my parents got her. I thought that wasn't right, because I'd never done anything bad, so I thought, "Well, I'm going to make a difference." So I went to law school, and ironically, I found out that family law was the part that I just liked the least.
What kind of law did you practice after you graduated?
I was a public defender for 33 years. However, that wasn't all that I did. I was licensed in Ohio, Indiana and Illinois, and I did a limited federal practice, mostly 42 U.S.C. § 1983 civil rights stuff. I went in a lot of courtrooms all over Indiana — I was in federal court in Louisiana, Florida, Indiana, Ohio, Massachusetts. I did about everything: small claims, a little family law, just whatever. General practitioner, I guess you'd call it, and 75% was probably public defender stuff.
Why did you decide to become a judge?
I'd never thought about becoming a judge. But when Justice (Robert) Rucker was going to retire, I had a friend, Keith Dilworth. … he talked me into applying for the Supreme Court. I went through with it, and I did not get called back. That got me to thinking, "Well, you know, the judge in our Superior Court is going to retire. How about I just run for that?" So I did. …
We've only got about 10 or 12 attorneys in the county, and the other ones that would have been qualified with enough experience had big practices that were estates or a family farm practice, and none of them really wanted to be judge. And I thought, "Well, this was a good time for me to take a step up."
What's your docket like?
It's a high-volume docket. I've got small claims, I've got evictions, I've got family law, I've got all the misdemeanors, I've got low-level felonies, and then four months out of the year I've got all felonies, except no murders — they all go to our Circuit Court. There are only two courts in our county, so I get about everything.
What are some of the challenges that might be unique to your county and/or other rural counties?
Well, I've got a high-volume court, and since there's only two courts in the county, I see a lot of different types of cases. One of the things that's makes it a little harder in the rural counties is, as you know, we have a drug problem, to say the least — everybody, this is in all the state and every state. There's methamphetamines and fentanyl and heroin going around in our county. We don't have as many resources to get people help; we don't have a drug court. I don't like putting people in jail — that's the last resort, because rehabilitation is a whole lot better than punishment if you can get them to be productive citizens. Sometimes we have to lean heavily on Muncie and Richmond to get the rehabilitative services for people. We just don't have enough services.
There have been efforts from the Supreme Court and the Legislature to provide resources to counties for mental health/addiction services. Have you been able to participate in those programs?
I've known our sheriff for years and we had talked about that concept when I first became a judge. And lo and behold, they started talking about in the Legislature, and I know a few appellate judges, and they were talking about it. As far as doing anything concrete, no, but it is being batted around, which would be really helpful to the rural counties if we can have regional rehabilitative services, because it seems like the best rehabilitative services are the RWI, Recovery While Incarcerated, from the Department of Correction, but I don't want to send people who are not hardened criminals to the Department of Correction. But if we have some kind of a regional system where the rural counties could get people to a recovery facility — if they wanted to go, of course, you can't make them go — but if they volunteered to go, it'd be a great thing.
You mentioned leaning on facilities in Muncie and Richmond for rehabilitative services. Are those readily available to you?
It's pretty available. Our community corrections and our probation departments have a good rapport with some of the facilities, especially in Wayne County, that work on rehabilitation.
What's your favorite part of being a judge?
In Winchester, we had a pilot program, called the Winchester House, for unwed mothers, especially if they have a drug addiction. I was walking one day into the courthouse, and a young lady came up and hugged me and said, "Thank you for saving my life. You sent me to the Winchester House." I cried.
When I can truly help them, that's the most rewarding part — trying to help patch up families, keeping people from hating each other, keeping them from yelling each other, talking to them about civility, talking to them about education being the key to a civil society. Those kinds of things are the most rewarding.
On the flip side, what is the most difficult part of your role?
There are a couple of things. First, when the outgoing judge retired, he had been there for 22 years and I kept his whole staff — they helped train me, which was really great. But one of the ladies left and then the other lady retired, and that's been a difficult transition, because one of them had been there 22 years, and the other one had been there over 10 years.
The second part of it is to keep an even temperament. Sometimes they want to bicker, sometimes they want to argue, and keeping that even keel sometimes is difficult. But courts are problem-solvers — that's what we do. If people didn't have a problem, they wouldn't be there. And everybody's problem is important and they're all human beings, and I have to treat them as such.
What do you enjoy doing when you're not on the bench?
I have a Guild guitar; it's a mahogany. It's a nice guitar and I play a little bit every day just to relax. I play a little bit of golf — my son is 32 we go out and play golf a little bit. I live on the farm, and I did have some livestock, but I'm down to five goats and I'm going to be getting rid of those. I spend time with my wife. I'm on the church camp board, Quaker Haven Camp. I'm on our missions board at our church. I like to fish. I like to go mushroom hunting.
Anything else?
I believe that the state of the judiciary in Indiana is really solid. We have great people as leaders — one of them as Darrin Dolehanty (of Wayne County), the president of the Indiana Judges Association. I've known him for several years. He does a great job, and our appellate justices and judges do a great job of leadership for the state.
I believe that we're at the forefront of having fairness in our judicial system. I practiced in other states that are somewhat similar to the federal system in the way they work things, and I think we're more advanced. (Chief Justice) Loretta Rush, she's out there moving and shaking on a national level. I'm really proud of her. I went to her State of the Judiciary address, and I was really impressed with some of the things that she brought out. So I think the judiciary is in good shape, and I feel honored to be part of it.•
Please enable JavaScript to view this content.