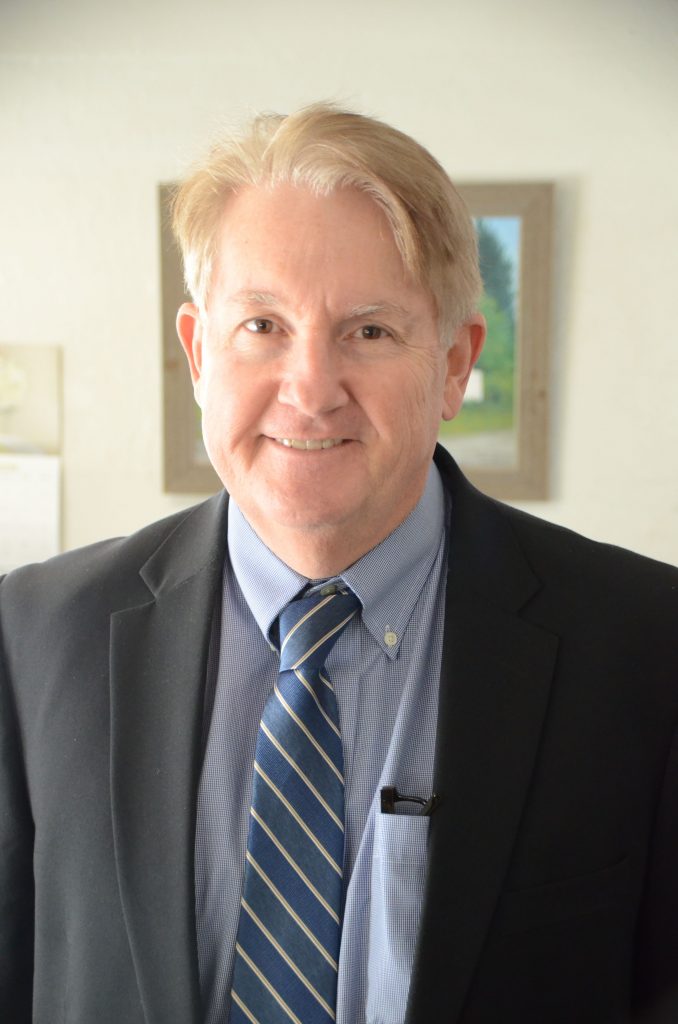 The Switzerland Circuit Court, which just began a weekslong transition to the online Odyssey case management system, has been functioning out of an adjacent jury room for the past month as its mold-infested courtroom is treated. Meanwhile, its court staff is figuring out the logistics of moving all the equipment needed to properly conduct a jury trial to an offsite location a few blocks away.
"We may not be able to (use the courtroom) for several more (months)," said presiding Judge W. Gregory Coy. "All that on top of the regular goings on here at the court make for some pretty exciting days."
After practicing law in southeast Indiana for 20 years, Coy became a judicial officer in 2009, staying close to his roots.
"The thing about being a judge in a small county is that my court is a court of general jurisdiction," he said. "I preside over every kind of case that can be filed in state court, from traffic tickets to murder, small claims to wrongful death, all types of domestic cases, juvenile delinquency, CHINS, child support."
Coy is the first Indiana trial court judge to be featured in a new Indiana Lawyer spotlight series focused on the state's judicial officers in more rural communities.
Indiana Lawyer: Where are you from and where did you grow up?
Coy: I am originally from Switzerland County. My family moved to Evansville when I was about 2 but moved back when I was 7. Other than living in Indianapolis during law school, I have lived in Switzerland County my entire life.
Where did you go to undergrad and to law school?
I received a bachelor's degree from Indiana University. I started out at IUPUI but finished my degree work at IU Southeast in New Albany. I graduated from Indiana University School of Law-Indianapolis, now known as the IU Robert H. McKinney School of Law.
Why did you choose the legal profession?
I worked for about a year and a half in social work after college and realized that was not a field I wanted to work in for any length of time. The law interested me so I decided to go to law school. 
What made you want to become a judicial officer?
I wanted to be a judge in order to serve my community.
What is something you've learned since joining the bench? 
There is a great deal of camaraderie among judges. I have looked to my colleagues in Dearborn, Jefferson and Ripley counties on many occasions for advice/guidance on how to handle certain situations that have come up in my court, and I try to return the favor whenever asked. State court judges also have a number of resources at the Office of Court Services that help a great deal.
What has your experience working in a rural county been like? What are some things you see in Switzerland County that judges might not see in more urban areas of the state?
One aspect of being a judge in a small community is that everyone knows the judge. I would assume a Marion County judge can go to a restaurant in Indianapolis in relative anonymity, whereas if I grab a sandwich with my wife at the local eatery, I can expect that a few folks will come to my table to say hello. From an ethics standpoint, it is not unusual for people to approach me and want to ask about a case either they or a friend or relative are involved in, and I have to tell them I can't discuss their case. That can lead to some hard feelings unfortunately.
What are the most common struggles you see with the litigants in Switzerland County?
I think the biggest challenge is the lack of education among the citizens of this county and the lack of funds to hire attorneys. Our Supreme Court has an excellent resource for individuals to use to find forms they can fill out and file themselves. However, they may lack access due to the lack of internet or the ability to pay for the internet to access online resources.
What's your favorite thing to do once you hang up the robe at the end of the day?
I enjoy being outside, mowing, listening to a podcast or music. My wife and I enjoy walking/hiking, biking and traveling when we can. Our favorite activity is spending time with our four granddaughters!
What's a song or book that you've been gravitating toward recently? 
I have spent a great deal of time in the last few years trying to become more familiar with my faith. I like to read books about the Bible by a man called Charles Swindoll, a pastor in Texas, as well as others. I am also a fan of many kinds of music, but rock is my favorite.
Who or what is your inspiration and encouragement?
I was always inspired by my mother and my sister. My father died when I was young and my mother raised me alone, but my sister helped out a lot. They both had much more difficult lives than me, and if it weren't for them, their support and the example they set I would not have gotten through law school.
What is one thing you wish the legal profession knew about you that they don't already? 
Probably just how much I enjoy working in the law. There are so many remarkable people that I work with, including judges, lawyers, prosecutors, defense lawyers, police, probation officers. It takes a great deal of dedication to do what we do, and I consider it a privilege to be part of this business.•
Please enable JavaScript to view this content.