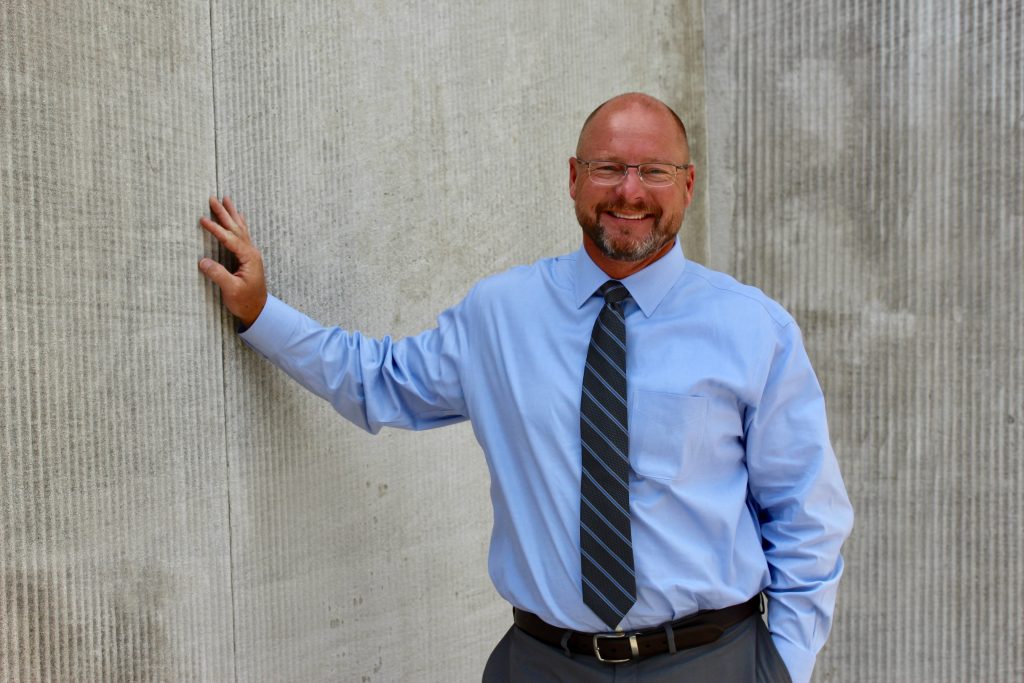 Traditional isn't the word that White Circuit Judge Jason Thompson would use to describe his ascension to the bench.
Growing up on a small mom-and-pop farm in rural White County, Thompson said he was tasked with feeding his family's livestock of cows, horses and hogs every morning before heading off to school. Upon graduating from high school, Thompson was ready to leave his farmhand tasks behind, moving to town and serving as a firefighter and paramedic for Monticello.
After securing his fire science degree and serving in that role for several years, Thompson was approached about possibly running for mayor.
"I'm always into challenges," Thompson said. "Between helping birth a child, putting out fires and saving lives, it was another challenge."
So, he ran for and was elected mayor of Monticello in 2007, serving in that position until 2011. During that time, Thompson was first exposed to the law while working closely with the city attorneys on a daily basis.
When reelection came around, Thompson said he had a gut feeling that he wouldn't win against his opponent, Kenneth Houston. When that proved true, he chose to pursue a law degree with the hope of serving his rural community's unmet legal needs as his next career.
After graduating from the now-defunct Indiana Tech Law School and passing the bar exam in 2017, Thompson opened a solo firm in Monticello.
Then, when a vacancy opened in White Circuit Court following the retirement of Judge Robert W. Thacker in 2018, Thompson decided to run for office again — this time, judicial office.
He was elected and joined the Indiana judiciary in 2019.
"I have always tried to bring a little bit of upbeat positivity in my cases," Thompson said about his approach to interacting with litigants while on the bench. "… I know they are uncomfortable, so I try to at least help them not be."
Looking back, Thompson said he didn't expect to go down the career path he did, but he doesn't regret it. The judge also said he doesn't believe his quick turnaround from legal practice to the bench was a major hurdle to overcome.
"I'm very happy with the way my career went and where I'm at now and how I got there through all the different steps," he said.
Thompson is the latest Indiana trial court judge to be featured in Indiana Lawyer's spotlight series focusing on the state's judicial officers in more rural communities. Here's what he had to say about being a judge, the practice of law and life off the bench.
Indiana Lawyer: What's something you've learned about yourself since taking the bench?
Thompson: I have been able to do a lot of things at the same time, which has really been beneficial as a judge. I can listen to two or three things, I can write down something, all at the same time grasping and putting it together while I'm taking notes about how I want my decision to come down.
What has been the most fulfilling aspect of serving as a judge?
Years ago, one summer we noticed three or four kids were meandering around the neighborhood that we hadn't seen before. The problem was that these were very young kids and they didn't have shoes on, so the neighbors would try to get them shoes and socks or give them some food. I didn't know this at the time, but the Department of Child Services was involved.
Fast forward to this past year, I had that same family in court and we had an awesome opportunity to move toward adoption for one of the children. She was a teenager and I told her, "You don't remember me but you may remember how the people in the neighborhood tried to look after you guys." And she said, "I remember that." It was an emotional bonding time.
Being able to see how happy she is with the way her life is now after being adopted, that's very fulfilling for me. You remember these vivid memories where you wish you could do more, and I'm in a position where I do get to help.
What's your favorite thing to do once you hang up the robe at the end of the day?
Golf is my addiction. I could play golf every day if I could. That is my outlet, and a lot of times it's very beneficial. If you are to ask anyone, "Where is the judge?" they'd say, "Go look at the golf course." There is many a time when I will do 36 holes in one day.
What's a song, book or podcast that you've been gravitating toward recently?
I don't have a specific genre of music or song, and I don't read much because I read documents all day long. I never was a big reader in school either, and I don't listen to podcasts. It's odd — when I'm driving home, I'll bounce from a couple different stations. Sometimes it depends on what mood I'm in. Am I in a mood to reminisce or in the mood to listen to Hair Nation?
What has been your experience serving a more rural Indiana county and what are the biggest legal challenges your community faces?
It's very tough getting legal services. It's just like the rest of Indiana — there are some people who can't afford it. But our problem in White County is we have a lack of attorneys who do criminal cases, juvenile delinquencies and CHINS cases. It's very few and far between, and there is a need there. Also, mental health of young people — 90% of the emergency detentions I order are for young people wanting to harm themselves, between 17-22 years old.
If you could change one thing about the practice of law, what would it be and why?
I think it would be so much better for jurisprudence if everyone was appointed an attorney if they cannot afford one. It would be easier for them. We have to help guide them through, which makes it difficult because we can't give legal advice.
Where do you receive inspiration and/or encouragement?
This year changed my life. In February I lost my wife and daughter in a house fire. Now that's my inspiration. I try to find things for them every day. It really has helped me appreciate and I really bring it to heart when I'm in court making decisions. That's my inspiration, is to do it for them. They're with me all the time.
What is one thing you wish the legal profession knew about you that they don't already?
The reason why I feel like I do as well as I do in case allocations is that I have had my name changed, I have been divorced, I have been widowed. I've been through a lot of things in the court cases that come before me. I don't tell everyone that, I don't want to try to make it about me. But I know what they are going through. My normal will never be normal. It's my new normal. So I understand what these people are going through.•
Please enable JavaScript to view this content.