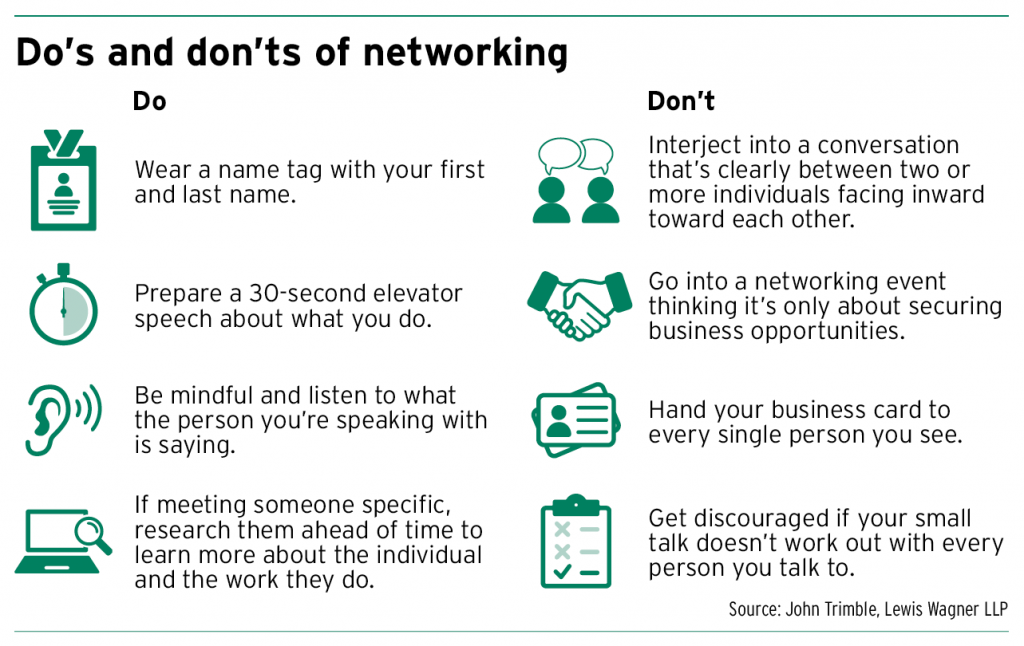 Rushing late to her first IndyBar conference as a young lawyer, Christine "Chris" Hickey showed up at the door of a huge room filled with people already seated, forks in hand.
"I stood there, not really knowing anyone and wondering what to do, what empty seat at an otherwise full table I should dare ask to occupy," said Hickey, managing partner at Rubin & Levin in Indianapolis.
The next thing Hickey knew, an attorney she'd never met came to the door and asked if she'd like to sit at the empty seat at their table. The simple gesture, she said, made her networking experience a little less intimidating.
Stepping out of one's comfort zone can be challenging, especially when you are expected to converse with other attorneys you don't know. Regardless, lawyers are often expected to engage in mingling — dreaded or not.
A few Indiana attorneys well-versed in networking have some practical tips for lawyers whose knees may be wobbling as they prepare for the next event they're expected to attend. Here's what they have to say.
Show up
Forcing yourself to go to an event or gathering is the first step of networking, said Barath Raman, a partner at Indianapolis' Lewis Wagner LLP.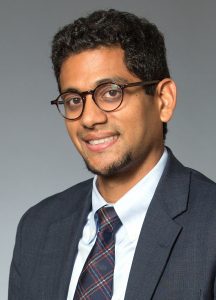 "Networking is a skill, and the more you practice, the more you hone your craft, the better you're going to become," Raman said. "If you don't even go to the event in the first place, you're not going to get any better at it."
Raman said his mingling skills were forged while serving in student government at Indiana University Robert H. McKinney School of Law. Meeting as many classmates as he could meant he would eventually recognize familiar faces at networking events in the years to come.
"Once you have that familiarity with someone, at least one person in the room, you can hopefully go up to that person and reconnect. And hopefully that person is able to introduce you to their network. It's almost like spider veins," Raman said. "The next time you go to a networking event, you automatically now know two people, and maybe those two people can introduce you to four other people and just kind of start rolling."
John Trimble, a senior partner at Lewis Wagner, said if someone is nervous about speaking with others, they should bring someone to the event with them. Whether it's a co-worker, spouse or friend, going in a pair can alleviate some stress.
"But it's also important not just to stay with that person, right? Like, it should be done as a tag-team idea," Raman said.
Depending on the event, Trimble said minglers should include their first and last name on a name tag. That enables someone to contact you with business referrals, job offers or community engagement opportunities.
Trimble also recommended every person attending a mingling event have a 30-second elevator speech ready to go. They should be prepared to answer the simple question of, "What do you do?"
Saying hello
Once at the event and in the room, Trimble said the hardest part of the evening is at hand.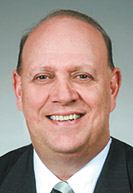 "This is kind of what I call jumping into the swimming pool," he said. "You'll look around the room and look to see if there's another individual who is standing alone or at a table alone and approach them and say, 'May I join you?' Then stick your hand out and introduce yourself."
Once an introduction has been made, ask a few foundational questions, like, "Have you attended this event before?" "How long have you been a member of this organization?" "What sort of work do you do?"
Hickey said in her experience, she's learned that people who are great at those "first" conversations are individuals who focus on the person with whom they are speaking and give them their full attention.
"I have learned that people in positions of perceived power or with important titles are no less likely, and often more so, to welcome you to the conversation with a smile," she said.
When surveying the room, Hickey said you shouldn't try to interject yourself into a group that you don't know that is already engaged in conversation. Wait until their bodies are facing the crowd and it's apparent the conversation has ended.
"The line at the bar is a wonderful place to strike up a conversation and meet people — even if you are drinking soda water, that's the place to go," she said.
Know the facts
If you know you'll be in the same room as someone you admire or are interested in learning more about, Raman and Trimble both recommended doing some research ahead of time.
If it's a bar event or some other networking dinner, Raman recommended asking the organizer if they'd be willing to give you the attendee list beforehand.
"Look up as many individuals that you know or see if there's anybody specifically that you want to talk to and do a little bit of quick background research about them that way," he said. "It's easier to strike up a conversation with someone that you you've done a little research with."
With research in hand, Trimble said upon introducing himself, he can then comment on the fact that he knows who they are and ask questions like, "Am I correct in remembering that you're a member of this association" or, "You're on the board of this nonprofit?" to get a conversation started.
Sometimes, however, it can be off-putting and apparent when someone scheduled for a one-on-one introduction has not done their homework.
"They haven't looked at my online bio, on my website, our law firm and know something about me and are asking me questions of a nature that they should already know," Trimble said. "So you want to be you want to be cautious of that."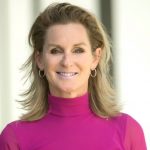 If someone is nervous to make the first move in an introduction, Hickey said you should focus not on what you may want to come from the introduction, but rather on meeting the person.
"When you are genuinely interested in meeting someone, it shows," she said." A firm handshake and a genuine smile and happiness to meet someone goes a long way."
Connection, not business
A major component of mingling is not to go into an event with only business on the brain. Rather, strive to make genuine connections with people you meet.
"I don't go into a networking reception with the idea that I'm going to come out of there with business. And the person who goes in there with that attitude can unintentionally offend another person," Trimble warned.
For example, if an attorney goes in with a handful of business cards and only intends to hand out as many as they can, that's probably not going to impress anybody, he said.
"Go into a networking event with a purpose to meet people. That's the goal," Raman agreed. "Business comes secondary."
"Friend-making" is a term Trimble said he prefers over "networking." As someone who enjoys meeting new people and who simply likes to make friends, Trimble said mingling could lead to multiple avenues of connection between attorneys.
"They may lead to nothing more than friendship, which in and of itself is worth your time," he said. "But it's a first step to building a relationship that may be a long-term benefit to you and to them for a whole variety of reasons."•
Please enable JavaScript to view this content.