Retired Krieg DeVault partner Calvin Bellamy remembers exactly when he got his first presidential pin.
"I know specifically – 1956. My father ran Memorial Day parades in Hammond for many years," he recalled.
Enlisted at the age of 14 to help his father volunteer for a reelection parade for then-Republican President Dwight D. Eisenhower, Bellamy remembers the massive semi-truck carrying loads of campaign memorabilia into town.
"There were several campaign buttons of different types, and one of the campaign workers said, 'Yeah kid, take whatever you want," Bellamy said. "So I did, because it was kind of exciting and a novelty."
That day sparked a fascination and hobby that Bellamy has cherished for the past 64 years.
When he graduated from high school four years later, Bellamy collected his second round of buttons from the John F. Kennedy-Richard Nixon presidential election. It was so exciting, Bellamy said, he's kept the collection going.
Now, more than 1,000 presidential pins adorn the walls of Bellamy's home office, with the oldest dating back to the mid-1800s. His collection is made up of pieces found rummaging through estate sales, Americana warehouses and even donations, filling nearly seven frames, mostly 4-by-2 feet in size. Bellamy personally mounts the pins and frames them himself, each containing well over 100 buttons.
"For the first frame, I had an interior decorator do it, but I wasn't completely satisfied, so I redid it a little bit," he said. "Since then I have done my own."
Designed in style
Some familiar names hang in the swath of pins across the wall, including Abraham Lincoln, Ulysses S. Grant and Franklin Delano Roosevelt. The collection features the two major candidates from every election since 1840, with several buttons or paraphernalia for each candidate.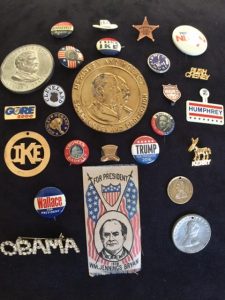 Although they aren't buttons, Bellamy especially likes the golf tees he collected from the 2004 race between George W. Bush and John Kerry.
Each button Bellamy owns is different and unique, varying in shape, size and color. He prefers the older buttons, which come in interesting shapes and have certain meanings tacked behind them.
For instance, Bellamy has several small gold pins fashioned in the shape of an insect from the 1896 election between presidential candidates William McKinley and William Jennings Bryan. In that election, McKinley supported the gold standard, and his supporters became known as "gold bugs."
Although the pins have become more similar in shape and size over the years, Bellamy still loves them all. But along the way, his former high school teacher gave him a pin he says now holds the dearest place in his heart.
"She had a William Henry Harrison pin that had been in her family since 1840," Bellamy recalled. "It looks like a piece of jewelry — it's a log cabin."
Closing the curtains
After more than six decades of accumulation, Bellamy said the 2020 election will produce the final additions to his collection before he closes it for good.
"I'll be 78 in about a month, so four more years after 2020, I'll have to commit to another big frame, which would take two or three more elections. It just seems like at some point, you close the collection off," he said. "And after all, it's been more than 50 years that I've been doing this, so it feels like a reasonable time."
In fact, Bellamy said he's contemplating who he could hand off his collection to once he's finished. He'd like to keep the pins together, and hopes a university or historical museum might find the collection of some value. If so, he's willing to donate the collection.
Over the decades, Bellamy said the experience of collecting the presidential pins has been simply fun. It affords him the chance to look at something bigger than himself each day as he walks by the giant frames.
"I can sit in an easy chair where I read, and then I can look up and think of the sweep of American history as I look at those buttons that run across the whole wall," he mused. "It's a way to bring history alive, you might say."•
Please enable JavaScript to view this content.