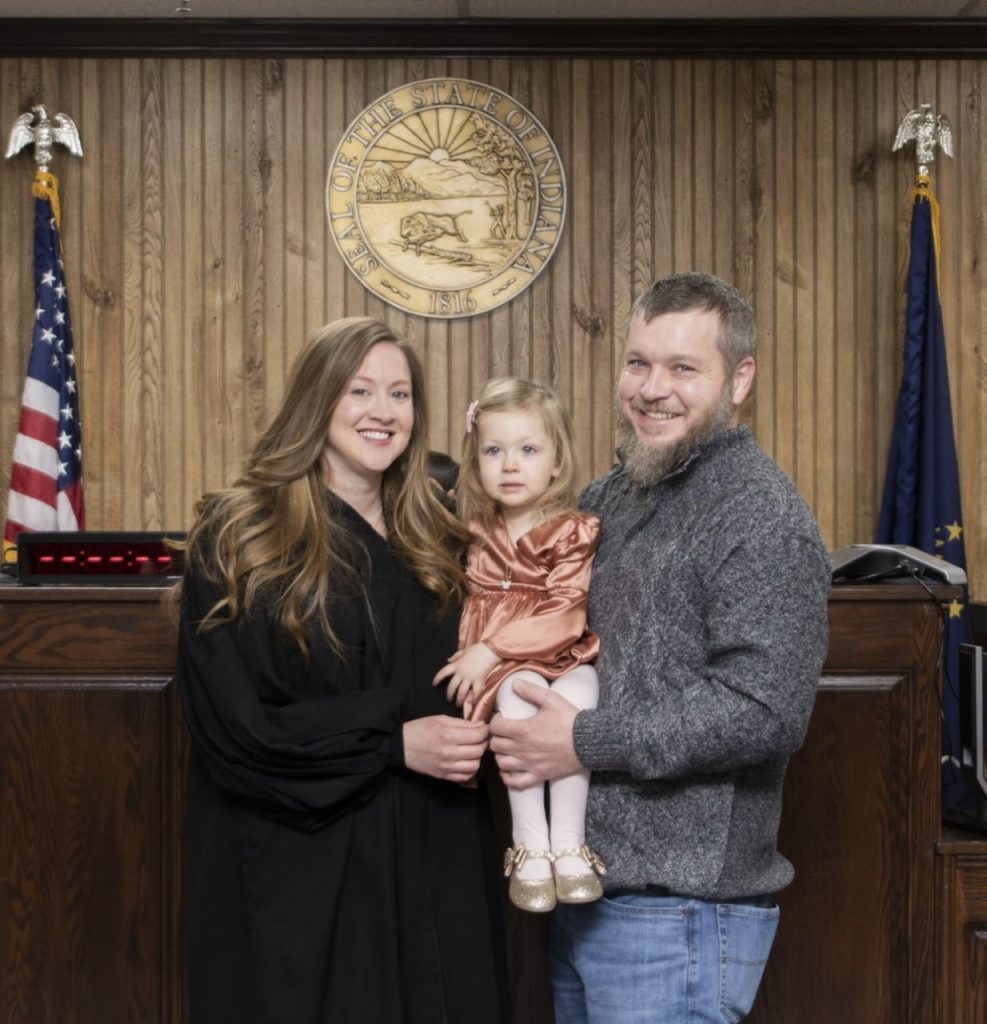 Like many rural judges in Indiana, Isha Wright-Ryan, 36, is the only judge in Martin County.
Wright-Ryan took the bench on Jan. 1, 2023, succeeding now- Senior Judge Lynne Ellis. She's a native of Martin County, which has a population 9,780.
A mother of one with another on the way, Wright-Ryan is a graduate of Shoals High School — which has a total enrollment of about 200 students — Indiana University Bloomington and Valparaiso University School of Law.
She was the first in her family to attend law school, blazing a path for her cousins and siblings to also follow to a career in law.
"I love my county. I always say to everybody, these are my people. I want to do what's right for my people, and that's why I came back to Martin County and I've stayed in a rural county," Wright-Ryan said. "I could have went and practiced law anywhere, but I wanted to be home. I wanted to come home and do what I could for my county."
Wright-Ryan is the latest Indiana trial court judge to be featured in Indiana Lawyer's Spotlight series profiling judges in more rural communities. Here's what she had to say about life on and off the bench.
Why did you choose to have a career in law?
We always joke and say we weren't doctors, so the other option was being a lawyer. I always have liked helping people, and I think our Constitution is the best and, I don't know, something about helping humans and ensuring our rights and following the Constitution, that was a calling to me. So it just worked out.
Why did you go back home?
I graduated college in 2008 and then I graduated from law school in 2011. I passed the bar in 2012. I started practicing in May 2012. Well, I started working for another attorney, but he opened a satellite branch for me in Loogootee, so I worked out in the Loogootee office. His main office was in a different county, and then at the end of 2014, I went on my own and opened my own office.
What was your area of practice?
I did family law, so divorces, custody, paternity, adoptions, guardianships, anything under that kind of umbrella of family law, and then I also did criminal law and I would do CHINS. Anything that gets you in a courtroom really — protective orders, things that you're going to have to go to court for — and I would handle most of those types of things. I didn't do civil litigation; I felt like that was a little bit more specialized. I'd do small claims or something like that, but I wouldn't take on a big civil litigation that would've went to trial or something like that. I didn't do accident or personal injury. I didn't handle that type of stuff, but deeds and wills and your general forms, that kind of stuff. Small town practitioner, solo practitioner.
What was it like having your own office?
I did that until I took the bench, from the end of 2014 to the end of 2022. I liked private practice. I mean, I always liked being a practitioner, I liked being in a courtroom. I did family and criminal. I tried to do what I thought I would see (as judge). I'd always planned a run for judge; the year that I ran, I always intended on running in that election. I kind of made sure I practiced different types of things that I knew I would see sitting in the courtroom. I liked being the litigator. I think you just either like it or you don't, and I love being in the courtroom — still do, even as judge sitting on the bench. 
Have you learned anything about yourself so far since becoming a judge?
When you're a litigator, you're in the courtroom, you're very proactive, right? You're filing motions and you're trying to get something and advocate for something, some result to happen. As a judge, you're the gatekeeper of justice, you're ensuring that people are being treated fairly and that the law is being followed and you're not picking a side. I mean, you do sometimes — in a decision you pick a side, but you're not going in there with just one side in mind. You go in with an open mind and you try to hear what everybody has to say before you make a decision. I have had a really good mentor, and I couldn't say enough good stuff about him. Every judge in our district, even though we're in rural counties, we get along really well and I can call any one of them for anything. I know that, and that's helpful in taking the bench to have colleagues that you can rely on to help you when you're a new judge, making the right decision, so I have never been afraid to ask for help. That's good for me, being new to my seat on the bench.
As far as learning new things about myself, I think it's definitely different, so it's a different perspective. I think going into the courtroom I had one kind of mindset, and now it's just different, so I've had to change the way that I look at a case compared to what I did in private practice.
What is something or someone that inspires you?
I had a good mom. My mom was always a very strong supporter in my life for blazing that path of "you can do it, regardless of whatever." As a female attorney, there had been some struggles that I had to deal with and overcome. And being a young female attorney in private practice, running your solo firm, you do face some challenges. So I've had a lot of strong women in my life, positive support that encouraged me to do what I was doing, to open my own practice, to run for judge. I think being a mom has changed my perspective in a lot of ways: what you look at and what you do and making sure you're an example.
When you're not in court doing your work as a judge, what are some of your hobbies?
I would say being a mom, obviously, takes up a lot of time, so, spend time with my family. I have a really good husband and an extended family. I have a really close-knit family and so we spend a lot of time together with our family, and we have a little garden that we like to do. When you're in the country, you go on ATVs and jeeps and you camp and fish, and I would say a lot of outdoor stuff like hiking, that kind of thing. Yoga is probably my favorite thing to do, but I don't do that as much as I want to. It's probably my favorite hobby.
What was your first day on the bench like?
It was probably a little bit anxiety-provoking, or you're a little bit nervous. You want to make sure you do a good job. But I think once I did it, I was like, "Yeah, I made the right decision." 
What is your favorite memory so far from being a judge?
We just did a guardianship for a family (an uncle was getting guardianship of his niece). Her mom had died and her aunt had died and her uncle was winning guardianship over her and she's old enough to consent. They came to the hearing and talked about, obviously, the trauma that they both went through, because the uncle lost his wife and then the mom was the sister to his wife. So they had suffered some really hard traumas, but they were both very happy that they had each other, and he was bragging about how she had done at the choir concert and she's a talented singer. This is really, really special to see that kind of tragedy, and they were making the best of that situation and they had each other. So that just stands out in my mind. You don't always get happy hearings — and it wasn't necessarily happy, it came out of their trauma — but they were happy together and that was what was best for her. And so that was a pretty neat day.
Since you are new to your bench, are there things you might want to change?
I think every judge probably has their own thoughts on what should be or how you should do things. The judge before me, she still does senior judge work in the court when I need her and she's had some cases that she kept, and so she's always available if I need anything. But, I mean, I think I'm different than her, so the things that I do and that I want are different than what she did. I'm looking at potentially a problem-solving court or other alternatives of things. Right now we've been focused on our courthouse safety plan. They mandated that, and when I came in it wasn't done, so we have until October to get that completed. We're required to have a committee. I've been working with the committee to try to get our plan up to date and in place. So that's been a big project that I've taken on since I came on the bench.
Is there anything else you would like to add that I didn't ask you?
My sister's an attorney. She came in and worked with me. She went to law school after I was practicing, and she went to law school and now she's come back to the county and she took over the law practice that I had. I was happy that we didn't have to lose an attorney, because it's hard in a rural county to have lots of attorneys. She kept a practice and has maintained that.
Is there anyone else in your family who is also an attorney?
I have a couple of cousins that are. Nobody was an attorney in my family before I went to law school. It's like all my cousins, that same generation of cousins, we were all similar in age when we went. There were not a lot of female attorneys in our county when I started practicing. There was a female judge and that was the only person in our county that practiced before me. She was the sitting judge at the time. When I opened my practice, I was one of the only female attorneys in the county when I started in 2012.•
Please enable JavaScript to view this content.