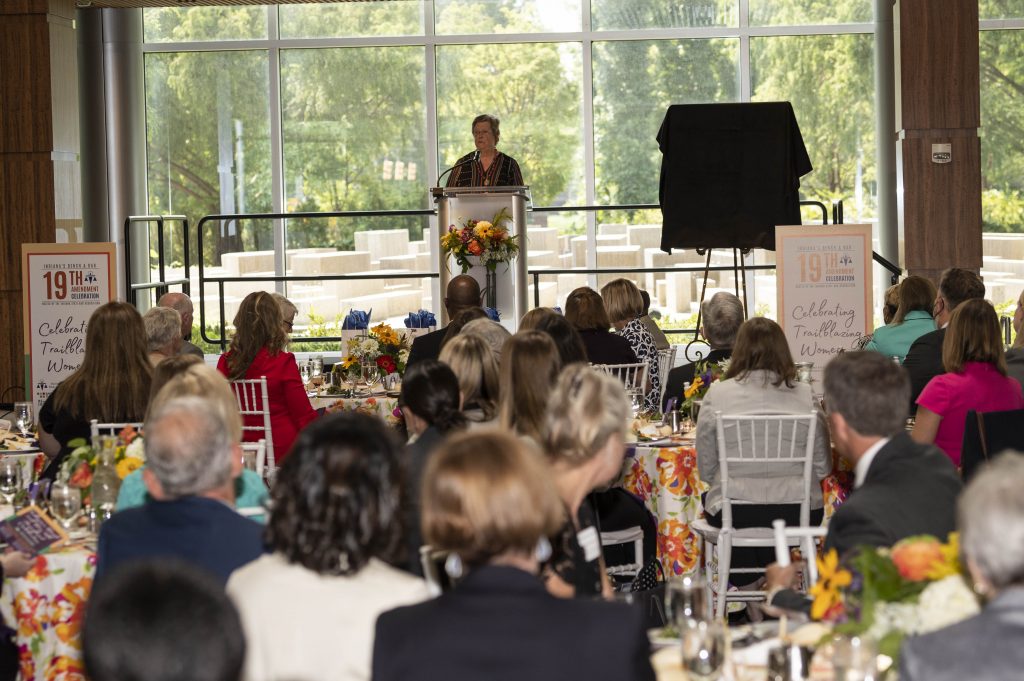 Indiana's women appellate judges gathered for a celebration at an Indiana State Bar Association event last month to reflect on the history and significance of the 19th Amendment's 100th anniversary.
"This is a little bit like speaking at the family dinner table," emcee and Indiana Southern District Court Senior Judge Sarah Evans Barker said affectionately as she welcomed guests to the Aug. 23 event, "Indiana's Bench and Bar Celebration of the 19th Amendment," postponed from 2020 due to the COVID-19 pandemic.
With warm gratitude, Barker acknowledged Indiana Chief Justice Loretta Rush and Indiana Court of Appeals Judge Nancy Vaidik, who imagined the ISBA gathering more than two years prior.
Barker recognized Indiana's women appellate judges, giving them "judicial notice" and the attention that they "richly deserve, jointly and separately."
"Since 1816 when Indiana entered statehood, there have only been 13 women — these 13 women — who have served as judges of our state appellate courts," she said. "Happily, they're all still living."
The list begins with Judge V. Sue Shields, the first woman elected to an Indiana general jurisdiction trial court in 1965, the first female judge on the Indiana Court of Appeals and the first female federal magistrate judge in the state.
Also honored was Rush; former Indiana Supreme Court Justice Myra Selby; Indiana Court of Appeals judges Elaine Brown, Melissa May, Patricia Riley, Margret Robb, Elizabeth Tavitas, Nancy Vaidik and Leanna Weissmann; senior judges Linda Chezem and Betty Barteau; and Indiana Tax Court Judge Martha Blood Wentworth.
Barker said it's these 13 women whose wisdom, in no small part, help to fashion the solutions to the problems and give life to the principles of the rule of law in the state of Indiana.
"We are in good hands," she said. "I have no doubt that the voices of the suffragist sisters — our suffragette sisters — have been whispering in the ears of (these women). And the voices of those judges will surely be floating in the ears and consciousness of future Indiana judges — women to be sure, but not just the women."
In considering the reasons why the 100th anniversary of the 19th Amendment is a historical moment worth celebrating, Barker shared three of her own.
First, women then and still do things together, helping one another. Second, the journeys that lay before the suffragists never seemed to go in a straight line. Lastly, any worthwhile cause that is truly deserving of one's time, money and efforts, a cause whose goal is of the magnitude of the suffragettes', will take a long time.
"The fact that any one person might not live to see the conclusion of her effort should not keep her from signing on and suiting up and running the race until the time has come for her to pass the baton to the next runner, wherever they are around the track," she said.
In closing, Barker jested that it's no small thing for a trial judge to speak well of appellate judges — let alone in public.
"Gratitude for appellate court judges doesn't spill easily from the lips of trial court judges," she said to a chorus of laughter.
Citing Winston Churchill, Barker quoted, "We are all worms. But I do believe I am a glow-worm."
"And so, to you my colleagues and friends on the appellate courts of Indiana, I say and I declare out loud and in public — you are indeed glow-worms, jointly and separately," she said.
In addition to Barker's address, Shields was honored with a professional portrait unveiled during the event. The oil painting was created by Munster painter Michael Chelich.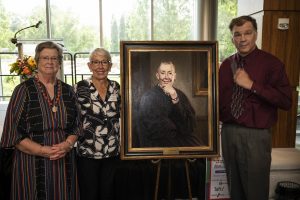 As the guests adjourned to attend the event's CLEs, first up was storyteller Sally Perkins, who performed "Digging in Their Heels" during an energized and moving story of women's fight for the vote.
Setting the scene as if Susan B. Anthony and her suffragette friends had Twitter, smartphones and Uber, Perkins asked members of the audience to consider how things could have panned out differently for women in the movement to vote had they lived in the modern day.
Perkins presented a high-speed story of women's battle for the ballot — not neglecting to recognize and honor the influential women of color who are often unnamed in recollections of the women's suffrage movement.
Throughout her presentation, Perkins made continual references to current travel, communication and lifestyle trends as she told the story of where the suffrage movement began from 1830 all the way to 1920. She used modern-day names as faces for past figures, such as Serena and Venus Williams roleplaying as the Grimke sisters, or Lady Gaga as suffragist Alice Paul.
"The next time you are standing in a voting booth, feel the presence of these women around you," Perkins said. "Remember their insistence that you have the right to be there."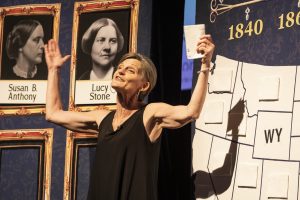 Speaking next about the untold story of women's suffrage, Rush honored the lesser-known suffragettes of color who were equally as influential to the movement but are less frequently recognized. They include Sojourner Truth, Polly Strong, Mary Ann Shadd Cary, Ida B. Wells-Barnett, Mary Church Terrell, Nina Otero-Warren and Dr. Mabel Ping-Hua Lee, among many others.
After playing a portion of Amanda Gorman's inauguration poem, "The Hill We Climb," Rush followed with a reflection of the discriminatory roadblocks, like literacy tests and poll taxes, women of color faced in the journey to vote, as well as strides to overcome them.
Closing, Rush read from Gorman's poem: "And so we lift our gazes, not to what stands between us, but what stands before us. We close the divide because we know to put our future first, we must first put our differences aside."
Wrapping up the event, emcee Vaidik posed questions about the journey to judgeship to a panel consisting of Shields, Barteau, Brown, Selby and Tavitas.
The judges laughed as they swapped stories on their judicial campaigns — eating more fried chicken and peas at church dinners than they could handle — and the hard work they put into making their realities possible.
"Fast forward to what life is like on the bench. How are you received as a woman?" Vaidik asked.
For Barteau, one early experience sticks out like a sore thumb. In her first months on the bench, Barteau recalled that after having sustained an objection during a trial, opposing counsel, a man, stood up in court and said, "Now honey, you don't mean that."
In Selby's experience on the Supreme Court in the 1990s, she recalled having to fight in her first year to simply have a women's bathroom in the robing room. When asked what the problem was, she said, "There's no women's bathroom for me. It wasn't really about me, but I was the only 'me.'"
Shields had a similar experience. After being interviewed for an attorney position in Chicago in the early 1960s, she was told by the interviewer that, although they were impressed with her record, they couldn't hire her because they didn't have adequate restroom facilities for women.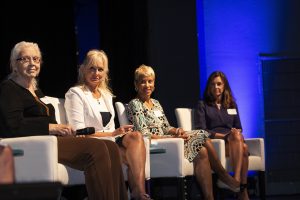 Despite those obstacles, the women in 2021 looked back on where they were, where they are now and who the next women to follow in their footsteps will be in the future.
Speaking on the topic of role models, Brown closed with a fond memory from 1988 of her court reporter's young daughter coming into the office one day and seeing a male judge for the first time.
"I was the only judge she had ever seen," Brown recalled. "She said, 'Mommy, I didn't know boys could be judges.'" •
Please enable JavaScript to view this content.