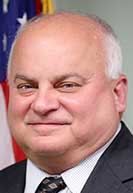 The mayor of Whiting has pleaded guilty to wire- and tax-fraud charges related to allegations he and his wife used more than $250,000 in campaign funds for gambling, paying credit card debt and other personal expenses, then filed false or misleading campaign reports or tax returns.
Joseph Stahura, 64, the Democratic mayor of the Lake County city since 2004 and a councilman for the preceding 20 years, was charged with wire fraud and filing a false income tax return and has entered into a plea agreement indicating his intent to plead guilty to both charges, US Attorney for the Northern District of Indiana Thomas L. Kirsch II said in a press release Thursday. The mayor's wife, Diane Stahura, 64, also entered into a deferred prosecution agreement acknowledging the government had sufficient evidence to charge her with wire fraud.
From February 2014 through 2019, the couple used about $255,000 from the Committee to Elect Joe Stahura for personal purposes, while disguising the activity by filing campaign reports with false and misleading information and by omitting material information from the reports, Kirsch said. "To further defraud, they sought donations from individuals and entities, and held fund raising events to raise money for the 'Committee'.  Mrs. Stahura transferred money from the 'Committee's' bank account to the Stahuras' personal bank account," the release said.
Mayor Stahura is charged with submitting false and misleading campaign reports and filing a false tax return in 2019, Kirsch said.
"Today's charges and guilty plea are another black eye for Northwest Indiana," Kirsch said. "Mr. Stahura, an elected official for over 35 years, illegally used his campaign funds for personal activities and expenditures and lied about it" on campaign reports and tax returns. "He knew his conduct was illegal, yet he persisted in it for over five years." 
"My office has a long history of aggressively pursuing public corruption cases on behalf of the honest citizens of our community. That will continue as long as I am US Attorney. While most elected officials serve the public professionally and honestly, some do not. Those who seek illegal personal gain by virtue of their public office will be held accountable."
This case is being investigated by the Internal Revenue Service and the Federal Bureau of Investigation and prosecuted by assistant U.S. attorneys Philip Benson and Gary Bell. 
Please enable JavaScript to view this content.