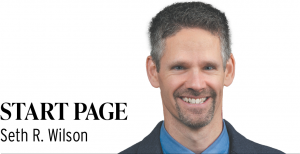 Have you ever clicked through tabs on the Ribbon in Microsoft Word trying to find that one feature you need? Why not group those tools in one tab and arrange them to your liking? I'll walk you through how to create your own custom location on the Ribbon and collect the tools you use most frequently.
Get started
Open Microsoft Word and create a new blank document. You will see the "Ribbon" area, which should say something like "Home," "Insert," "Draw" and so on. I think of this area as paper file folders in a drawer; the files are arranged so you can see all the tabs and pull the file you need. Similarly, clicking on the "Home" area shows me tools Microsoft has placed under that section of the Ribbon. On the "Home" tab, you get Clipboard options, Font options, Paragraph options, Styles and so on. The problem is that those are organized by how Microsoft thinks, not me.
Where do you customize the Ribbon?
There are several ways to customize the Ribbon. With Word on Windows, the easiest way is to right click on the Ribbon and click Customize Ribbon. On Mac, there's a "…" button near the Save button, which will allow you to access the "Customize Quick Access Toolbar" menu and click "More Commands." In the menu that appears, click on Ribbon. Or, you can find those menus under the Options in Word for Windows, or in the Preferences menu on Word for Mac.
Once you are in the Customize the Ribbon area, you will want to create a new tab. In Windows, click "New Tab." On Mac, click the "+" button. This will create the tab and its associated group. You need both to make this work.
Under the Customize the Ribbon menu, you will see the cleverly named "New Tab (Custom)" along with a "New Group (Custom)" tabs in the list under the Customize the Ribbon section. Click to expand the submenu if necessary. Once you have found that name, the first step is to rename the New Tab to something more descriptive.
To rename the tab, click rename (Windows) or click the "…" with a circle around it (Mac) and select rename. Then you will want to also rename the New Group (Custom) following the same process. Those groups allow you to divide your custom menu like you see on the other areas of the Ribbon (e.g., the Home part of the ribbon has groups for Clipboard, Font, Paragraph, etc.). Typically I just name the group the same as the tab because I'm grouping my most-used commands under that tab.
Add commands
Think about what commands you use frequently. Take notes the next time you are working on a document. Did you have to search for a special tool? Make a list of two to three features you had to spend time searching for, then add those to your custom tab.
Here are some example buttons I use: One triggers a macro that I run frequently to add our firm's fonts to my document. I often use Paste Special (instead of Paste), so I have that as a frequently used tool. That is great for getting me just the text of something I've copied, without the weird formatting issues from the web or source document.
I have a button for inserting "Text from file," an older feature of Word that is very effective for combining one document into another document. I also put in my most-used reference tools, such as inserting a bookmark or a cross-reference. Finally, I have the watermark button, allowing me to watermark a draft document or remove the watermark in just a few clicks.
As much as I like keyboard shortcuts, it gets difficult to remember all the shortcuts, especially when I move from Windows to Mac regularly. Having those tools two clicks away has really helped me be more effective.
Other ways to do the same thing
As mentioned, learning keyboard shortcuts is a great way to access frequently used tools quickly. On Windows, if you hold down the ALT key, you will see letters and/or numbers appear that show you which menu will be selected when you press that letter in connection with the ALT key. That's a feature Mac does not have, but definitely needs.
On Mac, searching the "Help" menu will show you menu commands quickly. But clicking Help, then typing watermark," then clicking that result was much more cumbersome than just adding the button to my "attorney" tab and clicking it there. Hope that helps!•
__________
Seth Wilson is an attorney with Adler Attorneys in Noblesville. In addition to practicing law, he helps manage the day-to-day technology operations of the firm. He writes about legal technology at sethrwilson.com and is a frequent speaker on the subject. Opinions expressed are those of the author.
Please enable JavaScript to view this content.