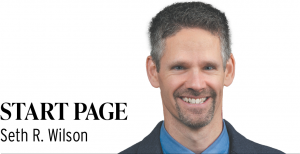 Reflecting on the past year in preparation for the next year brings lessons learned and ideas for making things better. This past year was one where we saw some significant innovations in the technology space, including the rise of artificial intelligence in writing (e.g., ChatGPT). While things in the tech world change fast, the essential things stay the same. This is especially true for lawyers. We need tools that help us capture ideas, edit those ideas and send them to others.
This year, I want to make sure I'm balancing the scale between consuming and creating — or, put another way, leveraging my technology instead of being leveraged by it. Here is a list of tools I've used and found that "stuck" with me this year to help me manage the various areas of my life.
Drafts
Drafts is an app that works on a Mac and/or iPhone/iPad. I've written about this before, but it is one of the best tools for quickly capturing text on your device. I use it all day, every day. It is the starting point for all text on my devices. Honorable mention: Apple's built-in Notes application.
Obsidian
A "fun" application I've used this year is Obsidian. Obsidian is a personal knowledge management application. It works on both Mac and iPhone/iPad, but I personally like it best on Mac. It allows you to write in plain text but connect ideas together using its special syntax (which is based on Markdown and is easy to learn). The power of the application comes from being able to see connected thoughts and information. It's a great way to visualize ideas. It's an app you have to see to understand, but there's a lot of information available on YouTube — or just download it and give it a try.
Airtable
Airtable is an online database program that operates like a spreadsheet. If you are familiar with how Microsoft Excel works, you can build some powerful databases with Airtable. I've enjoyed using it for many different projects, but it has really become the backbone of my firm's performance tracking. It handles all the data I've thrown at it this year and helped me in some surprising ways.
For example, I've used it as a way to track basketball statistics. I chose this tool to help me learn the tool, using a type of data I know well; this helped reduce the learning curve. I figured out that the tool can help me write game summaries by combining different bits of text and data. I can then copy and paste one "cell" that has all the information I need to create a complete box score. Although I have to do some additional formatting to get the data from Airtable into another format, it's easy using automation with an app for my Mac called Keyboard Maestro. A couple of button presses and my "work" is done.
This app has helped me capture data, edit it and then send it in the appropriate format that is helpful to others, not just me. That's the mark of a good tool.
Keyboard Maestro
Like AutoHotkey for Windows, Keyboard Maestro is an application that allows you to program keystrokes and macros to control your computer. Essentially, anything you can do with a keyboard shortcut, you can program into Keyboard Maestro. I use it all day to navigate quickly around my most-used programs — anything I have to do manually more than once per day, I've figured out how to automate with Keyboard Maestro. It saves me countless hours.
TextExpander
A similar tool is a text replacement tool, like TextExpander. There are built-in tools on your Mac and iPhone, but TextExpander is much more powerful. I know I'm not using it to its full capabilities, but the things I do use it for save me hours every month. For example, if I type "NE3d", I get N.E.3d, properly formatted, with periods added. Your phone has some autocorrect and text expansion capabilities built in, so check those out before purchasing a new app. But for ease of use, TextExpander is a great option.
Shortcuts
Shortcuts for Mac/iPhone/iPad has also become one of my favorite applications this year. There are so many uses for this program that it probably deserves its own article in the new year. One of my favorite use cases is that it copies a template file from one location into another with the click of a button.
Voice dictation
Voice dictation continues to improve and is the best way to get ideas out of my head and into the computer for use. If you haven't explored using voice dictation on your computer or device, make that a new year's goal.•
__________
Seth R. Wilson is an attorney with Adler Attorneys in Noblesville. In addition to practicing law, he helps manage the day-to-day technology operations of the firm. He writes about legal technology at sethrwilson.com and is a frequent speaker on the subject. Opinions expressed are those of the author.
Please enable JavaScript to view this content.