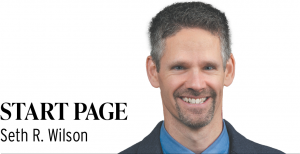 Digital assets are an important part of estate planning. Planning includes ensuring that the appropriate people have access to the information at the right time. We have been made aware of these issues when dealing with cryptocurrencies, but what about all the subscription and social media services we all utilize now? It's more important than ever to have a clear plan for accessing digital assets. This is one of those areas where technology clearly intersects with a specific area of the law.
Apple has recently updated its services to allow designating a legacy contact for Apple-related digital information. This means you can designate a contact to access (some of) your information at your death. What information is included? "The data may include photos, messages, notes, files, apps you've downloaded, device backups, and more." There are certain types of information that are not included: "(M)ovies, music, books, or subscriptions you purchased with your Apple ID, and data stored in your Keychain, like payment information and passwords, can't be accessed by your Legacy Contact." You may recall that there are issues of licenses versus ownership of media files, which may explain why you cannot access that information as a legacy contact. However, having access to the photos of a loved one can often be more valuable than their media collection.
To access your information, the legacy contact will need the access key that is generated when the legacy contact is chosen, and a death certificate. Apple will then review the request and allow access to the Apple account data only after the information is verified. The access is limited to three years after the request is verified. After that point, account information is permanently deleted. A special Apple ID is created for the legacy contact to set up and use to access your account.
So how do you set it up? True to Apple form, the process is relatively simple. From an iPhone, go to Settings and tap your name. Tap Password & Security and then tap Legacy Contact. Tap to add the legacy contact. If you are in a family sharing group, simply select a member of the group. You can also add a different contact outside of your family sharing group. Finally, you will need to share the access key. Access keys are essential with digital data. You can print a copy of the access key. You can send a message to the legacy contact and then get a copy of the access key stored on their device. Or, I would recommend saving a copy of the access key as a PDF and uploading it to your shared password manager.
You can follow a similar process with your Facebook account. A legacy contact can be added to your account to make decisions about your account once it is "memorialized." Facebook allows you to delete an account at your passing or let the legacy contact manage the account for you. Again, the legacy contact can access your Facebook data if you have enabled that feature of Facebook.
To add a legacy contact to a Facebook account, go to the General Settings (top right of Facebook), select Settings & Privacy, then click Settings. Click on Memorialization Settings. Type in a friend's name in the "Choose a friend" field and click Add. If you want to notify the friend, click Send.
In a world that is increasingly connected digitally, proper planning is needed to ensure access to and management of these digital assets at the appropriate time. Take a few minutes to set up your legacy contacts in your preferred services. Typically, a quick web search will help you identify the appropriate steps to take.•
Seth R. Wilson is an attorney with Adler Attorneys in Noblesville. In addition to practicing law, he helps manage the day-to-day technology operations of the firm. He writes about legal technology at sethrwilson.com and is a frequent speaker on the subject. Opinions expressed are those of the author.
Please enable JavaScript to view this content.