If you're an Indiana appellate judge, you won't run a judicial campaign. But eventually, your name will end up on the ballot.
Since 1970, Indiana's appellate judges and justices — those serving on the Indiana Supreme Court, Court of Appeals and, later, Tax Court — have been chosen via merit selection, which means voters don't have a say in putting them on the bench. But in the first general election that occurs at least two full years after an appellate judge takes the bench, then every 10 years after that, Hoosier voters get to decide whether those judges can keep their jobs.
The retention vote is a referendum on Indiana's appellate bench, but the problem is that nonattorney Hoosiers likely have little, if any, direct interaction with those three courts.
To that end, the Indiana State Bar Association conducts a poll of its members each time an appellate retention vote is held. The idea is to provide nonlawyers with perspectives on Indiana's appellate judiciary from the lawyers who appear before those judges regularly.
Paje Felts, the ISBA's legislative counsel, has been involved with the member retention poll since the 1990s. Back then the poll was conducted via paper ballot — "an envelope in an envelope in an envelope" to ensure anonymity, according to Felts — and asked members a yes-or-no question: Should the appellate judges in question stay on the bench?
In the late '90s, Felts said, the poll was expanded to provide an anonymous comment section, a practice that continues with today's electronic poll.
In Felts' nearly 30 years with the ISBA, there have never been any big surprises from the member poll — attorneys always vote in favor of retention for each judge, usually with at least a 75% "yes" vote.
Members of the public will reach out to the bar and ask for those results before casting their votes at the ballot box, she said. The judges in question generally don't respond to the poll, Felts continued, although there have been times when a judge was known to be anticipating the results following a particularly controversial decision.
Some judges earn high marks in the ISBA poll, garnering "yes" votes approaching 90%. Others are lower, sitting in the 75%-80% range. Felts attributed the difference to simple knowledge: If attorneys don't know a certain judge very well, they won't cast a vote for that judge, undercutting the overall "yes" percentage.
The same is true of the actual retention vote, Felts continued.
An Indiana Lawyer review of past retention votes found that a judge who receives a "yes" vote in the member poll will receive a "yes" vote that is about 10 percentage points lower in the election. Felts attributed that discrepancy to the fact that Hoosiers are not as familiar with appellate judges, and to the fact that retention votes are down-ballot measures.
Indiana Lawyer reviewed the results of appellate retention votes and ISBA member polls for the last 12 years. Highlighted below are selected results.•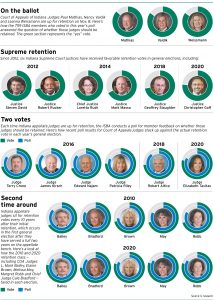 Please enable JavaScript to view this content.