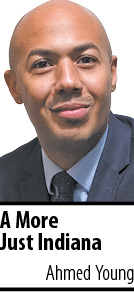 A core tenet of American citizenship is access to the ballot. Defining who is and is not a citizen has been used as a chess piece in many partisan and nonpartisan fights. We have heard the phrase countless times — some would argue every four years when the presidential election commandeers the top of ballots across the United States. "This is the most important election in our lifetime" is trumpeted on every cable news outlet, in op-eds, candidate mail pieces and political action committee ads. Prior to this November's election, we have faced critical election seasons that in some respect shaped the next most important election. Again the voting ritual is upon us, and I challenge voters to mark their ballots then plan to hold those they voted for or against accountable.
From the election of 1800 to the election of 2000, our collective histories include more than 200 years of legal battles, contested candidacies, a few duels and watershed protest movements that shaped how and why so few truly are engaged in our most fabled tradition. The prescient electoral breakdown of the Jefferson-Burr election of 1800, which led to the 12th Amendment, may serve as a cautionary tale in advance of this year's election. Hanging chads led to Gore v. Bush, the first time our U.S. Supreme Court determined an electoral outcome.
Our nation created an intricate election system that has been recreated independently at the state and municipal levels, leading to significant investments in who may vote, how and when. The legal framework for voting has evolved through the various stages of the American experiment. One of the earliest iterations of the U.S. Constitution sought to assuage the concerns of southern property owners by incorporating, "Representatives and direct Taxes shall be apportioned among the several States which may be included within this Union, according to their respective Numbers, which shall be determined by adding to the whole Number of free Persons, including those bound to Service for a term of years, and excluding Indians not taxed, three-fifths of all other Persons." One of our earliest and hotly debated forms of legislative compromise addressed slavery without explicitly saying the word. Our founding leaders set the stage for generations of avoidance and compromise on the thorny issue of voting and race.
Dating back to the infamous Dred Scott decision, putting the Bill of Rights aside, at least 12 of the remaining 17 amendments to the U.S. Constitution can be connected to voting rights, elections and the further refinement of what constitutes a citizen. The Reconstruction Amendments (13th, 14th and 15th) addressed the issue of race without the equivocation of the previous generation. Work continued throughout 20th century as women's suffrage and presidential voting rights for the District of Columbia were granted in the 19th and 23rd amendments, respectively.
Though constitutional changes were being made, systems throughout the country emerged, due primarily to elections where African American voter turnout impacted outcomes many southern states deemed unacceptable. Lynching, intimidation, poll taxes, literacy tests and civic education exams were all tools to deny access to voting. These systems were eventually eradicated by state and federal law as well as the 24th Amendment to the Constitution. A monumental step in creating a more just system of voting was the passage of the Voting Rights Act of 1965, which has been amended at least six times to limit new forms of voter suppression.
Challenges on multiple fronts to the Voting Rights Act demonstrate the efforts organizations, political entities and citizens will go to either nullify, minimize or control who can vote and when. Most notable are challenges to Sections 4(b) and 5 of the Voting Rights Act that defined which jurisdictions require federal preclearance before implementing any changes to voting laws or practices, as well as the corresponding preclearance in advance of any voting law or change for said jurisdiction.
In Shelby v. Holder (2013), a 5-4 U.S. Supreme Court majority struck down Section 4(b), essentially making Section 5 meaningless, which allowed states to reinstitute or develop new modes of voter suppression. Since the Shelby ruling, in many of the "preclearance" jurisdictions, purges of voter rolls have increased while the number of polling sites decreased. Couple those actions with stricter voter identification laws and there appear to be intentional efforts to limit access to our oft-touted democratic process.
Here in the state of Indiana, we have confronted the issue of access to the ballot, particularly in the COVID-19 context. Recently, Senior Judge Sarah Evans Barker issued an order in the matter of Common Cause Indiana, et. al v. Connie Lawson, ordering the inclusion of mail-in ballots postmarked on or before Election Day and received on or before Nov. 13. Barker stated, "Unless Plaintiffs are granted the relief requested herein, the right to vote, and to have that vote count, of the thousands of members of Plaintiffs CCIN and NAACP, and tens of thousands of Indiana voters, will be significantly burdened if not wholly extinguished by application of the noon Election Day Receipt deadline for the November 3, 2020 general election." Barker stayed the injunction pending expedited review by the 7th Circuit Court of Appeals.
More than 30 days prior, also here in the Hoosier State, what appeared to be attempts to purge voter rolls and eliminate ballots were shot down in federal court. (See Mary Frederick, et al. v. Connie Lawson and State Conference of the National Association for the Advancement of Colored People and League of Women Voters of Indiana v. Connie Lawson, J. Bradley King and Angela Nussmeyer.) The removal of voters without notification or procedures outlined by the National Voting Rights Act and the elimination of absentee ballots due to the signature verification process is reminiscent of previously mentioned attempts to stymie voter access and infringe upon the rights guaranteed to all citizens. Judge Tanya Walton Pratt's issuance of a permanent injunction further illustrates the need for continued evaluation and challenge to laws that unfairly limit the right to vote, especially when notice and recourse are nonexistent.
Elections have consequences. Unjust laws have consequences. We cannot be silent nor passive when it comes to ensuring that all citizens have equal access to the ballot.
The question after the election is how will we, the electorate, shape those consequences?•
• Ahmed Young is general counsel and chief of external affairs for Indianapolis Public Schools. Opinions expressed are those of the author.
Please enable JavaScript to view this content.