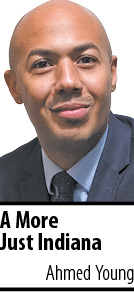 I've been wrestling with the idea of a more just Indiana and what that really means and looks like for the millions of Hoosiers impacted by COVID-19, unemployment, racism and in some instances bad luck. COVID has wreaked havoc on customary ways of conducting business, all the while intensifying political divides in an already divided country. Is that disruption of "normalcy" a bad thing? Those norms allowed inequity to flourish, creating systems that benefited some, while leaving others muted with limited access and influence. Inequity is rampant in our society. Some would argue that our form of capitalism was designed to have multiple classes that rewarded those who worked hard and made good choices. Conversely, others may contend that the opportunity to advance from one strata to another has been afforded to some groups in greater number than historically oppressed groups.
In Isabel Wilkerson's "Caste: The Origins of Our Discontent," she posits the systems that have been developed and nurtured since the inception of America's great experiment, creating deeply entrenched castes within American society that have led to significant psychological, emotional, physical and economical turmoil. She always contemplates the nexus between race and caste and that they "can and do coexist in the same culture and serve to reinforce each other. Race, in the United States, is the visible agent of the unseen force of caste." In the epilogue, Wilkerson describes the complex webs existing in a 400-year-old American caste system in which a distinguished public intellectual opined on the conditions he observed upon arrival as an immigrant.
The German immigrant Albert Einstein in 1932 left his homeland in advance of Nazi oppression and immediately noted the chasm between African Americans and their white brethren. Einstein's refusal to endorse or adhere to the racial hierarchy was likely informed by his experiences prior to his arrival in the United States. But his actions went beyond mere discomfort, from his close friendships with Marian Anderson and Paul Robeson to his membership in the NAACP. In several instances, he refused honors from various institutions but instead accepted an honorary degree from Lincoln University, a historically black college in Pennsylvania.
Wilkerson's assessment of Einstein is illustrative of an individual's attempt and commitment to eradicating injustice. What guided many of Einstein's efforts to combat injustice stemmed from a deep empathy with the plight of Black Americans. He experienced firsthand the devastating effects of discrimination and systemic racism at home and abroad. I celebrate Einstein's commitment to fairness as one example but caution that isolated acts of beneficence cannot and will not suffice.
Empathy and context can be incredible salves for the soul, soothing wounds that have metastasized and evolved into an everyday life that too many American citizens ignore. In our respective bubbles, we have grown numb to the perspectives of those who inhabit different ZIP codes, lifestyles and races. Our echo chambers reinforce our own beliefs, minimizing others and creating narratives that exacerbate misconceptions while fortifying stereotypes.
The analogy of the caste system is applicable, though can be challenged on multiple fronts, because of the virulent permeation of vicious stereotypes and assumptions about the other. The mythmaking that has contributed to hyperpartisan politics and greater segregation in schools, neighborhoods and religious institutions can begin to be addressed with a regular dose of empathy and context.
There are, however, side effects that come with those prescriptions. Empathy and context may lead to feelings of vertigo caused by the forces resisting a significant system shift in thinking, policy and action. One may experience headaches and fatigue due to the chronic questioning of one's decision to interrogate a system that has subjugated its own citizens for generations. Conversely, you will experience a greater sense of self-worth, patriotism and pride due in large part to the selflessness it takes to look beyond what will benefit the individual and gaze outwardly at what can impact the greater whole.
Essayist, novelist and short-story writer Zadie Smith once wrote, "Only new thinking can lead to a new dawn." America is still a relatively young nation with a complex history. Its complexities grow more complex when confronting issues pertaining to justice, freedom, equity and yes, complexion. From the Declaration of Independence to the New Deal, agreements have articulated a set of ideals, goals and legal constructs seeking a better America. Those lofty aspirations have unfortunately fallen short, but we persist, constantly striving for the proverbial more perfect union.
What are the new ideas to set our country and state on a more equitable footing for the next 400 years? How can Hoosiers set an example for others across the nation to follow? We have the chance during this legislative session and beyond to set the stage for change. We can take steps to eliminate an unfair cash bail system that penalizes those in poverty. We must find ways to abolish an economic apartheid apparatus that destroys some communities while uplifting others. Efforts must be made to fairly fund education and strike a blow for fairness. New ideas will invigorate communities and take our state toward new heights.•
• Ahmed Young is general counsel and chief of external affairs for Indianapolis Public Schools. Opinions expressed are those of the author.
Please enable JavaScript to view this content.