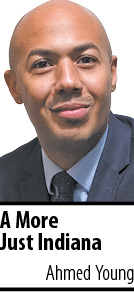 The end of the American Civil War began a new era in our collective history, a moment in time where access to the ballot was expanded to newly emancipated men, and only men, because the 19th Amendment granted women the franchise nearly 50 years later. The impact of the post-slavery amendments was felt almost immediately as the once powerless became a behemoth voting bloc that impacted elections during Reconstruction and shortly thereafter. A body that emerged from the Reconstruction Era was the Justice Department, which played and still plays an integral role, both positive and negative, in the battle for voting rights. All the while, legislatures were revamped and new laws were created during a 10-year period after the Civil War. That power was illusory and fleeting as de facto practices, violence and intimidation usurped the 15th Amendment.
For nearly a century, battle lines were drawn in states, predominantly in the South, to determine who can and cannot vote as well as the terms on which they participated. When Black men and post-19th Amendment Black women sought to exercise their right to vote, concrete barriers were placed before them, preventing true participation in what we consider a fundamental right. Direct action in the form of protests, legal battles and debates in the halls of Congress led to the eventual passage of the Voting Rights Act of 1965. The prohibition of discriminatory practices in voting has been a part of our legal and policy framework for more than 55 years.
Recently, state legislatures across the country have been scrambling to address the specter of election fraud. Concurrently, organizing groups have sought to confront those actions, described as voter suppression. All the while, the right and the left push counternarratives, exacerbating division in a country theoretically seeking healing from a four-year period fraught with rancor and blistering hostility.
The stakes are high. High enough for a bloc of Texas Democrats to flee the state to prevent the Texas Legislature from moving forward on a voting bill they claim will restrict voting. Provisions include limiting local control over the implemention of various initiatives such as tightening voting by mail and other flexibilities seeking to enhance participation and access.
About a decade ago, a similar walkout took place during the 2011 Indiana General Assembly over an introduced right-to-work bill that the Democratic minority was firmly against. The walkout lasted several weeks and, ironically, was ended over the escalating fines and the looming redistricting plan along with the implications of failing to agree to a plan before the end of session.
Which is where we are today relative to Indiana redistricting. The Indiana General Assembly is again tasked with drawing both congressional and state legislative district lines, which is informed by census data. With the delayed release of 2020 census data, Indiana's process, too, was deferred, leading to the quasi-adjournment of the 2021 legislative session with the stated goal of completing redistricting by Oct. 1. House and Senate public hearings are tentatively set for August, launching the formal methodology leading to the drafting of the requisite legislation.
We have an overtly political process for redistricting, which is spearheaded by whichever party is in power. That "power" currently rests solely in the hands of the Republican supermajority and governor's office. The assumption is that previously-drawn maps and prospective maps will strengthen the Republican stronghold. Conversely, arguments have been tendered that Indiana is not gerrymandered at all and the problem for the Democrats rests with where they actually reside and are clustered. The primary question should be: Is the process to draw maps fair and trustworthy? Given today's political rancor and hyperpartisanship, which some would compare to secession-era politics, there is a significant lack of trust in a process that is purely partisan.
There is no guarantee that an independent commission would close the trust gap. I support a system that would lead to more voters feeling engaged, valued and included. An independent commission could work to build trust and potentially increase voter participation. During the recent legislative session, a civics education bill was offered and eventually passed, led by a bipartisan group of legislators. Rep. Tony Cook, the law's author, expressed the clear need for an informed and engaged citizenry. I see a direct parallel between prioritizing civic education and rebuilding trust in our voting process.
An independent commission is the type of experimentation that could do more good than harm. We have a storied and complex history with trial and error. The grand American experiment is just that: an experiment in self-government. During the course of this trial, we have amended our governing documents, created new laws and continue to debate the next evolution of America. Let's continue tinkering to find creative ways to strengthen processes beyond fortifying a single party's grip on power.
One element of the Indiana secretary of state's mission is "to deliver to the people of Indiana government-as-a-service that focuses on unqualified integrity and accuracy in our elections … ." A step in executing that mission could be the advancement of an independent commission that works to ensure the development of fair maps, proactively building trust in our voting apparatus while collaborating with local election divisions in their independent execution of their duties.
Greater access to the ballot, fair voting systems and inclusion in the process does not mean allegiance to a particular party — it should be a universal concept that brings about reasoned, well-informed participation in a system that affords citizens the opportunity to express policy and political preferences.
Rest in peace to my dear friend Terry Curry, who left a legacy of true servant leadership.•
• Ahmed Young is general counsel and chief of external affairs for Indianapolis Public Schools. Opinions expressed are those of the author.
Please enable JavaScript to view this content.