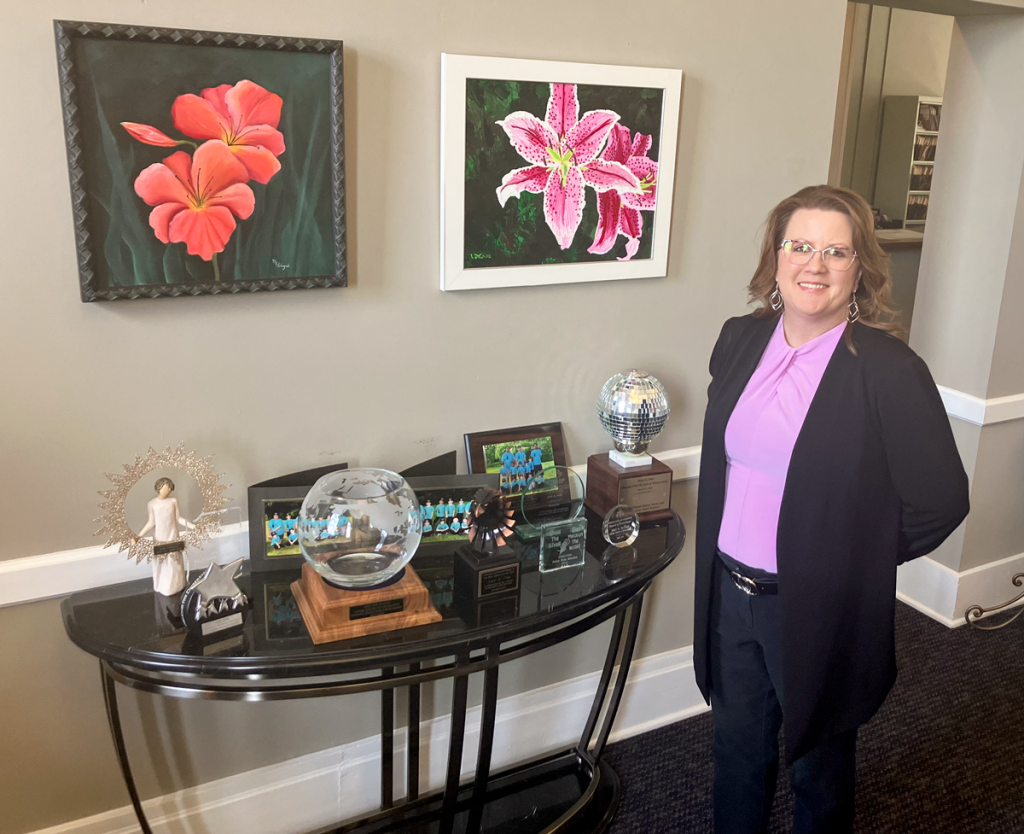 In discussing her plans for her year as president of the Indiana State Bar Association, Amy Noe Dudas repeatedly returned to a single question: "What do lawyers need?"
As she prepares to take the helm of Indiana's largest bar association, Dudas, of Dudas Law in Richmond, is focused on service to ISBA members. To accomplish that goal, she wants to dive into big-picture issues affecting the entire legal profession.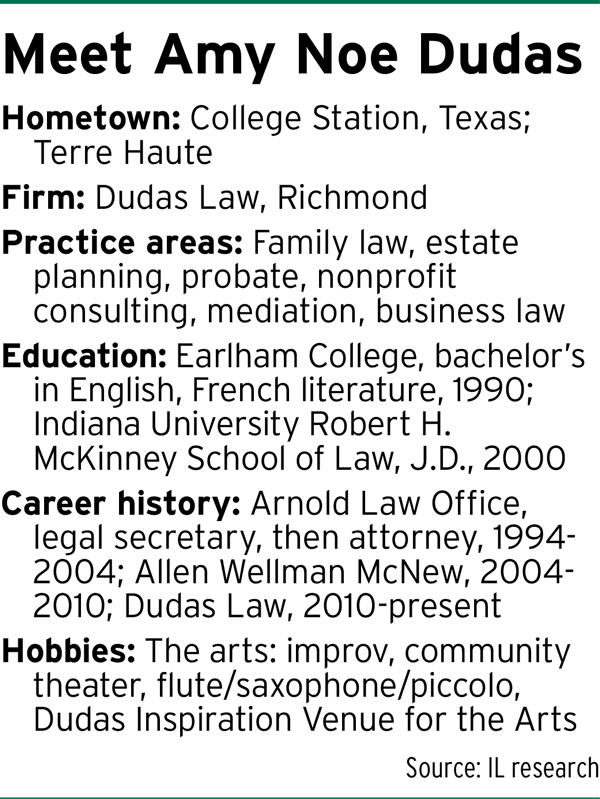 "I'd really like to hear from lawyers in terms of what's changing in the profession," Dudas said. "We're kind of at a crossroads at this point in a couple of ways."
Outside of her legal work, Dudas and her husband are avid arts advocates in the Richmond community. Dudas' second-floor office in downtown Richmond is decorated with paintings from local artists, including her husband, and they play an active role in the performing arts through their DIVA organization: Dudas Inspiration Venue for the Arts.
Dudas recently spoke with Indiana Lawyer about her plans for her year as ISBA president, which begins Oct. 14. A portion of that conversation, edited for space, follows. The full interview is available here.
Indiana Lawyer: When did you first get involved with the ISBA?
I think I joined the board for the first time in 2005. When I was brand new (in 2000) I saw a notice in "Res Gestae" about, "We're looking for people who might be interested in joining the Board of Governors." So I sent in my name and I got this nice card back from Tom Pyrz, who was the executive director, that said something like, "Hey, thanks for your interest. That's cute. Why don't you try getting involved with the Young Lawyers Section?" — which I did not.
But then I got a call in 2005 or 2004 to be the district rep for the area. So I took that and I've been involved ever since. I've always had a hand in somewhere, even if I've not been on the board.
What do you have on the docket for your year as president?
I think we're kind of seeing the generations shifting roles — we've got the boomers who are retiring and you've got the Gen Xers who are now becoming the boss and the millennials are coming into their own and the Gen Zs are now just starting to get out of law school. It's no secret that millennials are approaching work very differently. And so it's interesting to hear my peers and older lawyers a little baffled, I suppose, by the approach, because lawyers certainly come from an old and long and proud tradition that we don't change. I'd really like to hear about that from all generations and kind of find out what's going on and maybe encourage young people and older people to listen to each other — maybe they've got some good ideas that we should consider.
And then there's a couple of regulatory changes that are starting to happen in other states — very experimental and very nontraditional. Those things are being couched in terms of expanding access to justice; we've been hearing this for 20-plus years, as long as I've been in practice, "How do we close that gap?" So the experiments are allowing nonlawyers to own interests in law firms, which is against the rules. So you have to change the ethical rules, and lawyers are just absolutely not OK with that. And then there's allowing nonlawyers to become licensed to provide some traditional legal services — so, in essence, relaxing the unauthorized-practice-of-law rules. That also makes lawyers very nervous. I'm just as freaked out by those things as other lawyers are. But it's kind of like, alright, we have to keep an open mind. So let's actually do some self-reflection.
I'm really interested in exploring, "OK, what is it we think we have that should be so closely guarded and protected?" What are those qualities that lawyers have, the skills that we have that we shouldn't entrust to somebody who hasn't been through all of the education and training? Are we teaching new lawyers those skills? Do they leave law school with certain traits and not just analytical skills or knowing what the evidence rules are? We need to have emotional intelligence. We need to be able to compartmentalize our emotions from outcomes in terms of, "The law says X and I don't like it, but that's what it is" — not just knowing what the law says but all those kinds of things that make a good lawyer.
The judiciary seems to be getting more attention nationally. Do you see that as something the ISBA needs to start addressing?
The state bar's mission is to improve the administration of justice and promote public understanding of the legal system, and as lawyers we take an oath to not only commit to improving the legal system and the quality of legal services, but also to promote the public's confidence and understanding. Public confidence is at an all-time low, so I think civics education is really key. It's clear from a lot of this dialogue that there's a lot of misunderstanding about what the roles of different groups of governments are. But as a membership organization, we've got members that believe all kinds of different things. We have to we represent all of our members, even those we may not agree with. So we've got to figure out a way to bolster the public's confidence in the rule of law in the justice system — that is part of our oath as attorneys.
How does membership look this year?
We are pretty much on track with where we have been in the past. What I think we found was that our membership numbers actually increased during the pandemic because people were finding the resources the state bar was making available to be so incredibly helpful. And we've maintained that pretty well, so we're in good shape.
How will it work being the ISBA president when the bar is based in Indianapolis and you're based in Richmond?
I have a great support staff here, and they'll put stuff on my calendar as quickly as the possibly can. We're able to do a lot by Zoom, and it's a pretty easy drive, so I'm happy to be over there when I need to. I'm used to being over there almost on a monthly basis anyway, with various committees or other activities — I've been on the Indiana Bar Foundation board and the Board of Law Examiners.
What's your elevator pitch to someone who's not a member of the ISBA or who is a member but isn't very active?
It depends on what they want out of it or what their needs are. That's one thing that the Membership Committee is really focused on right now — different lawyers have different needs and they need different resources.
You've got three buckets. There's connections: Some people join the bar and are involved with the bar because they make really great connections with other lawyers and are able to gain that kind of community that's important. For me, it gives me the inspiration I need to feel good about what I do during those times when I might get a little cynical — when I'm around my colleagues at state bar functions, I'm inspired again. For some people it's about the educational opportunities. There are opportunities to just be on an email list and ask questions of other colleagues, and there's CLE. And then there's the advocacy piece, too, which I don't think a lot of people are aware of. We do a lot of really good work in the Legislature protecting the interests of lawyers. They're passing laws, but most of them are not lawyers. And then there are benefits that you get as a result of membership — we have some legal research availability that could save thousands of dollars a year for people, and that's just a practical aspect of it, as well. So yeah, all kinds of reasons to join the state bar.•
Please enable JavaScript to view this content.