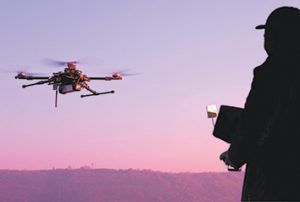 Attorneys are at the horizon of what could be a new body of law involving drones, some of which could be decided by the courts.
Read More
Bankruptcy attorney Mark S. Zuckerberg recently described the current state of his practice: "Nobody's coming into my office; nobody's calling me; nobody's paying me." His loneliness can be tied to the drop in bankruptcy filings. In 2015, petitions nationally fell to 860,182, an 11 percent decline from 2014 and the lowest number of filings since 2007.
Read More
Even before a confirmation hearing has been gaveled to order or a floor vote scheduled, one nominee to an Indiana vacancy on the federal bench is facing opposition as a home state senator renews his call for a nominating commission.
Read More
Concerns from the disparate treatment of minorities who police find in possession of firearms to the threat of domestic violence weighed against two proposals in the Legislature to expand who the state should permit to carry handguns, and where.
Read More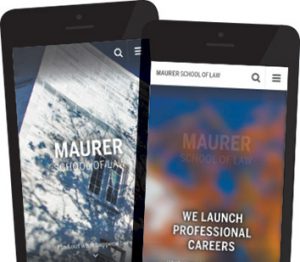 With splashy photographs and abbreviated copy, Indiana University Maurer School of Law has completely revamped its Internet presence to try to get prospective students to take a breather from surfing other law schools' websites and plunge deeper into what the Bloomington institution has to offer.
Read More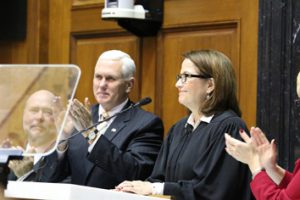 Indiana's first commercial courts are announced a week after Rush highlights problem-solving approaches in her annual State of the Judiciary address.
Read More
Advocates for granting Indiana adoptees access to their birth certificates appear on the way to victory this year after years of trying.
Read More
Since the Probate Code Study Commission was eliminated as part of a 2014 law that reduced the number of interim study committees, certain legislators and attorneys have mounted an effort to get the commission reinstated.
Read More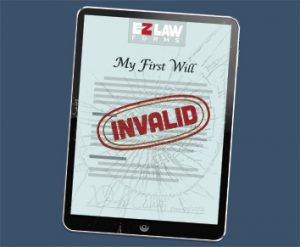 Where there's a will, there's a way to do it yourself with Internet services such as LegalZoom, Nolo and Rocket Lawyer. But attorneys say relying on online form providers for long-term financial and estate planning may not be the wisest investment.
Read More
Significant changes to the Federal Rules of Civil Procedure took effect to civil cases filed on or after Dec. 1, or to cases already pending to the extent just and practicable. In the first two months of these new rules, it is apparent they are having an immediate impact on federal litigation.
Read More
Bob Hammerle says "The Big Short" is a reminder of the sometimes amoral nature of our free-enterprise system.
Read More
On Dec. 30, 2015, comedian Bill Cosby was charged with sexual assault in Pennsylvania. These charges stemmed in part from various admissions Mr. Cosby made in a deposition in a civil suit. After learning this news, several thousand criminal defense lawyers scratched their balding heads as they Monday morning quarterbacked the decision to submit Cosby to a deposition.
Read More
Producers of "Making a Murderer" and other true-crime stories have the ability to influence the public's perception of an individual's guilt or innocence, as well as the actions of the attorneys involved, well after a verdict is reached and regardless of the evidence presented in the courtroom.
Read More
There are striking comparisons between how a candidate works to get elected and how a law firm or lawyer can develop new business. So, if you get overly sensitized by all the campaigning, refocus your attention on the process and you might find a few good ideas to try for yourself.
Read More
Emmis Communications Corp. has filed breach-of-contract suit against a New York-based insurance company for refusing to cover any of the more than $4 million in legal fees the media company accumulated in a long-running court battle with preferred shareholders.
Read More
For the second year in a row, Indiana University Maurer School of Law professor William Henderson has been named the most influential person in legal education by National Jurist magazine.
Read More
Charles R. "Chic" Clark, a Muncie native and longtime lawyer who served his community and gained a reputation for success as a litigator, died Wednesday. He was 81.
Read More
A grant from the Office of the Indiana Attorney General will help fund a partnership between Indiana Legal Services Inc. and two law schools in an effort to provide more services to those facing foreclosure in the state.
Read More
The Supreme Court of the United States agreed Tuesday to an election-year review of President Barack Obama's executive order to allow up to 5 million immigrants living in the U.S. illegally to "come out of the shadows" and work legally in the United States.
Read More
The bitterest foes of Duke Energy Corp.'s Edwardsport coal-gasification plant have agreed to drop their objections and join a settlement that would resolve many of the issues over how much ratepayers will be charged.
Read More
Read who recently resigned from the Indiana bar.
Read More
For family law attorneys in the Indianapolis area, there are a variety of resources available to help, and the IndyBar's Family Law Resource Guide has them all in one convenient place. This resource is now available to all IndyBar members.
Read More
With the generous support of the Indianapolis legal community, the Indianapolis Bar Foundation is pleased to report that it exceeded its 2015 fundraising budget by more than 10 percent.
Read More
Are you an IndyBar member? Did you know you could be saving money on expenses for travel, office supplies, cellular devices and more?
Read More
I remember the monthly Meetings of Members of the 1980s and how much I looked forward to them. I was a young lawyer and I felt like the new kid in school at those meetings, but somehow I knew it was important to be there and to mingle.
Read More