JULY 3-16, 2013
Fireworks attorneys help their clients navigate regulations and laws. Their knowledge of the industry also allows them to provide hands-on help by firing off displays for towns and events. Victims of Merrillville "nose doctor" Dr. Mark Weinberger will split a $55 million settlement after years of litigation. The American Civil Liberties Union of Indiana is celebrating 60 years of defending constitutional rights.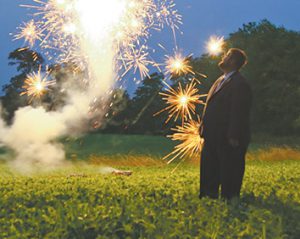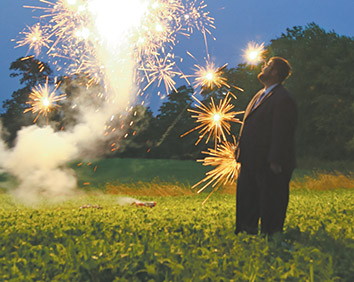 Muncie attorney John H. Brooke has a flair for providing hands-on help to his clients in the fireworks business. Say someone's unavailable at the last minute to fire off a town's Fourth of July display. Brooke can handle that.
Read More
Learn about what laws take effect July 1, 2013, in Indiana.
Read More
Victims split $55 million, but some cases continue for former fugitive Merrillville 'Nose Doctor.'
Read More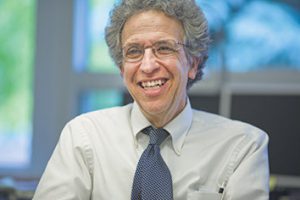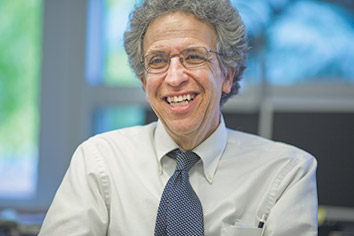 The organization was embroiled in controversy at its founding and continues to draw a leery, sometimes angry, response from the public. However, the group maintains that it fights solely for the rights provided in the U.S. and Indiana constitutions.
Read More
The case of Vance v. Ball State University hinged on the definition of 'supervisor.'
Read More
The Supreme Court of the United States issued the final decisions of the 2012 term June 26. In addition to the Vance v. Ball State University ruling on the definition of "supervisor," several of the decisions handed down during waning days of the term promise to have far-reaching impact.
Read More
Since 2006, Indiana attorneys have been allowed to count CLE classes offered over the Internet toward their total required continuing education hours. The popularity of online programs has been growing among lawyers primarily because of the convenience. Lawyers do not have to budget travel time into their schedules to attend a seminar.
Read More
The new requirement for judges to log more continuing education hours is not seen as burden.
Read More
The Commission for Continuing Legal Education encourages attorneys to be active in obtaining education and maintaining correct contact information.
Read More
Cathy Canny asks why is it any less important for paralegals to obtain continuing legal education as compared to attorneys.
Read More
In the last term, the United States Supreme Court, in Missouri v. Frye, 132 S. Ct. 1399 (2012), took a small step toward inviting trial courts into plea negotiations.
Read More
The Southern District of Indiana has been experimenting this year with a pilot program for certain employment cases. The only eligible cases are individual Title VII, ADA and ADEA actions.
Read More
We give Don Hall's Old Gas House 3 gavels!
Read More
Bob Hammerle recommends you see "The East" to find out how domestic terrorists can be the good guys.
Read More
Learn about news happening at Indiana's law schools.
Read More
Read recent appellate decisions handed down by Indiana courts.
Read More
See who's been suspended or resigned from the Indiana bar.
Read More
Renee Mortimer offers some advice to "Millennial" associates.
Read More
Kelley Johnson writes about how during her service this year as Indianapolis Bar Foundation president, she is continually humbled by IndyBar members.
Read More
The Women & the Law Division's Annual Summer Reception was held Tuesday, June 25 at the Indiana Historical Society.
Read More
The sharing of information and resources is one of the greatest benefits of an association. During the course of its more than 125 year history, the Indianapolis Bar Association has developed a number of resources to assist in the practice online, on disk or in hard copy.
Read More
The Indiana Appellate Institute, created by the IndyBar Appellate Practice Section, is a resource available to lawyers throughout the state who have oral arguments scheduled before the Indiana Supreme Court or Court of Appeals.
Read More
It is no secret that the legal profession has been increasingly focused on community and pro bono services in the past few years. This emphasis has led many firms to recognize the pro bono efforts of their attorneys, with some firms enacting yearly pro bono hour requirements that count as credit toward an attorney's billable hour requirement.
Read More
Read news from the state's bar associations.
Read More