Compassion. Persistence. Patience.
These are shared qualities that Indiana's court appointed special advocates have when working with thousands of Hoosier kids in the child welfare system each year. As CASAs, the advocates spend time with kids involved in child in need of services cases and make child-focused recommendations to courts about children's best interests.
The work can be equal parts challenging and rewarding, the CASAs say, and strong bonds can be formed between advocates and the kids they speak up for. More than 24,300 abused and neglected children were advocated for by Indiana GAL/CASA programs in 2019. Currently, there are 4,500 CASA volunteers in 69 programs serving 86 Indiana counties.
Indiana Lawyer spoke with a few of those advocates about their personal experiences as CASAs following a 30th anniversary celebration of the Indiana Office of GAL/CASA on March 4. Here's what they had to say.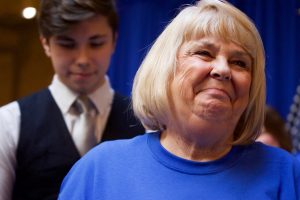 Linda Brown 
In her own words, Linda Brown isn't supposed to be alive.
"I had cancer at one time, and they said I had maybe five years. That was in 1971," Brown said. "So, I thought, 'I've got to give back and say thank you. I've got to help other people.'"
Becoming a court appointed special advocate was the best way to give back, Brown realized. With a passion for kids and for speaking her mind, becoming a CASA was the perfect fit. Since 2010, Brown has advocated on behalf of nine Hoosier children, whom she treats like her own grandchildren.
She answers their panicked phone calls at 2 a.m., takes them shopping and spends time with them one-on-one. She's helped save a baby's life and always checks in to see how her CASA kids are doing.
Although some of her kids get adopted quickly, others struggle and take more time, Brown said. The experience is traumatic for them, she's observed.
"Even though maybe their home wasn't the best, that's still mom and dad, and I think you have to be understanding of that," Brown said. "I never try to treat them rudely or anything, no matter what they have done. I just try to be respectful."
Serving Hoosier children as a CASA has left a tremendous impact on Brown's life.
"These kids are reaching out. They need love and I am so capable of that. I can have some of the orneriest kids, but I love them. I love how ornery they are," she laughed. "I think it's given me a purpose."
Kenneth Harrison
"I believe that the kindness that someone exhibits can make a lifetime of change."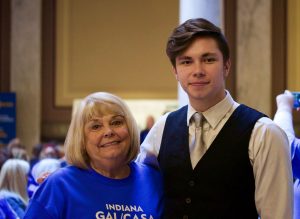 Standing at a podium before hundreds of court appointed special advocates, 18-year-old Kenneth Harrison of Anderson read an essay he wrote about his own CASA, Linda Brown, titled "Kindness."
Harrison – who spent 2,140 days in the foster care system and is now in collaborative care – met Brown nine years ago. After everything Harrison has been through, Brown believes God has a hand on his life.
"There was a time when I was going through a very difficult situation. I remember that I had lost the hope that once welled up inside of me," Harrison began, with Brown standing close by. "I was just put into a foster home at the time, and I wasn't sure what to do with myself anymore.
"One day, I would meet someone that totally changed my outlook and attitude on life. She was my court appointed special advocate. Her job was to speak to the court on my behalf and tell them how I was feeling about this situation. What she did, however, went far beyond just a job.
"… Throughout my entire life, I will always make sure that I try my hardest. Even though sometimes I may feel like nothing, I know that I am more," Harrison said. "Through the kindness that was shown to me, I have become a new person. I owe everything that I am to the kindness that was so generously shown to me."
Stepping off stage to a standing ovation, the smiling pair sat side-by-side in companionship. Of the many memories she's made as a CASA, Brown said being Harrison's advocate has been a good one.
Judith Hahn
The connection Judith Hahn has with the children she supports through the CASA program is special, like a grandmother and grandchild relationship.
If the kids want to call Hahn "grandma," that is perfectly fine with her.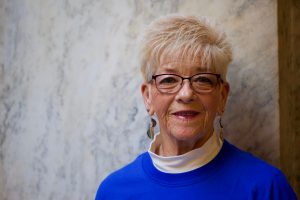 "I have one fellow who will call and say, 'Grandma, I haven't seen you for a while, would you like to come and get me?' And we will go have ice cream and go to the park," Hahn said. The experienced CASA also attends extracurricular activities, birthday parties, doctor's appointments and school functions for her kids.
Hahn makes it a point to visit her CASA kids every week, including the three children she currently advocates for, who all live in the same foster home.
"That's not required, but I just feel that I can't keep up with my kids and know how they are doing if I'm not there," she explained. "I do let them know that I am there to be a voice for them, they can tell me anything that they want to tell me and that I will always walk with them through this journey."
Over the last decade, Hahn has been an advocate for 13 children. But even when a case closes, she stays in the picture if the families want her to.
"I want them to know that I am not going to walk away," Hahn said. "I am always going to be there."
Kelly Myers  
As a mom, Kelly Myers sees striking similarities between her own children and the kids she advocates for as a CASA.
"It's neat that despite what they are going through, they are still a kid," Myers said. "We can still give them a childhood and there is hope for this, despite what's happened and happening in their life."
Serving as a court appointed special advocate has been a practical way, she says, to get involved in her community and start a chain reaction that she hopes can positively impact future generations.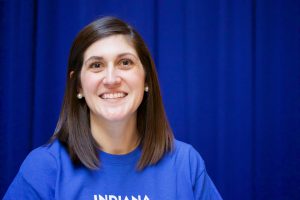 "I think if we can help our kids set themselves up for a future of success and to believe that they are worth more than what they experienced as children, then they can become advocates in whatever form that looks like," Myers said.
A challenging part of being an advocate, she noted, is seeing that the children don't deserve what's happening to them.
"To be an adult that can look at them and say, 'Yeah, you should not have to experience that. That's not okay,' I think is hard. I think it's a very tangible look at what is broken in our society."
But Myers is encouraged, too. Her CASA kids are thriving despite their circumstances, and that gives her hope for the future. She thinks everyone that is able should be a CASA.
"It doesn't take a special talent," Myers said. "You just need to care and be kind and want what's best for them."
Please enable JavaScript to view this content.