The National Center for State Courts may serve as a nationwide organization, but a new model it has created focuses on child welfare practices at the most local levels — and two Indiana counties and their courts are at the center of it.
In 2019, NCSC — which is chaired by Indiana Chief Justice Loretta Rush — with the help of the National Judicial Opioid Task Force and the State Justice Institute, created a new child welfare framework called "Upstream: Strengthening Children and Families through Prevention and Intervention Strategies: A Court and Community Based Approach." While there's multiple layers to Upstream, the core mission of it is simple: create a framework to help bring county courts, child welfare stakeholders and community members together to reduce the risk of child abuse and neglect, family disruption and trauma.
Through collaboration, Upstream aims to prevent child maltreatment and out-of-home placement, reduce court involvement, and support safe and healthy families.
The framework of Upstream is designed like the Sequential Intercept Model and is informed by the public health model of prevention, social determinants of health, and the risk and protective factors for child abuse and neglect. According to the framers, Upstream leans on "data-driven and evidence-based practices and encourages enhanced communication and collaboration among partners across systems."
Upstream is built on four key domains of prevention and intervention: community, families with risk factors, families with allegations, and families with court involvement. Each of these domains has example resources for communities to discuss and address.
There are three phases in the Upstream process: state leadership planning, coordination and capacity building; training facilitators to conduct local mapping workshops; and local planning and collaboration, local mapping workshops, action planning, and implementation.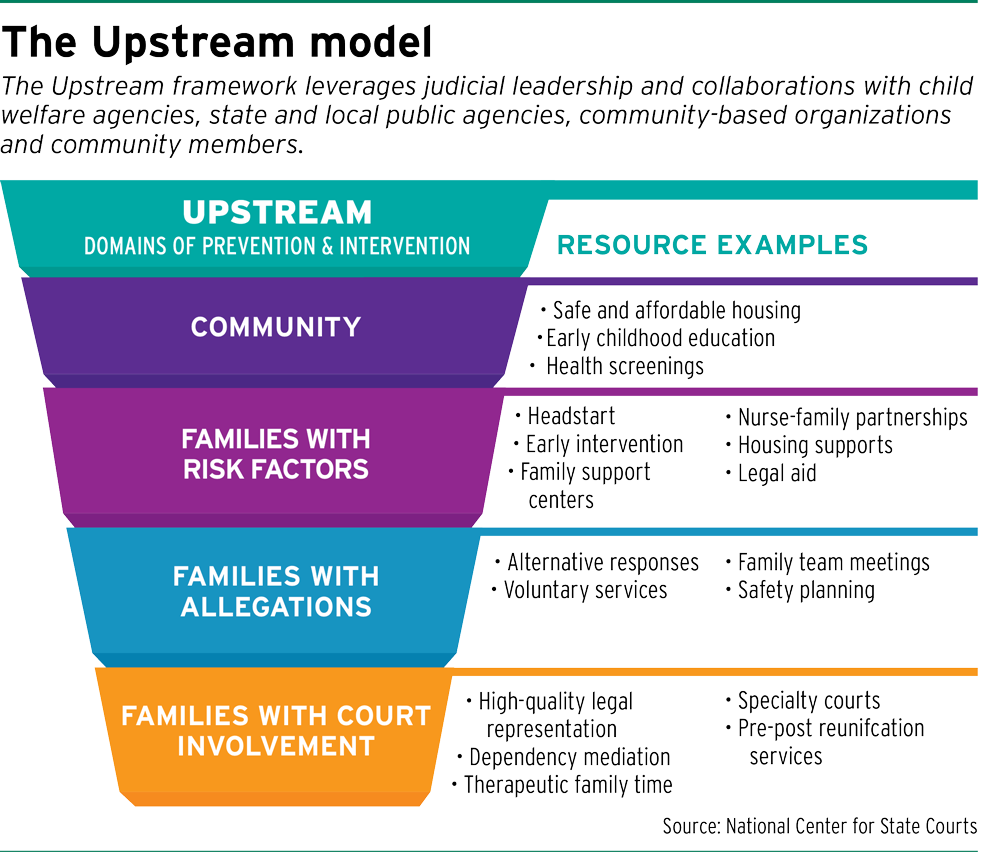 After the framework was created around three years ago, NCSC invited Indiana to join the National Upstream Consortium, which is supported by the Conference of Chief Justices and Conference of State Court Administrators, according to Indiana Court Times. Rush is also the president of the Conference of Chief Justices.
Looking at some of the relevant data in the Hoosier State, according to the Indiana Department of Child Services, both the number of children in need of services and children in foster homes has steadily declined each year since 2017.
As of Nov. 1, there were 12,349 total CHINS, compared to 23,965 on that same date in 2017. The total number of foster children statewide at the beginning of the month was 9,424, while that number was 17,286 on Nov. 1, 2017.
NCSC came to Indianapolis in September 2021 to teach Indiana Office of Court Services staff how to facilitate an Upstream workshop.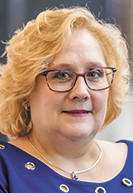 Soon after the IOCS trainings, courts in LaPorte and Tippecanoe counties agreed to launch Upstream pilot projects in 2022. There is also a third Upstream pilot project currently taking place in Massachusetts. Also, during the Mental Health Summit held in Indianapolis on Oct. 21, which convened leaders from all 92 Indiana counties, there was a breakout session focused on Upstream.
Among those that spoke at the summit were Leslie Dunn, deputy director of the Children & Families Division in the Indiana Office of Court Services; Tippecanoe Superior Court Judge Faith A. Graham; Debbie Burke, assistant general counsel, Northern Region, at DCS; and Gilbert C. Smith, assistant deputy director, field operations, Southern Indiana, at DCS.
DCS declined a request for comment for this story.
LaPorte County
The first Upstream mapping workshop was piloted in LaPorte County from March 15 to March 17, according to Indiana Court Times.
However, prior to IOCS hosting the workshop, the LaPorte Circuit Court, led by Judge Thomas Alevizos, formed a planning committee to complete a community readiness assessment, identify workshop participants and determine what data was relevant to share when convening.
When the participants finally met, they were provided with data regarding poverty, housing and child welfare cases. They also completed polls to get an idea of the collaboration and communication currently taking place between agencies.
During the mapping process, those involved laid out the child welfare process from the first call about child abuse all the way to permanence for children.
Three main categories were then identified for change in LaPorte County: services and service improvements; collaboration, education and training; and data and information sharing.
Key priorities included improving recruitment and retention of family case managers; enhancing communication on child welfare-related matters with the schools; providing cross-agency training; and increasing prevention and wrap-around services, according to the Indiana Court Times.
From there, work groups were created to start engineering action plans.
Alevizos could not be reached for comment by Indiana Lawyer deadline.
Tippecanoe County
Two months after LaPorte County's launch, Tippecanoe County started its Upstream pilot, with its workshop being held from May 11 to May 13.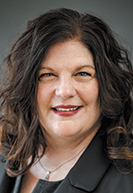 Judge Graham has led the charge in her county.
Graham said her county has become relatively well known for having a strong collaborative effort between community stakeholders in the juvenile and child welfare systems. She also said her county has been involved in pilots focused on juvenile delinquency in the past.
The judge guessed the reason why her county was selected is because of its use of juvenile detention alternatives. But, she also said she sees room for improvement in the child welfare space.
"I have been saying for a number of years that I would like to see the child welfare system working on reform efforts, similar to what we've done in the juvenile delinquency system," Graham said.
At Tippecanoe County's initial workshop, Graham said there were 32 individuals present.
Among those in attendance included representatives from DCS, public defenders who are assigned CHINS cases, local mental health professionals, law enforcement, school corporations — "anyone involved in the child welfare system," according to Graham.
Through their workshop, the community members found a lack of timely mental health services and a need to streamline the pretrial process in CHINS cases through case triage, pretrial evidentiary stipulations, mediation and/or facilitation.
Graham said some of the issues found during the initial meeting were quick fixes, so all it took was getting all the agencies together to fix them. At the same time, she said she sees some of the issues they're going to tackle taking months — and in some cases, years — to fully address.
The judge also said some of the strategies the county uses for its Juvenile Detention Alternatives Initiative, or JDAI, align with the Upstream plan.
Upstream members in Tippecanoe County plan to meet quarterly, most recently gathering earlier this month.
There are no hard timelines for the pilot project.
"I think it's just going to naturally progress (over) time," Graham said. "We're just at the beginning stages now.The workgroups that we've established for each of our eight core strategies will meet in smaller groups … to start looking at which of the intersection points for our work group that we need to be looking at and doing sort of SWOT (strengths, weaknesses, opportunities, threats) analysis."•
Please enable JavaScript to view this content.