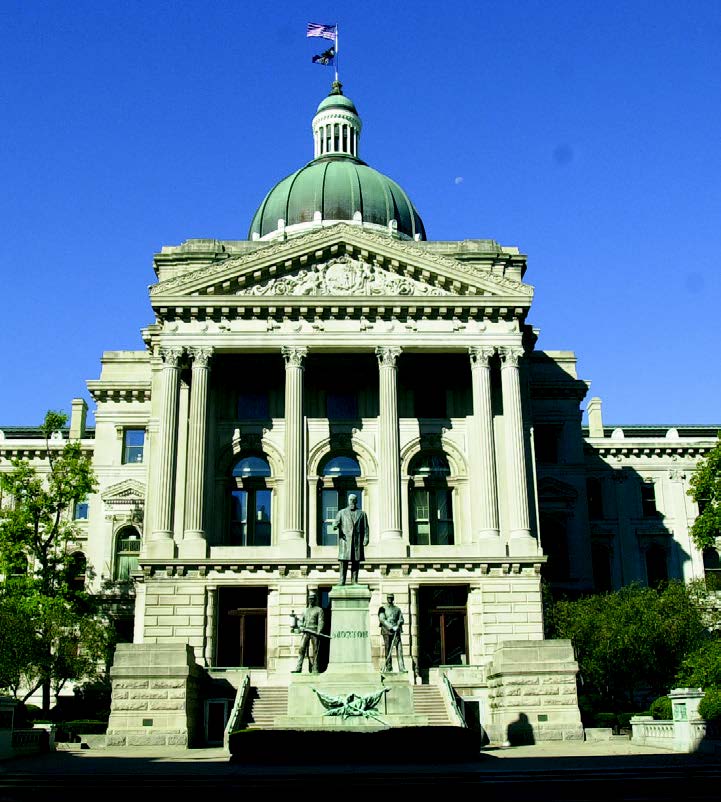 The unofficial first day of the 2023 legislative session kicked off with a flurry of activity, including caucus press conferences, a rally to reform marijuana laws and the ceremonial swearing in of newly elected statewide officials.
Indiana House Republicans won't release their agenda until later this week, but their Senate counterparts unveiled a series of priorities with a focus on health care and tax reform.
"I've never had a problem with cutting taxes," House Speaker Todd Huston, R-Fishers, said about a Senate proposal to study the elimination of the income tax. "I'm not inclined to just wait until some condition is done. I think there are some things we can do in the short term to provide relief to Hoosier taxpayers."
Gov. Eric Holcomb, a Republican, urged caution when revisiting the state's tax code but praised the General Assembly for trying to "improve the attractiveness of our state."
"When you talk about doing away with one tax to the tune of multiple billions of dollars, you either have to replace it or go without it," Holcomb said.
In his opening remarks, Minority House Leader Phil GiaQuinta pushed for allocating the state's healthy surplus to fund new programs and initiatives that will transform the lives of Hoosiers, such as universal preschool.
"It's statistically proven that children enrolled in pre-K have higher high school graduation rates and are more likely to go to college," said GiaQuinta, D-Fort Wayne. "A comprehensive system would remove the financial barriers that keep many families from sending their children to pre-K. It would level the playing field for Hoosier children, regardless of their family's tax bracket. The more children we have accessing early education, the more benefits Indiana will reap in the long run."
Huston said his caucus is "serious" about preschool options and will look at the issue, noting the governor's proposed budget included an expansion for early education vouchers.
Similarly, Senate Democrats say investing in Hoosiers, not just businesses, would be most beneficial with the state's surplus.
"We want to make sure families have the services and supports they need to be successful," Senate Minority Leader Greg Taylor, D-Indianapolis, said. "… investing in young people so that they stay in our state and thrive, that everyone feels like they're welcome and that their rights will not be under constant threat in Indiana."
In addition to child care, Democratic senators called for paid leave for new parents and creating better outcomes for pregnant Hoosiers.
Supporters rally for marijuana reform
Indiana is among a shrinking minority of states that criminalize the purchase and use of marijuana. Dozens of supporters, including veterans groups and recreational users, gathered at the Statehouse during the first day of session to lobby their elected representatives for reform.
In November, Kentucky Gov. Andy Beshear issued an executive order permitting certain Kentuckians access to medical cannabis, meaning all of Indiana's neighbors have more permissible laws.
Several lawmakers introduced bills to overhaul Indiana's approach, from decriminalizing small amounts to legalizing recreational use.
"Indiana has officially become an island of prohibition," said Republican Rep. Jake Teshka, whose South Bend district borders Michigan. "And you better believe that Hoosiers are crossing state lines and taking advantage of that."
Recent polls have reported that the vast majority of Hoosiers have a favorable view of marijuana, with 85% of respondents saying in one survey that they believe it should be legal in some form.
Indianapolis Republican Sen. Kyle Walker, of Fishers, has introduced his own version of marijuana reform, though it hasn't yet been posted online.
Both Walker and Teshka emphasized that creating a legal retail system would undercut the illicit market, disrupting the supply for underage Hoosiers.
"Think about it, when we were in high school, which was easier to get: cannabis from somebody in the locker room or a bottle of liquor?," Teshka said. "(Cannabis was), because liquor is regulated."
But Huston said reform in the coming session would be "less than likely."
Holcomb maintained his aversion to legalization on the first day of session, saying he wanted to see federal action first. But he said he remained open to the possibility of decriminalization.
"I do not believe that simple possession, at certain limits, should derail someone's life," Holcomb said. "That doesn't mean you ignore the law."
Newly elected statewide officials take oath of office
Indiana also swore in its newest statewide officials Monday, including embattled Secretary of State Diego Morales. Indiana Chief Justice Loretta Rush swore a trio of Republicans in on the first day of the legislative session as a crowd of family members, politicians and others looked on.
​​"It takes courage — yes, courage — to step forward and to serve," said Lt. Gov. Suzanne Crouch, who herself launched a campaign for governor last month.
Morales, in his role as Indiana's highest elections official, has vowed to turn the state into a national model for elections integrity and security. He also promised to make the office's business wing more efficient, use its securities wing to further protect Hoosiers' investments and support automobile dealers through a fourth dedicated wing.
The Morales campaign weathered several controversies during his run.
Eric Knowles, one of the delegates who selected Morales as the Republican nominee for secretary of state at a statewide convention, said he knew Morales "was the guy" because of the energy and ideas he brought to the campaign trail.
Of the issues that dogged Morales for months, Knowles said, "None of that shook my confidence in him."
After Morales, Rush swore in Auditor Tera Klutz, who revealed that the Bible used had been her devotional in the last year, featuring prayers for public servants.
Treasurer Daniel Elliott thanked his family in an emotional speech, remarking that his three younger children had given up time with a parent and that his eldest had taken more than a year off college to join him on the campaign trail.
"Today is a time of celebration," he said, but added that the next day, the state's newest elected officials would roll their sleeves up and get to work.
Please enable JavaScript to view this content.