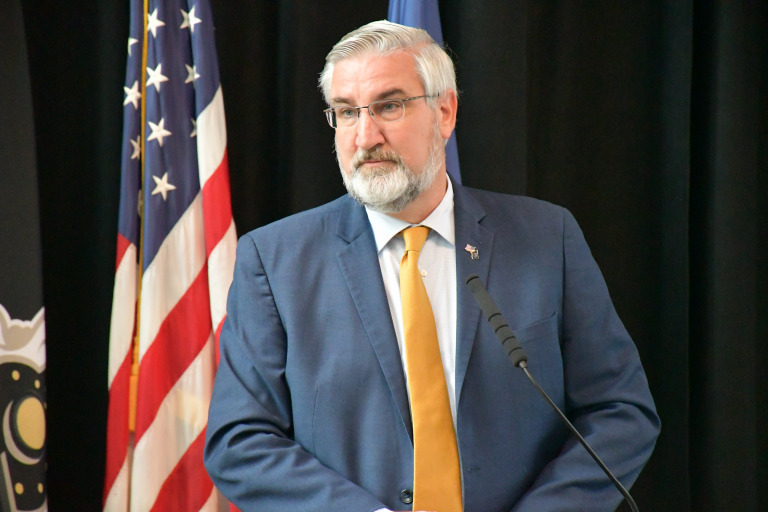 Hoping to capitalize on a record-breaking year of $22.2 billion in committed capital investment, Gov. Eric Holcomb laid out an economic development agenda Wednesday that includes increased funding to buy land, close deals and improve the state's workforce while attracting more jobs and employers to Indiana.
As lawmakers prepare to return to the Indiana Statehouse next week to begin forming a two-year budget, Holcomb is asking for $300 million for a "deal closing fund" and another $300 million-per-year tax-credit cap, both of which will be used to entice businesses to the state.
The governor is also asking for an additional $500 million for a second round of the Regional Economic Acceleration & Development Initiative, or READI, which support economic and community development projects throughout the state. Indiana used $500 million in federal funding from the American Rescue Plan Act of 2021 to fund the first round.
The funding requests are part of the governor's ambitious "Next Level Agenda," $3 billion in new spending that the governor is asking state lawmakers to approve for historic investments in education, public health and state employee salaries.
The governor also requests a revolving fund of $150 million for site-acquisition efforts, which will include buying land for the planned innovation park in Boone County. The Indiana Economic Development Corp. has previously asked the State Budget Committee for money to purchase land for that project, but the fund would allow the agency to continue its efforts without asking for additional funding.
To date, the IEDC has secured about 6,000 acres for the Boone County Innovation District, which could be as large as 11,000 acres depending on private sector investment.
The governor also proposes doubling funding for the Manufacturing Readiness Grant Program, which helps existing companies upgrade to new technologies to modernize their operations, from $20 million to $40 million. To help eliminate a waiting list of 8,000 people currently seeking more training opportunities, the governor is also proposing an additional $12 million over two years for education programs administered by the Department of Workforce Development.
Other education and workforce development initiatives include increasing tuition support by 6% in fiscal year 2024 and 2% in fiscal year 2025 for both K-12 schools and higher education institutions, boosting funding by $6 million annually for the Workforce Ready Grant and supporting the development of a Department of Workforce Unemployment Insurance pilot program that incentivizes recipients to complete their diploma or equivalency.
Citing cost increases due to record levels of inflation, Holcomb is also asking for $1.25 billion in the current fiscal year to complete four capital projects, including the new Westville Correctional Facility, the new state archives building, co-location of state's blind and deaf schools, and a new inn at Potato Creek State Park.
It's unclear whether state lawmakers will include some or all of the governor's funding requests in their biennial budget. Republican leadership has been reticent to commit funding to the governor's initiatives, citing a projected economic downturn early next year and the need to pay down the pre-1996 Teachers' Retirement Fund account, while Democrats have said the state should leverage its strong fiscal standing to make improvements to public health, education and workforce development.
The 2023 session begins Jan. 9, and lawmakers have until April 29 to adopt a biennial budget.
Please enable JavaScript to view this content.