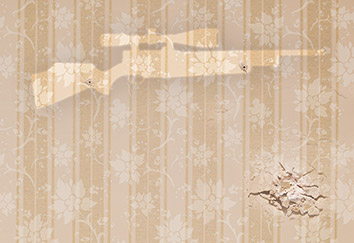 Advocates of domestic-violence victims and gun owners have their sights set on an upcoming oral argument at the 7th Circuit
Court of Appeals in Chicago. The case of interest raises the issue of whether someone who has been convicted of a domestic-violence
misdemeanor should be able to have a gun for hunting purposes.
In United States of America v. Steven M. Skoien, No. 08-3770, the 7th Circuit found in favor of the defendant-appellant
Nov. 18, 2009, but will rehear the case en banc May 20.
Kerry Blomquist, legal director of the Indiana Coalition Against Domestic Violence, said she is particularly concerned
as the case relates to federal Brady disqualifications that apply to all people who are convicted of a misdemeanor domestic-violence
charge.
The Brady Handgun Violence Prevention Act, often called the Brady Bill, was signed in November 1993 and went into effect
Feb. 28, 1994. It defines who can or cannot have guns. It was named for then-White House Press Secretary James Brady, who
was shot March 30, 1981, when John Hinckley Jr. tried to kill President Ronald Reagan.
The statute from that bill now prohibits gun ownership by, among others, anyone who has been convicted of a felony; those
who have been adjudicated to be mentally ill, like Hinckley was; someone who has had a misdemeanor conviction of domestic
violence where the defendant was an intimate partner, parent, guardian, or someone who had a child with the victim; and those
who are subject to a protective order.
In the Skoien case, Steven Skoien had been convicted of misdemeanor domestic battery in Wisconsin and was sentenced
to two years probation, according to the November opinion. As a condition of his probation, and because of the Brady disqualifier
outlined in 18 USC 922 (g)(9), he was prohibited from possessing a firearm.
A year later, probation agents learned he purchased a deer-hunting license, which led them to believe he might have bought
a gun. They then found a shotgun in Skoien's pickup truck, as well as other evidence he had been hunting with the gun,
including a deer carcass in the garage. He admitted to having the gun and that he had used it to shoot the deer.
After a grand jury indicted him for having the gun, he moved to dismiss the indictment, claiming it violated his Second Amendment
rights.
In his argument, he did not make the case he wanted a gun for self-defense, but did claim the Second Amendment protected
his rights to have a gun for hunting. He also cited District of Columbia v. Heller, 128 S. Ct. 2783 (2008), in which
the Supreme Court of the United States found it was lawful for citizens to own a gun for self-defense.
The 7th Circuit panel wrote in November that the U.S. government didn't make its case clear enough that Skoien should
not have a gun for hunting.
"No one questions the importance of the government's interest in protecting against domestic-violence gun injury
and death. The dispute here is about the fit between this important objective and § 922(g)(9)'s blanket ban on
firearms possession by persons who have been convicted of a domestic-violence misdemeanor," Judge Diane S. Sykes wrote.
"Under intermediate scrutiny, the government need not establish a close fit between the statute's means and its
end, but it must at least establish a reasonable fit. The government has done almost nothing to discharge this burden.
Instead, it has premised its argument almost entirely on Heller's reference to the presumptive validity of
felon-dispossession laws and reasoned by analogy that § 922(g)(9) therefore passes constitutional muster. That's
not enough. Accordingly, we vacate Skoien's conviction and remand to the district court for further proceedings consistent
with this opinion."
Blomquist said she is paying attention to this because she has seen similar cases where someone has been granted a protective
order, which is included in the Brady disqualifiers, and then has heard a judge question whether he needs to restrict the
respondent from having a gun during hunting season.
She also has had cases where the victim has proof that even though the abuser is Brady disqualified, he has still obtained
a gun. She couldn't give any more information on the record at Indiana Lawyer deadline.
Marion Superior Judge David Certo, who handles domestic-violence cases involving protective orders and criminal cases of
domestic battery, said there is no discretion involved when it comes to how he handles Brady disqualifiers.
Certo
While he said he is a proponent of gun ownership – he has enjoyed target shooting since a young age and carries a handgun
– he doesn't see any gray areas when it comes to the federal statute.
He said there are certain triggers in the system that would automatically make someone Brady disqualified, and that it's
not up to individual judges in those cases that fall under 18 USC 922 (g).
One issue he has noticed in his court that concerns him on this issue, however, is that many of the parties don't have
attorneys and therefore haven't received good legal advice.
"I will go out of my way to explain what the Brady disqualifiers mean, particularly in the civil protective-order setting.
Most parties cannot be relied on to understand on their own that by having a protective order against them they cannot have
a firearm," he said.
He estimated he explains the Brady disqualifiers in at least half of his cases. He also said there was a new protective order
guidebook that would be available later this summer that many hope will clarify various issues when it comes to orders.
The reason for the disqualifier, Judge Certo and Blomquist said, is that there is an increased risk of lethality in cases
where domestic battery had taken place or a protective order had been filed when there is a gun available to the abuser.
Amici briefs have been filed in the Skoien case by the Gun Owners of America, Gun Owners Foundation, and the National
Rifle Association of America Inc. Another amici brief was filed by multiple groups, led by Brady Center to Prevent Gun Violence
and endorsed by the National Network to End Domestic Violence, National Latino Peace Officers Association, Hispanic American
Police Command Officers Association, and the National Black Police Association.
In the brief filed by the Gun Owners of America and Gun Owners Foundation, it was noted that because the statute regarding
misdemeanor convictions of domestic violence had only been in effect since 1996, it was possible it could be overturned at
some point.
That brief also claimed that the provision regarding misdemeanor convictions of domestic violence was part of a "back-room
amendment to an omnibus emergency appropriations bill, and the statements, quoted by the government as if they constituted
meaningful legislative history, were only personal statements of a New Jersey Senator who is notoriously anti-gun, who had
ample reason to exaggerate the foundation for, and purpose of, the amendment."
In the amici brief presented by domestic-violence victims' advocates, led by the Brady Center, it stated, "The
Second Amendment right recognized by the Supreme Court in District of Columbia v. Heller protects 'the right
of law-abiding, responsible citizens to use arms in defense of hearth and home.' 128 S. Ct. 2783, 2821 (2008). It does
not entitle domestic-violence abusers like Skoien to keep and bear arms for any purpose – arms that domestic abusers
could, and often do, use to threaten, coerce, or injure their families. The history of the Second Amendment also refutes the
expansive interpretation of the right advanced by Skoien."
Blomquist said she'll be paying close attention to the arguments and how the 7th Circuit rules on the decision en banc
in the coming months.•
Please enable JavaScript to view this content.