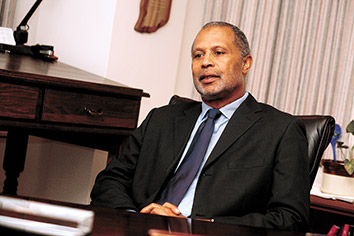 Sometimes a seemingly small gesture can turn into something bigger.
Or at least that's the thinking with various so-called pipeline programs aimed at high school and college students with a goal of increasing diversity in the legal field.
Members of the legal community involved in two such programs — a high school internship with a judge in Marion Superior Court and an internship and clerkship program aimed at college and law school students in Evansville — say they are optimistic.
In Marion Superior Court, Judge David Shaheed heard about an internship program with Indianapolis Metropolitan High School at least five years ago.
"There's an effort to make education more meaningful," he said. "This seemed like a good way to help give high school students an appreciation of what it would be like to work in the courts."
The public school was founded in 2004 by Goodwill Education Initiatives Inc., a nonprofit entity established by Goodwill Industries of Central Indiana Inc. More than 80 percent of the school's students are minorities and more than 80 percent of the students are from low-income households, according to the school's website.
The organization recognized Judge Shaheed for his work with the internship program with the Youth Connections Award May 19 at the Goodwill Celebration of Achievement Awards Breakfast.
Judge Shaheed has worked with advisors at the school who help identify potential interns. If a student has an interest in legal issues, the student will shadow someone in the office for a day. If it is a good match for the student and the court, the advisor will work out a schedule for the intern.
So far, there have been four interns in the judge's office, averaging about one every school year. The last one worked with him during the fall 2009 semester, and he won't know until the 2010-11 school year if he'll have another intern.
Rudolph
Interns work in his office two or three days a week for four or five hours a day, he said, doing bailiff work, filing, looking for motions, "doing what any other employee in the office would do."
Students learn about professionalism, something they pick up early on. He said one intern wore a nice shirt and tie every day. That student is now an undergraduate student at the Kelley School of Business at Indiana University and is considering law school.
Interns don't necessarily interact with the judge on a daily basis, he said, but they would meet with him at least once a week.
He would also help students with research assignments for the internship. One student looked at the U.S. Constitution as it related to criminal drug cases. The interns' research projects counted as credits toward graduation.
As for how students have responded to the internships, Judge Shaheed said "some were very surprised at how the court actually works. When they came in, they were somewhat in awe of the mystique of the court. … By the time they leave, that mystique is gone. They see lawyers are just doing a job, as are the judges."
He also said students had a chance to see different sides of the court. When he started the program he was still working in criminal court, and some of his interns saw people they knew from their neighborhood or classmates who were defendants.
They also interacted with lawyers on a regular basis.
"Most lawyers wouldn't know they were working with a high school student," Judge Shaheed said.
Scott
His interns would also get the chance to sit in on hearings, if they wanted.
"Some were more curious than others," he said.
He would also let interns know when a hearing was scheduled that might be of particular interest to a high school student.
As far as hiring high school students for a professional legal environment like his, Judge Shaheed said, "There may be a certain amount of hesitation. Others might ask, 'Can I structure something a student can do, or is this like babysitting?'"
But things have worked out for him overall.
"The school has done a very good job at matching students with the position," he said. "The interns have done a good job. It was helpful to us, not a hindrance."
In southwestern Indiana, the Brooks American Inns of Court and the Evansville Bar Foundation contribute to scholarships to promote diversity in the local legal community.
This year is the third summer for the program, and four interns and clerks are working for judges and law firms – the most the program has had. All four of this year's participants call Evansville home, which is why they chose to work there this summer.
Tanisha Carothers, who just finished her first year at Indiana University School of Law – Indianapolis, will work for the Vanderburgh County Prosecutor's Office. Lori Sherman, who just graduated from Indiana University Maurer School of Law – Bloomington, will split her time between Indiana Legal Services and the law firm of Biesecker Dutkanych & Macer.
The other two interns, Olivia Robinson, who just finished her freshman year at University of Evansville, and Stephen Winfield, who will start his first year of law school this fall at Southern University in Baton Rouge, La., will split their time between Vanderburgh Circuit Judge Carl Heldt's office and the law firm of Bamberger Foreman Oswald & Hahn.
By having the funds available, the employers are able to pay the interns and clerks for their work over the summer. In fact, because there were more applications for the clerkships this summer than before, the scholarship's organizers requested more money from the EBF and Brooks American Inns of Court. Those organizations ultimately gave $4,000 each.
"For me, when I started practicing law we had two or three female attorneys in the bar association of approximately 200 attorneys," Ross E. Rudolph, an active member of the Evansville Bar Association's Diversity Task Force, said. "Now it's got to be 30 to 40 percent. I think for the profession going forward having a more diverse population adds something to the profession and the community."
Rudolph, a partner at Rudolph Fine Porter & Johnson, has been practicing almost 30 years and has a son who recently graduated from law school.
Laura Scott, one of the original members of the Diversity Task Force, agreed with Rudolph about diversity's benefits.
"Encouraging diversity enhances the community and the profession," she said. "This program does a good job furthering that idea, and the program focuses on individuals. It creates relationships between students in law school or who are planning to go to law school and employers in the Evansville legal community. It helps get them interested in coming back to Evansville when they graduate and gets the employers involved with students who may be interested in coming to town."
For instance, Carothers worked at Scott's firm in 2008 as a summer intern when she was a sociology major at Tennessee State University.
At least two other similar internship programs exist in Indiana, including Baker & Daniels diversity scholarships of $10,000 and a summer associate position for two minority law students from Indiana law schools. Abhishek Dubé, who was a diversity scholarship recipient in 2008, started with the firm as an associate May 14. Providence Cristo Rey High School in Indianapolis has partnered with law firms since the 2007-08 school year to provide internships for its students and will have its first graduation June 9.•
Please enable JavaScript to view this content.