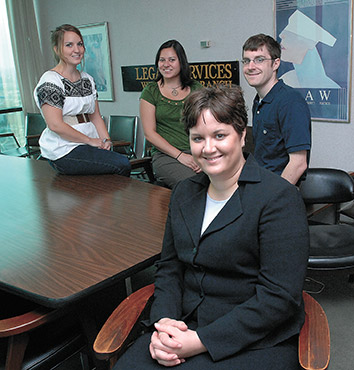 Every summer, while largely unseen by most Hoosiers, migrant workers visit Indiana to work on farms with promises of wages,
safe living conditions for themselves and their families, possible reimbursement for travel costs, and a host of other things
they are allowed under the Migrant and Seasonal Agricultural Worker Protection Act.
Yet every year, there are camps and farmers that don't follow the law and migrant workers don't receive what
they were promised.
Indiana Legal Services Migrant Farm Workers Center, led by Melody Goldberg, helps these workers understand their legal rights.
The center has interns who Goldberg trains to travel in pairs to visit the workers during the summer farm season.
 
While the outreach typically takes place only in the summer, Goldberg spends the rest of the year preparing the internship
program and preparing lawsuits in an office where a map of Indiana has seemingly countless multi-colored pins to represent
different camps where migrant workers have lived.
Goldberg said she and her interns don't literally go into the fields or farms, but instead meet them where they live,
generally in houses, trailers, or apartments if the farmers have them on the property. Sometimes they live in hotels if the
season is particularly short for the job, such as corn detassling that only occurs over four to six weeks.
In many cases, even if the camp is on or near the farm, the farmer may live many miles away or a large company might oversee
the farm and not have an owner on site or even in the state.
To prepare her four summer interns, Goldberg conducted training at the ILS Indianapolis office during three days in late
May, ending with a trip to two farms in southern Indiana.
She explained to the interns what's most important to the workers of all their rights: whether or not they get paid.
However, she said, it's still important to document everything they notice that is not up to the standards of the MSAWPA.
"They probably won't complain if a poster detailing their rights isn't posted in a common area,"
she said, "but it's good to include that in a report along with all other violations," even if they seem
minor to the workers.
She gave an example of a group of workers who traveled by bus to Indiana – something she said is fairly uncommon as
most workers tend to drive their own cars or vans to get to work sites. In that case, the workers had complained about wages,
but it turned out the bus was missing proper windows, the workers were pelted by rain for part of their journey, and their
luggage blocked the exits.
She said they may have been bothered by the traveling conditions, but that wasn't their main complaint.
In other situations, even if the workers don't get everything they were promised, she said they still won't file
a lawsuit because it's not worth it to them to deal with the court process.
Because many of the workers live in Texas or Florida, she said she will sometimes work with those state's equivalents
of the ILS program to help file lawsuits in their courts instead of in Indiana. She added some come from other Midwestern
states, and most are of Mexican origins and a fair number are from Haiti.
But of the handful of lawsuits she has filed, all have settled before going to trial.
As to whether the outcomes of the settlements were fair, she said "yes and no."
Like all lawsuits, the plaintiff thinks they're entitled to everything, which for migrant workers is up to $500 per
worker per violation per year. So if there was a mom, dad, and a child, and each had a claim, they can claim up to $1,500.
If all three people could claim three violations per person the first year, four violations per person the second year, and
six violations per person the third year, that's up to $19,500 they can claim.
And like all lawsuits, the defendants will claim they don't owe the plaintiffs anything or maybe a small portion of
what the plaintiffs ask for.
Goldberg said it's then part of her job to explain to the workers that if they file a suit, even if they win at the
trial level – and she said she wouldn't likely request a jury trial if one did progress to that level –
the worker could still need to wait for the appeals process, which could take a few years. They would also need to return
to Indiana for court dates, which might not be feasible for them.
Once they learn how long they might need to wait, she said, they decide they'd rather have the money they need right
away and settle for much less than they could possibly get if they were willing to wait up to five or six years.
In many of these situations, the workers not only stop working for the farmer they sue, but they also stop coming to Indiana.
Because Goldberg has always settled cases she's filed since joining the program in 2006, there has been no way to enforce
changes on the farmers.
While Goldberg and the interns spend the summer fact finding and seeking violations of the act that's there to protect
migrant workers, she said some camps are fine, and at least one she has seen had nice apartments with new kitchens and appliances.
She has also helped migrant workers with legal issues other than employment issues such as immigration matters, family law
issues, public benefits questions, and tax matters.
The interns who are working for the center this summer have different reasons for being there.
Jim Smerbeck, who just finished his first year at Indiana University School of Law – Indianapolis, worked with former
migrant workers in a program that helped them find permanent jobs and encouraged computer literacy. While there, he saw a
gap in the legal representation.
Cristal Cabrera said the program "hit close to home" for her because she would hear her own family talk about
what it was like for them to come to the United States. Some of her family members were migrant workers themselves, and she
was interested to see what it was like for migrant workers now.
"I want to help those who need help the most," she said, adding her family members were excited for her opportunity.
"I think they're waiting to hear about what I experience and what feelings I have after I do outreach this summer,"
said Cabrera, who just finished her first year at Valparaiso University School of Law.
Mercedes Rodriguez said her situation was similar to Cabrera's in that her relatives also immigrated to the United
States. She said she was from a large Cuban family and thought this experience "would be a great fit."
She said she looked forward to using her Spanish language skills to empathize with the workers. Like Smerbeck, she also just
finished her first year at I.U. School of Law – Indianapolis.
Katie Bailey, who just finished her sophomore year at St. Louis University, said she lived in Mexico and had heard stories
from family members of migrant workers. She said she was interested in trying to help people who were in similar situations
to the stories she had heard.
Said Goldberg, "The Migrant Farm Workers Center's work would not be possible without the students."•
Please enable JavaScript to view this content.